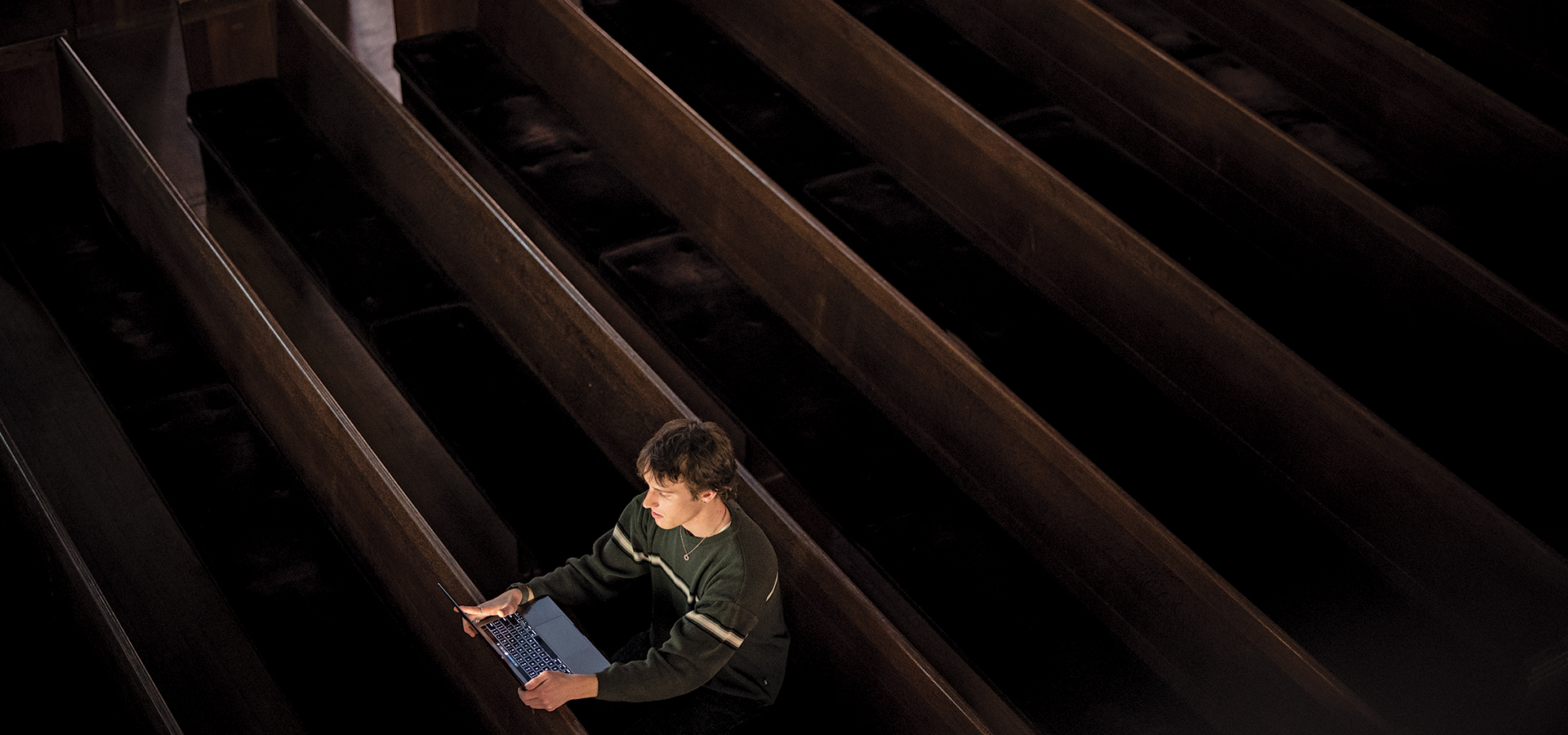 As students struggle with the pressures of college life and the aftereffects of the pandemic, Wesleyan's Office of Religious and Spiritual Life and WesWell offer support, community, and time to reflect on some of life's big questions.
Let's get this out of the way—the chaplains in Wesleyan University's Office of Religious and Spiritual Life (ORSL) have no interest in converting anyone.
What they are interested in is helping the Wesleyan community become more present and alive, more joyful and thoughtful, kinder and healthier.
"Our viewpoint isn't that we need to strengthen our numbers. There is something we are doing that's bigger than that—we are looking to help students thrive academically and holistically on this campus," says Rabbi David Leipziger Teva, who has led ORSL since 2007.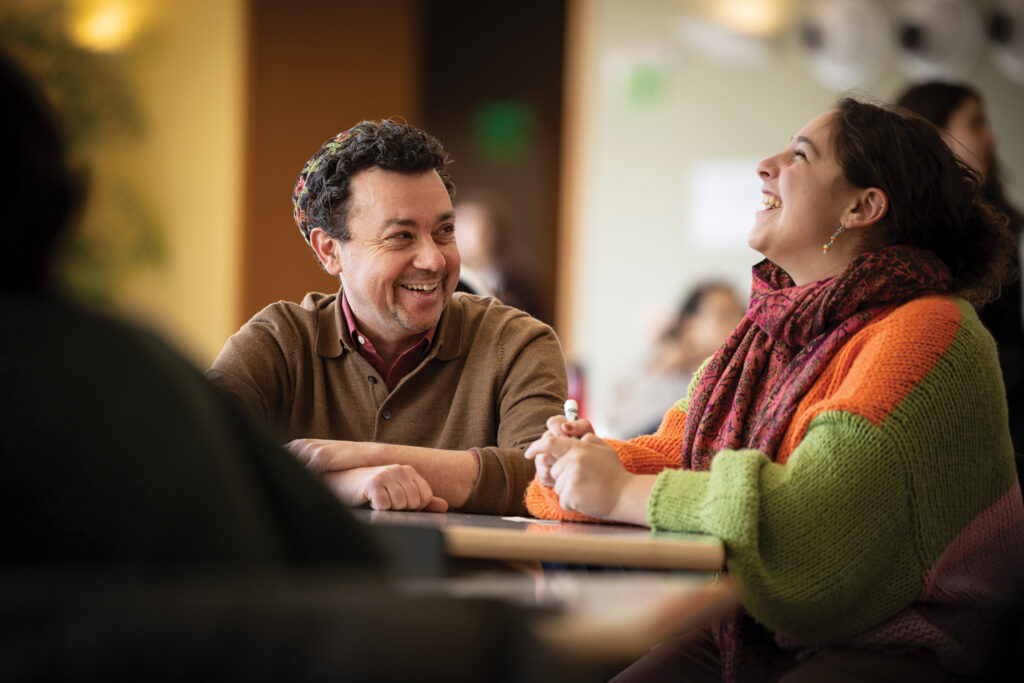 Over the past few years there has been a growing sense among mental health professionals that young people are struggling, and Wesleyan students are no exception. The pressures of college life, political and social uncertainty, and the suffering created by the pandemic have created a mental health crisis. "Instead of coming together, emerging evidence suggests that we are in the midst of a long crisis of habitual loneliness, in which relationships were severed and never reestablished," wrote author and Harvard professor Arthur C. Brooks in The Atlantic in January 2023.
Shaykh Jamir Meah, the University's Muslim chaplain, agrees: "We are all so disconnected right now. The more we try to connect through social media, the lonelier we are because we aren't building real relationships."
In this charged environment, how can the University minister to those who need help? One way is through the embrace of spirituality as an important part of a comprehensive exploration of wellness.
By offering counseling, leadership training, opportunities for civic engagement, and contemplative spaces for celebration and meditation, ORSL is trying to remind the campus community that there is more to life than the demands of society.
Since its founding in 1831, Wesleyan has had a long relationship with faith and spirituality, although the nature of that relationship has evolved. The University began as a training ground for missionaries. As time went on, the University embraced secularism. Still, religion and its study remain an intrinsic part of campus life—whether as part of a personal journey or scholastic curiosity.
While the number of students majoring in religion is relatively small, hundreds of students study the subject each semester, said Justine Buck Quijada, associate professor of religion and chair of the department. There are many reasons students engage—some are interested in exploring some facet of their own cultural heritage or are looking for answers. Still others take a more academic approach and are drawn to the subject's interdisciplinary components. This is where the Religion Department can take a different approach to the topic than ORSL.
"We argue a lot about how to define religion. We will usually come down and say you can't define it. Because the study of religion is a social science, it is a place where people can ask big and meaningful questions…We feel like we are offering tools that help you think yourself into another person's position, putting yourself into someone else's cultural perceptions. That's a pretty useful skill to have," Quijada said.
In practice, getting students to slow down enough to make time for this type of self- and community care can be challenging.
Every couple of weeks, the ORSL chaplains set up a table in Usdan during lunch hours, seeking to grab a moment of time from the students hurrying past. The vibe as the students hustle to lunch is chaotic. All the better for what the chaplains are trying to accomplish.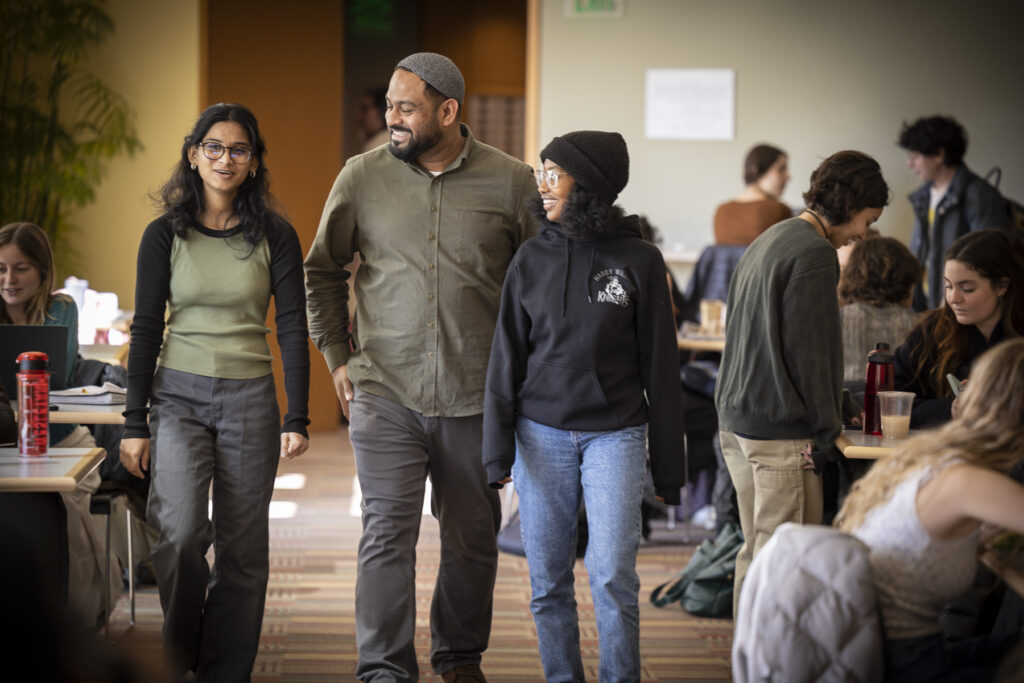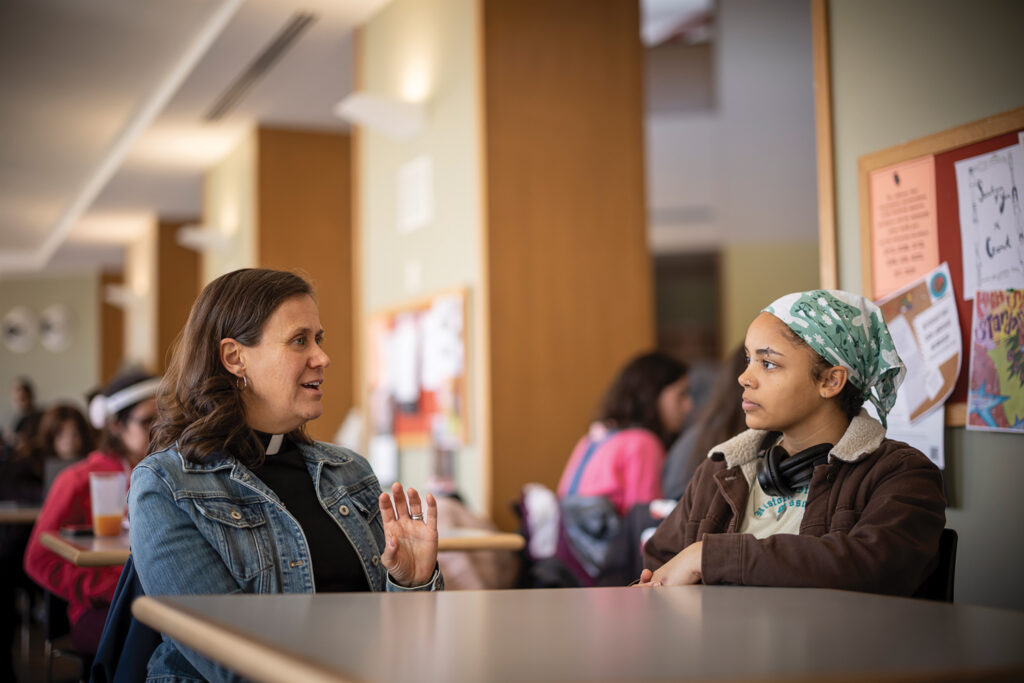 Teva, Meah, and Reverend Tracy Mehr-Muska, the University's Christian chaplain, usually offer a small activity, a moment of peace or clarity to break the flow of the young people's hectic lives. During final exams, they might pass out cookies or other snacks.
"Being visible on campus is so important. It's about letting people know that you are there," said Meah.
ORSL's relationship with the Office of Health Education (WesWell) offers another way to tend Wesleyan's spiritual needs on campus. In addition to helping educate the community on physical health, WesWell offers ways to increase mindfulness. The two departments coordinate programming efforts and recommend students to each other.
September Johnson, director of WesWell, sees the rigor of students' lives as a good thing. They are motivated to succeed, both for themselves and their communities. Occasionally though, self-care takes a back seat.
"We have people coming in and trying to determine what self-care routines work best for them and how to incorporate that into their daily lives," Johnson said. "Whether it is breathing exercises or gratitude journaling in the morning, students are looking for things that don't require a lot of extra effort to improve their mental health. It's a way for them to set their days and their intentions for that day."
It can be hard for a young person in the midst of mining everything Wesleyan has to offer. The messages can be mixed: Students should be academically adventuresome, while preparing for their future career. Add on some extracurriculars. And don't forget to have a good time.
"I don't like to give advice. I like to help students become more self-aware and more intentional about their decisions. Sometimes my role is to help students that are stretched a little too thin connect the dots for themselves," said Rabbi Teva. "'You are a triple major and you are not sleeping well and you're anxious all the time. Is that the only way to be a college student?'"
While there is a secular pathway to wellness and mindfulness, if a student shows interest in the development of their religious lives, the chaplains are there to help as well.
"I'm excited to help students discover their own sense of spiritual or religious identity apart from what they grew up with," Mehr-Muska said. "Whether they identify as religious or not, talking about questions of meaning—What do I do with my life? Who do I love? How do I interact in a healthy way with my parents?—I'm here to listen and provide one-on-one support."
That quest for meaning can take several forms. For example, Teva recently met with a student who grew up in a religious household but found as they got older that the faith of their childhood no longer made sense for them. "That person, like so many on campus are spiritual seekers. They are still searching for something. ORSL has the staff to engage with people that are interested in finding secular, humanistic, or spiritual values," Teva said.
By offering young people a chance to shed carefully constructed veneers and be more vulnerable, Teva and his team hope to lead them towards increased meaning and purpose.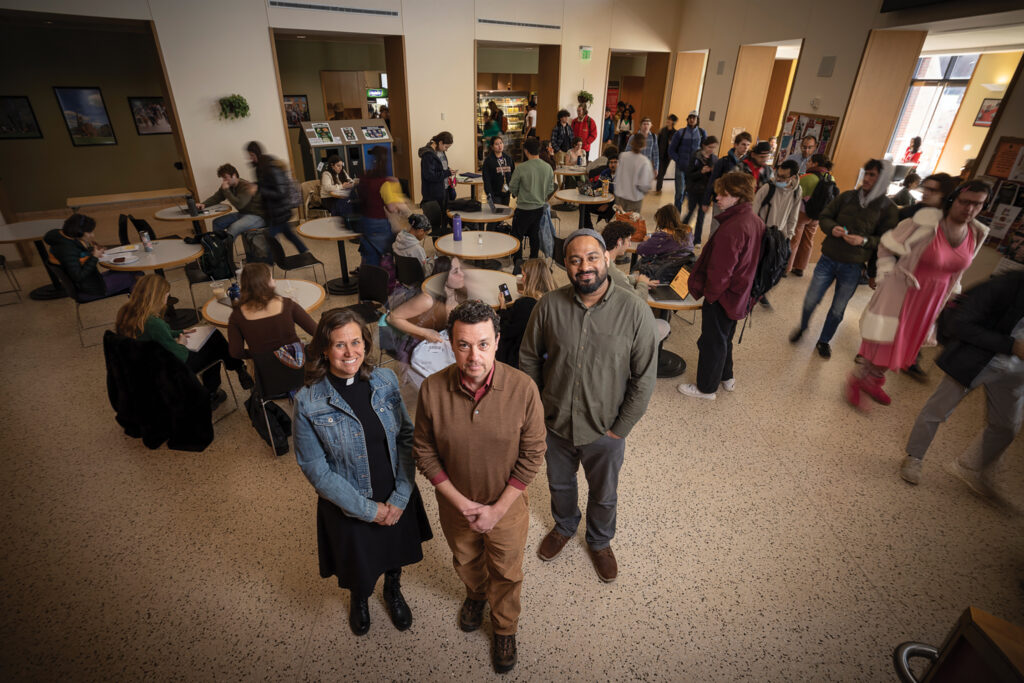 Part of that purpose can come through doing good works. The current team of chaplains has been in place only a few months but has already prioritized community service as part of their plan for ORSL's future. Mehr-Muska met with local Middletown clergy to look for ways for the Wesleyan community to give back.
In the wake of the earthquakes that devastated Turkey and Syria in February 2023, some students turned to Meah to find ways to help. He suggested holding a food sale fundraiser for disaster relief. "They went from feeling quite hopeless and dismay over what had happened to feeling a sense of urgency and that there was something we could do," Meah said.
At the end of a chaotic and emotional day selling food in Exley, they had raised about $5,000. It was a moment for the students to be reminded of a different perspective and to learn more about themselves. "Whatever you want to call it—religion or spirituality—when you work for the greater good, you find good in yourself, you find that you can overcome things inside yourself that you might not have even realized," Meah said.
Back in Usdan, the lunch crowd thinned. Meah spoke earnestly with a young person. Students exchanged kind words with Teva. Mehr-Muska sat at a table with a student she had just met. From these small moments of interaction, bigger connections and community are built.
Mia Shenkman '26 stopped to chat with Rabbi David. Shenkman is someone who has found, in Wesleyan, a receptive and warm place to embrace her Judaism. She attends services, sings in a Jewish a capella group, and goes to Hebrew classes. "It feels like there are a lot of ways to find intersection between religion and academics and religion and art," Shenkman said.
Some students need a place to worship. Others need space to explore big ideas. Still others just need someone to talk to. Through it all, the chaplains are here to remind us that we deserve moments of peace and places where acceptance is unconditional. It's all right to not have the answers. The spiritual search makes us human.
All photos by Tom Kates