Wesleyan welcomes its first full-time ASL professor, signaling the expansion of the Deaf Studies Program and a new dimension of intercultural learning and fluency.
It's 10:50 a.m. on the last day before Spring Break and the classroom is full. Students are smiling and attentive, ready to begin a friendly game of sign language trivia. No talking is allowed or needed. Around the room, it's a tableau of excitement and laughter: furtive fingerspelling and discreet gestures of agreement; giggles and knowing looks hidden behind hands; chuckling partners leaning into each other in shared befuddlement. At the head of it all, a warm and hearty "Hahaha!" from Assistant Professor of the Practice Pedro Pascual sets off another round of laughter with his broad smile and good-natured ribbing.
This is Elementary American Sign Language (ASL) II. And while the class may be somewhat quieter than in other rooms across campus, make no mistake: These students are fully engaged and having active conversations, though no words are being spoken. It's an atmosphere of serious learning in a fun, lighthearted environment, and it is part of the unique pedagogy that Pascual brings to his classes as the first full-time ASL professor in Wesleyan history.
"I try to set the conditions for the students to enjoy attending class and to start communicating organically," Pascual says. "A little bit of humor and positivity helps open their perspective. It's like getting a preliminary taste with a bit of fun and thinking, Oh! I like this! Then they want more. It increases their motivation and hopefully they are able to learn something about themselves and their own cultures, as well as ASL and Deaf culture."
A Growing Demand to Learn More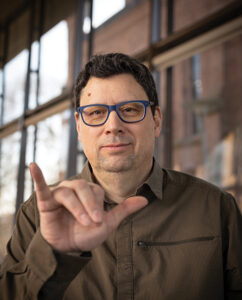 ASL classes are not new to Wesleyan. A 0.5-credit course under American Studies was available in 1994 and, since 2001, individual classes have been offered under the "Less Commonly Taught Languages" banner overseen by the Fries Center for Global Studies (FCGS). But those classes were taught by per-course instructors hired on a temporary basis. Over the years, interest in ASL has grown, outpacing the few courses that Wesleyan could offer. Kai Tripician '24, a course assistant for ASL II, recalls waiting lists of 20–40 students his first year. After one of the existing instructors retired, Tripician and his fellow ASL devotees went to Director of Language Resources and Technology Emmanuel Paris-Bouvret to advocate for a full-time professor, and they were adamant that the professor should be a member of the Deaf community. (See Fast Facts about Deaf Culture for the difference between "Deaf" and "deaf.") 
"It wasn't a question of 'Why a Deaf professor?' but 'Why wouldn't we have one?'" said Tripician. This aligned with plans that Paris-Bouvret and Director of FCGS Stephen Angle were already working on, and by 2022 they were able to successfully secure a full professor of the practice line in a more formalized ASL and Deaf Studies Program.
In August 2022, Pascual began teaching at Wesleyan. There were 39 students enrolled in ASL I—more than in any other introductory language class.
Aside from the lived experience and deep cultural knowledge that Pascual brings to the new program, Angle also sees the benefit in having a trained pedagogue and pioneer in deaf instruction at the helm of the new program.
"We've seen that there is a lot more demand for instruction out there in the world today that is outpacing the availability of trained instructors and formalized instructional methods," Angle explained. "With Pedro, we have someone who is trained as a language instructor and who can contribute to developing formal standards like those of the American Council for the Teaching of Foreign Language, figuring out how to use their standards and apply it to proficiency in ASL and instruction in ASL."
In many ways, defining ASL as a "foreign" language is a bit of a misnomer. About 2 to 4 of every 1,000 people in the United States are "functionally deaf"—that number more than doubles if those with a severe hearing impairment are included—and an estimated 500,000 people in the US alone use ASL, a language that developed domestically in America and is used primarily by Americans, albeit one that has largely been left out of mainstream perception.
A Movement, Not a Moment
Recent media trends point to a surge in visibility for the Deaf community with popular movies like CODA, The Eternals, and Creed featuring prominent characters who are Deaf or who communicate through sign language. ASL interpreters for major events and concerts have also gone viral on social media, their signature styles and charismatic signing appealing to deaf and hearing audiences alike. ASL seems to be having a moment.
Pascual attributes this to factors including the ongoing ubiquity of the internet, pandemic isolation, and the widespread use of tech to communicate. But beyond the trend aspect, Pascual sees parallels to recent human rights movements.
"Just as it was previously for the LGBT community when they started to have more visibility, and women before them, oppressed groups, marginalized groups, are breaking through. Like simmering volcanoes, there are these slow burns underneath the surface that people might not see until it erupts," he says. "We were always here, this whole world existed. But to those on the outside looking in, it seems new or sudden."
ASL, then, serves not just as a vehicle for communicating in a different way, but as a gateway for understanding a cultural identity that exists within a predominantly hearing culture—one with its own history and sociocultural, linguistic context.
This kind of cross-cultural understanding and sensitivity is what Pascual, Angle, and Paris-Bouvret hope to bring to students in the coming months as they build a more robust roster of Deaf studies courses. The 2022-23 academic year offerings included five classes: ASL I through ASL IV, and Visual Gestural Communication (a standalone course that teaches non-ASL students how to use nonverbal communication to convey intent, feelings, and nuance). Fall 2023 will add a new Deaf Communities class that, according to the catalog, "explores the diversity of the Deaf communities in the United States, examining Deaf cultures and the factors shaping them including history, education, technology, and institutions."
Exploring New Worlds
Part of what makes Pascual uniquely situated to shape this new Deaf Studies Program is his vast experience navigating multiple worlds. Born Deaf to hearing parents in Spain at a time when there was little meaningful educational and cultural support, Pascual excelled in both mainstream schools and in afterschool deaf-oriented support classes. His love of math led him to pursue a master's in computer engineering and work with CERFACS in France, where he also found a thriving Deaf community. When a run-in with a supervisor unwilling to make simple accommodations (demanding spoken vs. written communication) led Pascual to abandon engineering, he found himself drawn into education and designing a bilingual program for Deaf high school students in Toulouse, which is still in use today. Eventually his knowledge of six different languages (Spanish, French, English, Spanish Sign Language, French Sign Language, and ASL) and lived experience of Deaf culture in various countries led Pascual to his appointment at Wes, where he finds the students to be "curious and motivated. They acquire skills quickly and I welcome their challenges!"
In his downtime, Pascual indulges his love of language and culture through traveling, exploring the outdoors, and reading. One genre in particular holds a special place in his heart. "Many science fiction works—books, comics, movies, TV shows—allow people to temporarily 'change' worlds and see things from a different perspective. It influences a lot of the way I teach cultural content and metalinguistic concepts," he says. "Some works represent underrepresented or just different peoples, cultures, languages. I identify with many of them."
As a former engineer, Pascual also appreciates sci-fi's ability to "imagine impossible-for-now technology and alternative worlds where science may be different."
While some might assume that one of those alternate realities might include a world without deafness, Pascual rejects the idea of hearing as the aspirational ideal. "If we lived in a mostly Deaf world, it would be the hearing people who would be considered disabled," he explains. "I am not disabled. My context is what disables me."
Over the next few years with the expansion of the ASL and Deaf Studies Program, Pascual hopes to broaden that context, opening new lines of communication and reframing difference as something to explore, not fix. And, in his signature good-natured style, he'll probably find a way to do so with a good bit of humor, positivity, and a lot of laughter.
For more on Deaf culture, see Fast Facts About Deaf Culture.