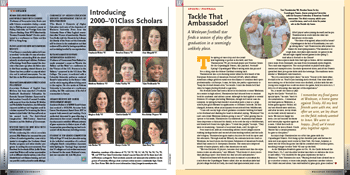 A Wesleyan football star finds a season of play after graduation in a seemingly unlikely place.
The spring air was crisp and the crowd was beginning to gather at the field, and Tom Themistocles '99, pro football player and Number Seven for the Copenhagen Towers, was psyched. Football? Spring? Copenhagen? What's wrong with this picture? Not a thing, says the former Cardinal running back.
Themistocles was a job–hunting senior when he first heard of the European Federation of American Football (EFAF), which offered American college gridiron stand–outs the chance to continue their sport professionally—in Europe. It was, for him, the perfect opportunity to "keep the football dream alive," he recalls. It was the dream he'd had since he began playing football at age nine.
His football career had been a factor in his decision to enter Wesleyan. As a senior in high school, Themistocles had debated how to continue both his academic and athletic career. Although he had applied to several Division III colleges (including Wesleyan, though he'd never seen the campus), by spring he had decided on another path: a year as a prepschool post–grad followed by applications to Division I schools. All this changed, however, when an acceptance letter arrived from Middletown.
"I can still see my high school guidance counselor holding his hand to his forehead and shaking his head in disbelief, saying, 'Wesleyan! You can't turn down Wesleyan without going to see it!'" After getting that response to his news, Themistocles reconsidered: Academics had always been important to him and his family, so he took the trip to Middletown, and knew he'd found the right place. "I loved the people," he says. "They were so interesting. I wanted to be around them, and I fit right in."
Four years later, with an outstanding athletic record (single-season rushing yardage leader and second all-time leading rusher) and his bachelor's degree, Themistocles again made a decision for both his sport and his education. Through Andrew Whitely, the assistant lacrosse coach at Wesleyan, he heard about the European Federation of American Football, which has teams in 11 European countries. The teams are composed mostly of native players, with a few Americans on each.
"We love Division III players, because they understand that the experience is also an education," says Whitely. "They know it's about more than playing a sport: they know that they are also ambassadors."
Themistocles knew he'd found the team he wanted to join when the coach from the Copenhagen Towers called. Also an American (who had played college football in Utah), the coach had spent several years as an EFAF player before joining the staff, and he put Themistocles in touch with the other two Americans on the team.
"The three of us agreed, what could be better? Copenhagen is the hub of Scandinavia; you can't go wrong there," says Themistocles, who joined the Towers for their spring season. ("The weather is so tough there, they play a split season: six games in the fall and eight regular season games in the spring.") And what is football to the Danes?
Some aspects made him feel right at home. All his teammates (most were from Denmark; one was from Greenland) spoke English. The coach was supportive. The team provided its players with apartments and transportation. Gatorade sponsored them, and all the Towers quenched their post–game thirst with the beverage. The stadiums were similar to Wesleyan's own bleachers.
"But it's a secondary sport there," he says. "Soccer is for them what football is for us. They're just learning about football. One time when I was coming out of the locker room onto the field, a father with his two young sons stopped me to ask me about the game, how you score in it. I did a lot of educating; that was part of the experience."
Yet, it wasn't the same as playing for the Cards: "Football is a special sport," he says. "And it's the camaraderie… I remember my final game at Wesleyan, a home game against Trinity. All my best friends were with me, and after we won, we lay down on the field; nobody wanted to leave. We were so happy we won—yet sad because we knew we'd never play together again as a team. I liked the coach in Denmark; he was a friend. Coach Hauser has a certain presence; he gave us discipline."
An injury kept Themistocles out of his last game with the Copenhagen Towers. He's hung up his shoulder pads and helmet for now and is an equity stock trader in New York. His heart, however, is never very far from the game: last fall he attended every Cardinal game, watching younger brother Todd '02 tear up the field.
At the Wesleyan–Bowdoin game on Oct. 30, the Cards defeated the Polar Bears, 33–7, and the elder brother was there to celebrate the victory and reflect. "I'm thankful for the great experience we had at Wesleyan," Tom Themistocles says. "Playing football here allowed me to go to another country, to meet new people, experience another culture. But I didn't succeed alone; I was surrounded by great guys, great coaches."