The Gentle Whirring of a New Heart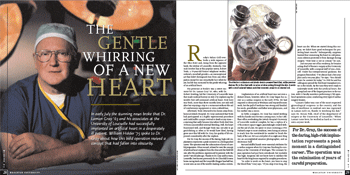 ROCKY'S ITALIAN GRILL OVERLOOKS A WIDE EXPANSE of the Ohio River and, rising from the opposite bank, the skyline of Louisville, Kentucky. One mid-October day at this popular eatery, Robert Tools, a 59-year-old former telephone worker, ordered a meatball grinder–an unexceptional act that didn't distinguish him from any other patron except for one remarkable fact: while he ate, his life was sustained by the gentle whirring of an artificial heart.
His presence at Rocky's was a sweet moment for Dr. Laman Gray '63, who, with Dr. Robert Dowling, led the University of Louisville team that made medical history on July 2 by implant-ing the world's first self-contained artificial heart. Now here was Tools, more than three months later, not only still alive but enjoying a trip to a restaurant without the aid of cumbersome equipment or even a wheelchair.
Afterward, Tools returned to his home-away-from-home at Jewish Hospital. Dr. Gray cautioned that Tools had participated in a highly experimental procedure and could suffer a major reversal or death at any time–a warning that sadly became true when Tools died Nov. 30 from uncontrolled internal bleeding. Still, the heart functioned well, and though Tools was not able to go grub-fishing as often as he would have liked, having gone once this fall with Dr. Gray, his quality of life improved considerably after the implant.
For Dr. Gray, the success of the daring, high-risk implantation represents a peak moment in a distinguished career. The operation was the culmination of years of careful preparation. It has rescued, at least for now, the concept of artificial heart implants from the obscurity the field fell into after the problems experienced by patients with the Jarvik 7 two decades ago. Thanks to Dr. Gray and his team, Louisville, best known previously for its Churchill Downs horse-racing track and the Louisville Slugger baseball bat, is now seen as one of the world's leading cardiac centers.
Implantation of an artificial heart was not even a distant dream, however, when Dr. Gray began his career as a cardiac surgeon in the early 1970s. He had majored in chemistry at Wesleyan and enjoyed honors work, but the pull of medicine was strong and familial: his uncle, grandfather and father were physicians, and his mother was a nurse.
As befits a surgeon, Dr. Gray has craved working with his hands since he was a young man. In his 12th-floor office overlooking the Jewish Hospital-University of Louisville medical complex, he has a replica of a 17th-century square rigger, painstakingly created without the aid of a kit. He spent 14 years restoring a 1935 Packard coupe to mint condition, even hiring an artisan to teach him the metalwork he needed to finish the body of the car. He's an avid pilot of an eight-seat King Air, an accomplished amateur photographer, and an electronics buff.
Fast and skillful hands were essential attributes for a cardiac surgeon when Dr. Gray was finishing his residency at the University of Michigan. The coronary bypass operation had just been introduced, but mortality was high. Surgeons did not know how to stabilize the heart for the long hours required by complex procedures.
"In order to work on the heart, you have to stop the blood flow," Gray says. "If you stop it too long, the heart can die. When we started doing this surgery, we didn't have good techniques for protecting heart muscle." Subsequently, surgeons learned that immersing the heart in cold potassium solution protected it from damage during surgery. "Now time is not so critical," he says.
Just one year out of his residency, he became acting chief of thoracic surgery at the University of Louisville, with a surgical staff of one–himself. Under his entrepreneurial guidance, the program flourished. "I've always had a five-year plan and a ten-year plan," he says. "You should never be content for today." In 1983 he and his colleagues opened the first heart transplant center in the South. By the time they were ready to undertake work with the artificial heart, the group had one of the largest practices in the nation, with 11 faculty members performing 2,700 open-heart operations a year, conducting every type of cardiac surgery known.
"Laman's father was one of the most respected gynecological surgeons in the country, and the idea of excellence in medical care was ingrained in Laman early on, thanks to watching his dad," says Dr. Hiram Polk, chief of the department of surgery at the University of Louisville. "When Laman came here, he worked as hard as I've ever seen anyone work.
"He has had, from the very beginning, a great vision for how broad cardiac surgery can be. While many cardiac surgeons concentrated just on doing cases, he stuck to his research agenda–oftentimes with little support."
Chronic congestive heart failure strikes 300,000 Americans per year and is one of the leading causes of death. For many patients, their options are depres-sing. Drugs can help weak heart muscle only so much. Heart transplants are generally successful, but the limited supply of donors means that only 2,200 hearts become available each year. Tens of thousands of patients need another answer.
One option that Dr. Gray has helped to develop in recent years is a ventricular-assist device that may help a heart recover or assist a weakened heart until a suitable transplant can be found. Dr. Gray implanted the first Thoratec right-ventricular assist device in the United States and has since performed more than 200 implant operations, returning many sick people, as he puts it, to "the golf course or turkey shoots." As the name implies, these devices help damaged hearts pump blood; they are not replacements. But for thousands of patients with end-stage heart disease, an assist device is not enough. They need a new heart.
Not long after Robert Tools' health began to deteriorate in 1996 but several years before the two met, Dr. Gray started working seriously with Abiomed, a small company in Danvers, Mass., that had been engaged in the development of an artificial heart. The company's device, the AbioCor, impressed Dr. Gray from the outset. Unlike the bulky, air-powered Jarvik 7 used on humans by Dr. William DeVries two decades ago, the AbioCor was a fully implantable, battery-powered device that held the promise of mobility for recipients.
"A total implantable artificial heart is very difficult to do," Dr. Gray says. "This is by far and away the most sophisticated [medical] device ever developed." The human heart is much more than a crude pump; it delicately calibrates the flow of blood to the arteries and lungs so that the whole system is in balance. Failure to achieve this balance can, for example, infuse the lungs with too much blood. Mimicking this system by artificial means is a formidable challenge. The AbioCor does so with no external wires or tubes; everything is internal. An internal battery is recharged by placing an external coil over the internal one for power transfer.
Abiomed had been discussing the project with other medical centers, but none matched the commitment that Jewish Hospital and the University of Louisville made. Jewish Hospital set aside $8.2 million for the project and paid the salaries of approximately 80 people working on it. At various times, the university committed more than 40 employees and provided a laboratory as well as other facilities.
Working with veterinary specialists, Dr. Gray's team began to refine the artificial heart by implanting it in cows. The entire surgical team would carry out implants once or twice a month to gain valuable experience they would need for operating on humans. This diversion of operating room personnel was very expensive, as was the round-the-clock care the cows received.
The research went well, and Abiomed asked them to do everything required by the FDA before the agency would grant permission to perform the first five implants in humans. Over time, the group conducted 40 animal implants, acquiring enormous experience.
"In the animal lab we got to the point where the reliability of the device looked good," Dr. Gray said. We knew that it maintained blood pressure, maintained the kidneys, the liver, the lungs. We had reached the limit of what the animals were going to tell us. We could have implanted another 100 animals and we wouldn't have learned any more."
As the AbioCor was being perfected, Robert Tools had retreated to the life of a very sick man in Franklin, Ky., where he had moved from Colorado. He had to give up fishing and spent most of his time at home or visiting neighbors. Some residents recalled seeing him carrying a backpack with oxygen to help him breathe. With a failing heart, failing liver and kidneys, he was rapidly approaching death this past summer. Since he was not well enough to receive a heart transplant, he met the FDA criteria for receiving an artificial heart–someone with nothing to lose. He learned of the development of the AbioCor through an article in Newsweek and asked his doctors if he might be a candidate. When he left Franklin for Louisville, only a few trusted family and friends knew his destination.
On Monday, July 2, Dr. Gray's alarm rang at 6:30 a.m., the usual time. He got ready for work and drove to the hospital as though it were any normal day, but his thoughts were unsettled. Within hours he and his team might deliver the field of artificial heart implants a stunning setback. Success would become apparent only with the passage of time.
"Let me tell you," he later told a reporter with Louisville's The Courier-Journal, "I was worried."
The outside world was unaware of what was about to transpire. To ensure secrecy, even the normal notice of surgery had not been posted on the hospital board until Monday morning. Everyone involved was determined to avoid a media circus.
Dr. Gray and Dr. Dowling had met Tools just five days before. With the aid of an independent patient advocate, they had discussed the proposed operation four times with him. The day before the operation, hospital personnel spent three hours reading an informed consent form to Tools and his wife to make sure they understood all the possible risks and problems.
Informed consent has been a key issue with ethicists, who have underscored the need for patients to receive unbiased information. Dr. Gray believes that the use of an independent patient advocate was a key innovation. He and his colleagues also have sought to avoid appearance of conflict by refraining from holding any financial interest in Abiomed or accepting consulting fees. "I don't own one piece of stock, and I've never been paid a penny by Abiomed for anything," he said.
Finally, the history-making operation began as Dr. Dowling and a colleague opened the patient's chest to reveal a huge heart, enlarged by its struggle to keep pumping. During the next seven hours, the elaborate preparation of the 15-member team paid off. Everything went smoothly. Several people noted how similar the procedure was to the cow implants.
Closing the chest was a make-or-break moment. The AbioCor is softball-sized and requires a large human chest to fit. The team had modeled the AbioCor in Tools' chest with the aid of 3D computer simulations, but Dr. Gray has seen enough operating room surprises to know there is no such thing as a sure thing. "Think how horrible it would have been if we couldn't close," he said. "We felt confident, but we really didn't know."
One person who witnessed the success of the operation was Dr. Gray's wife, Julie, who watched on closed-circuit television. She said that seeing the AbioCor take over was "unexpectedly emotional for me."
Afterward, everyone on the team felt a sense of pride and elation, but there was no demonstrative celebrating. They all knew that implanting the heart was just the first major step toward success.
The morning after the surgery, Tools' wife, Carol, was stunned to see that her husband looked better than he had in years. Normal circulation was bringing nourishment to long-deprived skin and vital organs.
News of the operation broke that day. Dr. Gray and his colleagues were determined to avoid giving the media the kind of hourly scrutiny of his patient that recipients of the Jarvik 7 had endured. They believed it would impede the patient's recovery. As days wore on, friction developed between the hospital and the media. New York Times medical writer Lawrence K. Altman wrote an article that was highly critical of Abiomed for invoking a contract provision giving it the right to limit release of information. He quoted ethicists who asserted the public's right to know more about the progress of this groundbreaking experiment.
Dr. Gray offers a contrary view, however, arguing that the approach toward publicity adopted by the project team is a model for balancing the privacy of patients versus the public's right to know.
On August 21, Tools was introduced to about 100 reporters from around the world who heard him speak for 15 minutes via remote video hookup in Dr. Gray's office. Asked how it felt to have looked death in the face and be given a second chance, he beamed and said, "It feels great!"
Since Tools received his heart, five other individuals have been implanted with the AbioCor. Dr. Gray's team performed the second implant on Tom Christerson, 70, of Central City, Ky. The third implant was done at Texas Heart Institute and the fourth at UCLA. A fifth patient was implanted at Hahnemann University, and a sixth died during surgery at Texas Heart Institute.
Although Dr. Gray is cautious about predicting the future of the artificial heart, his enthusiasm bubbles up when he says, "We could have a paradigm shift occur in medicine." By that he means that the success of both ventricular assist devices and the AbioCor will spur further development of devices–downsizing of the AbioCor, for example–that may provide surgeons a far greater range of options for treating the 100,000 individuals each year who have chronic congestive heart failure and could benefit from some type of artificial support.
"We've demonstrated the feasibility of a total implantable system," he says, "and have shown beyond a shadow of a doubt that the concept will not only work but provide a good quality of life."