FROM SOUL BAND TO TELEVISION GOLD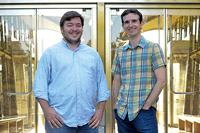 The immensely talented and inspiring Carter Bays '97 and Craig Thomas '97, creators, writers and producers for the CBS hit series How I Met Your Mother, made a triumphant return to the Wesleyan campus on September 27, 2014 during Family Weekend.
The immensely talented and inspiring Carter Bays '97 and Craig Thomas '97, creators, writers and producers for the CBS hit series How I Met Your Mother, made a triumphant return to the Wesleyan campus on September 27, 2014 during Family Weekend. They talked to a packed crowd at Memorial Chapel about their television careers and Wesleyan. Scott Higgins, chair of the College of Film and the Moving Image, was the event moderator.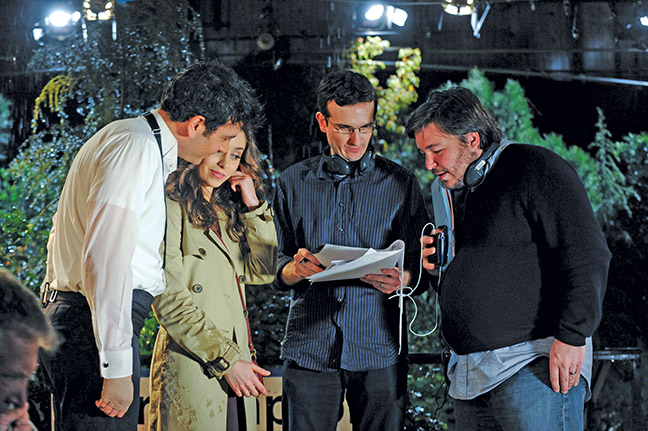 How I Met Your Mother (HIMYM), a mainstay of CBS's Monday comedy lineup, had its series finale after nine years and 208 episodes last spring. The Complete Series DVD set (21st Century Fox) was released in September.
David Low: When did you two first meet each other?
Carter Bays: Freshmen year we really didn't know each other, we just kind of saw each other in passing. Craig was in some jam bands that played in various dorm lounges.
Craig Thomas: We had a screenwriting class together. Then you came and sang a song with one of my bands, fronted by Josh Arthurs '97 and Josh Rosenblatt '97. It was an early precursor of us becoming part of a soul band.
Carter: I sang "I Heard It Through the Grapevine"" or something?
Craig: I think it was "My Girl."
Carter: That's right. It was on Uncle Duke Day.
Craig: The band was called Grandma's Closet. It had a little bit of blues influence. And a little alt rock. And a little psychedelic. And a little grunge. And a little 70s pop. I think we had a vision problem. But it was great fun with a great bunch of guy.
In our junior year, Carter and I were in a nine-piece soul band, The Testostertones, another "great" band name, with a four-man horn section. I was the drummer and Carter was the singer. But even then, we really didn't know each other that well.
Carter: It was a big band so we were kind of lost in the crowd. It was rhythm and blues—music like Sam & Dave, Otis Redding, James Brown.
Craig: We went to the Ladies Auxiliary Thrift store [in Middletown]. We bought suits for about $4 apiece – Barney Stinson would not approve. I think I had a red suit, where the jacket and the pants were slightly different shades of red, not a match. We all suited up and played soul songs. That band became popular on campus.
Carter: There was a lot of bravado, a lot of confidence. We advertised every show like it was the musical event of the year.
Craig: We called ourselves the hardest-working band at Wesleyan. I have no idea if that was a fair claim.
DL: When did you start writing together?
Carter: The spring of our junior year Craig and I both applied to the same summer internship at MTV, without talking to each other, beforehand. We both went down to the interview together.
Craig: And we both got the job.
Carter: We were working in a cubical side-by-side for the whole summer in the MTV department that decides what shows to put on the air. MTV was transitioning away from music videos toward scripted programming. Our job was to watch the tapes and read the scripts that came in and send the rejection letters. In the process we got emboldened … we were high on living in New York for the first time.
Craig: Coming off the massive success of the Testostertones! Our confidence was riding high.
Carter: We wrote some material together and passed it on to our superiors there. None of it got on TV but we made some good connections.
Craig: One person in particular, an MTV executive, really liked what we had written, just a few different show ideas. He got our submission material to a big- shot agent, way too big for two idiots from college, and he passed it on to a junior agent there named Matt Rice, who to this day is still our agent, almost 20 years later.
DL: Did you always wanted to write for television?
Carter: MTV was definitely where it began. We both knew we wanted to write. We were both into fiction and film writing. In high school I was into playwriting.
DL: After graduation, you went on to write for the Late Show with David Letterman. What was that experience like?
Craig: We were 21 when we were interviewed for the job. I think we turned 22 right as we started the job. We have birthdays six days apart. We both look at it as grad school for us, but we were getting paid to do it. It was on-the-job training, just needing to turn in material everyday. It really taught you how to defeat writer's block. It was one of the big lessons—there was no option, you had to turn in material every hour or two. There would be memos to come up with Top Ten jokes, more Act One jokes, more sketches for the viewer mailbag, more scripts. You had to toughen up and just produce good material a lot of the time as much as you could. A lot of people would get fired. It was scary at first but then we felt that we proved ourselves there, and we wound up being there for about four and a half years.
Carter: It was a good sort of laboratory to learn how to write comedy. It was valuable to have an audience five days a week. They say for stand-ups you just have to get out there and die on stage a hundred times before you end up being good—and that's kind of what this was. It was a chance to see what people really laugh at and see what things seem funny in your head but then don't get a laugh.
DL: Did Letterman talk to you at any point?
Carter: Yes, we talked to him. It's a big job doing a show so he was insulated to some degree but we interacted with him. He rewrote our stuff all the time, which was exciting, and kind of humbling at the same time because he is the funniest writer on any writing staff I can imagine. It was fun working with him.
DL: How long did it take from the Letterman show to the transition to working on How I Met Your Mother?
Craig: It was a couple of years. We left the Late Show and moved to LA without a job, but we had this credit and an agent so we took the leap. We were in our mid-20s and wound up writing for a show called Oliver Beene, a short-lived, season-and-a-half single-camera show on Fox that was a 1960s period piece about a family. Though it wasn't successful, we did well on that staff. It gave us confidence, and we got an overall development deal, which means you sign up with that studio, which was 20th Century Fox. They give you a deal for two years, pay you for two years and say: "You work on one of our shows and you develop new ideas for us." It was a low level deal and sounds better than it probably was. It was under that deal that we developed How I Met Your Mother.
After Oliver Beene was canceled, we wrote briefly for a couple of episodes for another short-lived show, Quintuplets, starring Andy Richter, our only multi-camera sitcom credit before HIMYM. Then we moved onto American Dad, the animated show by Seth MacFarlane of Family Guy fame. That show was a good experience for us; we were upper-level writers, wrote a musical-themed episode, and worked on 19 to 20 episodes of the first season. We helped launch that show with the writing staff, and we were also developing the pilot for HIMYM at that time.
We wrote forAmerican Dad for about nine months. HIMYM was just a verbal pitch at that point. We talked to some of the networks—CBS, Fox, NBC, and the WB. We sold the show as a verbal pitch to CBS and then went to write a script. The HIMYM pilot was greenlit right as we were heading off to Las Vegas for the launch party of American Dad premiering after the Super Bowl.
Carter: We were in our hotel rooms in Vegas, and we had to hire our casting director and start casting our show.
Craig: We were just 29 years old and then just all of a sudden we're the boss in a way. You still have to answer to the studio and the network, but suddenly we went from being staff writers—two of 18 people on a writing staff on a Friday—to bosses on the weekend trying to hire the set designer and casting director and more. We were on our presumably giant cell phones 10 years ago, figuring out how not to miss out on hiring the right casting director among the feeding frenzy. All the pilots are going after the same casting directors and set designers. It was like a crazy roller coaster ride had begun right at that moment.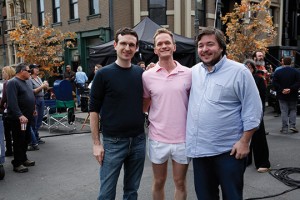 DL: Was it hard to cast the show?
Carter: It may have seemed like that at the time, but we've learned in hindsight that it was not.
Craig: It was magical.
Carter: It casted itself beautifully. For the character of Marshall, we knew who we wanted Jason Segel right from the beginning and we got him. As for Lily, Alyson Hannigan was our dream version for the part, but we didn't think we could afford her. Luckily, she liked the script enough, and the studio gave us a little extra money to make that happen.
With Barney, we had a totally different type in mind; we were thinking of a Chris Farley type of character and then Neil Patrick Harris walked in and basically stole that role. For Ted and for Robin, we really we had no idea who we wanted. We wanted unknowns for those roles so people could be surprised and discover them. Josh Radnor was the first person who came in and auditioned. He just walked in off the street; we had never seen him in anything. He'd been doing theater before that and a couple TV and movie projects but nothing big, and he just did two scenes from the pilot and we just knew we found our guy. Then the same thing happened with Cobie Smulders. Our casting director Megan Branman had seen her in some movie or TV show that she had done in Canada and just said: "Somebody's going to find out about this girl and discover her so it should be us."
DL: What was it like working for a studio and CBS? How much did you need to compromise? And how do you tell the difference between healthy, necessary compromise and compromise that would hurt the show?
Carter: You're always finding out where that line is everyday. The thing that we discovered over the years is that what notes and push back are there for is to make you ask yourself the question: How much do you believe in something? If we come to the network with an idea, and we say we want to do this and the network says to forget it, you have this moment in your heart where you either think: Yeah…they're right! Or you think: No! we're going to do this, and when you have that, when that fire gets lit in you, then you know: OK! This is a good idea. Because I must really believe in this if someone's questioning it.
DL: Did you have instances where they said "no way" and then you were able to convince them to change their mind?
Craig: There was a time at the end of season one. We'd written a season onefinale that was emotional, Marshall and Lily broke up right as Ted got together with Robin. It was an intense ending to the season, and there was some concern like: "Are you guys writing a show that's too serialized and too emotional for a sitcom?" We were told there was some concern from the studio and the network that we should watch out, that maybe we were turning off viewers. That was one of those moments where we knew quietly in our heart of hearts, without having to fight back and make a big deal out of it, we just thought: No, this is just the show. The show has heart and emotion, and we're going to write about stuff that happens in life and try to not just make it silly and wacky all the time. We just quietly kept doing that and then it caught on with the audience. We never got that note anymore, again. We kept writing the way we wrote, and they must have realized "This is how these guys write and it works," and so we kept doing it and years went by.
DL: I think that's why you have these devoted fans because it was slightly different from a typical sitcom when you had that other emotional layer. Do you think you have a particular comedy writing style? I always found the show refreshing because it wasn't mean-spirited, something I could relate to.
Carter: We like to try to be good caretakers of people's emotions as they watch. I think we created the show specifically at a time when there was a lot of mean-spirited comedy, a lot of sarcasm, a lot of cynicism.
Craig: Very snarky.
Carter: And we came from a place of loving the work of Billy Wilder and loving Cheers, things that had edge and bite to them but also had a lot of heart. Like the films of James Brooks or Albert Brooks.
Craig: And Cameron Crowe.
Carter: Things that make you feel and make you laugh. We wanted to make this not a show that requires a joke every 30 seconds, and we wanted to see what happens if someone doesn't make a joke for 30 seconds. Look what happens instead if the situation gets real, emotions come out, and it gets intense. We wanted to have a lot of different speeds as a show and not just the ebbing and flowing tide of a laugh track.
Craig: And those sincere and intense moments become great set-ups for whatever the next joke finally is, and it's made funnier. But the fact that you are kind of on the edge of your seat and emotional for a little bit; yes, I would say that's kind of our comedy style to try to be as real as we can but then puncture it with some kind of joke. Hopefully, it's not just some mean joke, because we try to write about people who genuinely love each other, care for each other, and respect each other, and help each other through their hard times.
DL: It comes from some of your own experiences from what I've read.
Carter: Yes, very much. When we created HIMYM, Craig and Rebecca [Alson-Milkman '98] had just gotten married and we were still kind of negotiating the world of young newlyweds.
Craig: We were the first couple that got married in our social group.
Carter: And I was still single and at a point where I was looking for a wife. Those are two experiences that we hadn't seen anyone write about before. Even if it was familiar in some way, it was truthful, and more than anything else, it was us telling the truth about our lives.
Craig: And acknowledging that men are sensitive creatures, too. Even with Barney on our show, Ted says in the pilot that he wants to fall in love and he thinks he would be a good husband. Writing this sensible, vulnerable side of a male character was interesting, and we weren't seeing a lot of that on TV at that time.
DL: You still don't see much of it.
Craig: Ted's a funny guy and he's the guy you want to hang out with, but he is also sincere and earnest and sweet and he doesn't have to cover that up all the time. Marshall was very sweet, too, and they were clearly best friends who loved each other, and that was a really nice relationship to write about.
DL: Do you have a routine when you're working together?
Craig: For the pilot, we wrote a lot of it in a room together, and then when your TV show gets picked up and you have a writing staff of 10-12 writers, you learn quickly that you have to delegate, and you have to just figure out this system of not falling behind. Carter was always in charge of one episode and then I was in charge of the next one and it pretty much switched back and forth, more or less, for nine years. When there was a bigger episode or something was more important to us, we'd sit in a room together. When it came to line-by-line and joke-by-joke, we'd each pitch jokes and ideas on each other's episodes. If it was Carter's episode, I'd always go to the script with my red pen and write little jokes and little pitches, but it was his to take or leave.
Carter: It's like a marriage—you have to set aside time, sit down in a room together. You really had to fight to make it happen.
Craig: I could be in the writers' room for four days, stuck on some story that wasn't coming together. There might be six of us in that room and maybe a month of man-hours just got wasted in the span of four days, and we would only have maybe half an outline. Then Carter and I would find time to sit and talk about it. I'd pick his brain for like five minutes and we'd solve the problem—or he'd solve it often.
Carter: Or vice versa, he did the same thing for me.
Craig: There is an alley and there is an oop. There is something nice about always having a set of fresh eyes. That's the upside of not always being ableto work together when you're running a show—he hasn't spent five days banging his head against a dry erase board, feeling hopeless, and he could be fresh eyes on the problem.
And always at the beginning of the year and throughout the year, we set aside time to just talk about the emotional lives of these characters, like what are the important sign posts along the way of a 24-episode journey—what are we steering toward here, what's the ending, what's the message, where does everyone end up—so that was always really important to us. It was coming up with a road map of the big stops along the journey, and then you fill it in all along the way. There was a big 24-episode grid board in my office.
DL: Are there any favorite episodes of the show that you are particularly proud of?
Carter: I like the world's greatest burger episode. That was one of my favorites. And the 100th episode. [Titled "Girls vs. Suits," this episode has a big musical number, "Nothing Suits Me Like a Suit," written by Bays and Thomas, and features the entire cast, backed by 65 dancers and a 50-piece orchestra.]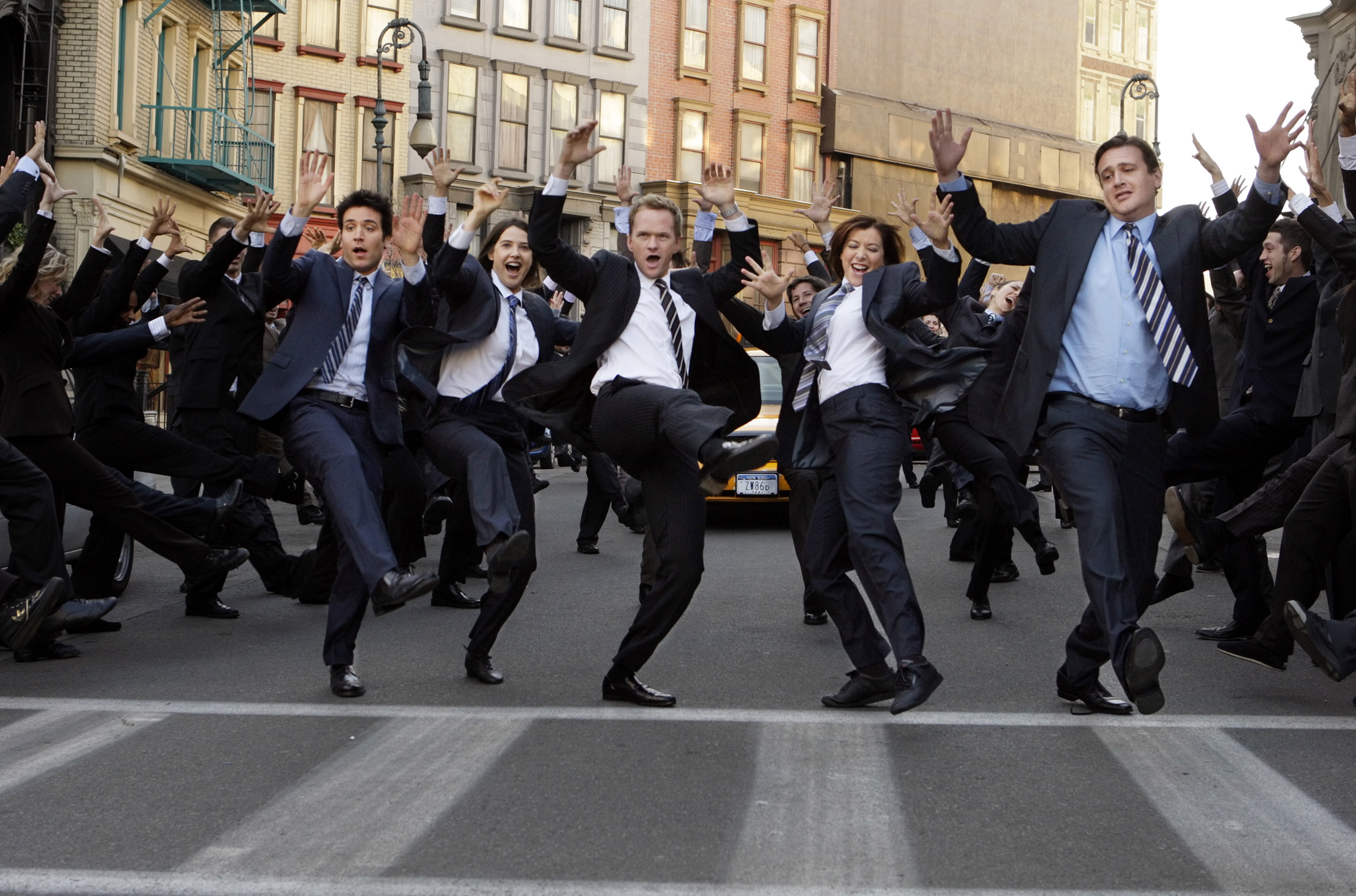 That was terrific fun. Just making that, putting a song together, really made you appreciate what goes into making the show. Craig comes in, playing a little riff on his guitar and that little riff turns into an orchestra playing that same song.
Craig: We felt like we were making an old Hollywood musical. We were shooting that on the Fox lot on the New York street set in west Los Angeles, and it just gathered this crowd because there was such joy exuding from the shooting of that,.
Carter: It was people who work on a Hollywood lot.
Craig: And they took note, there was something special happening here. You saw people looking down from office windows up in the studio buildings and people came down from their offices because it was infectious. And the president of the studio came down and it just had this magical feeling of "Look what we did. We got to 100 episodes." Little did we know that was the less than the halfway point of HIMYM. I felt really lucky at that moment. I can remember exactly how that felt: take half a step back out of your life and just appreciate this moment.
Carter: Another favorite isthe 200th episode, "How Your Mother Met Me." It was fun reliving the entire story of the series through a different set of eyes than the main characters, the mother's. I think that made us appreciate everything that we'd done up until then.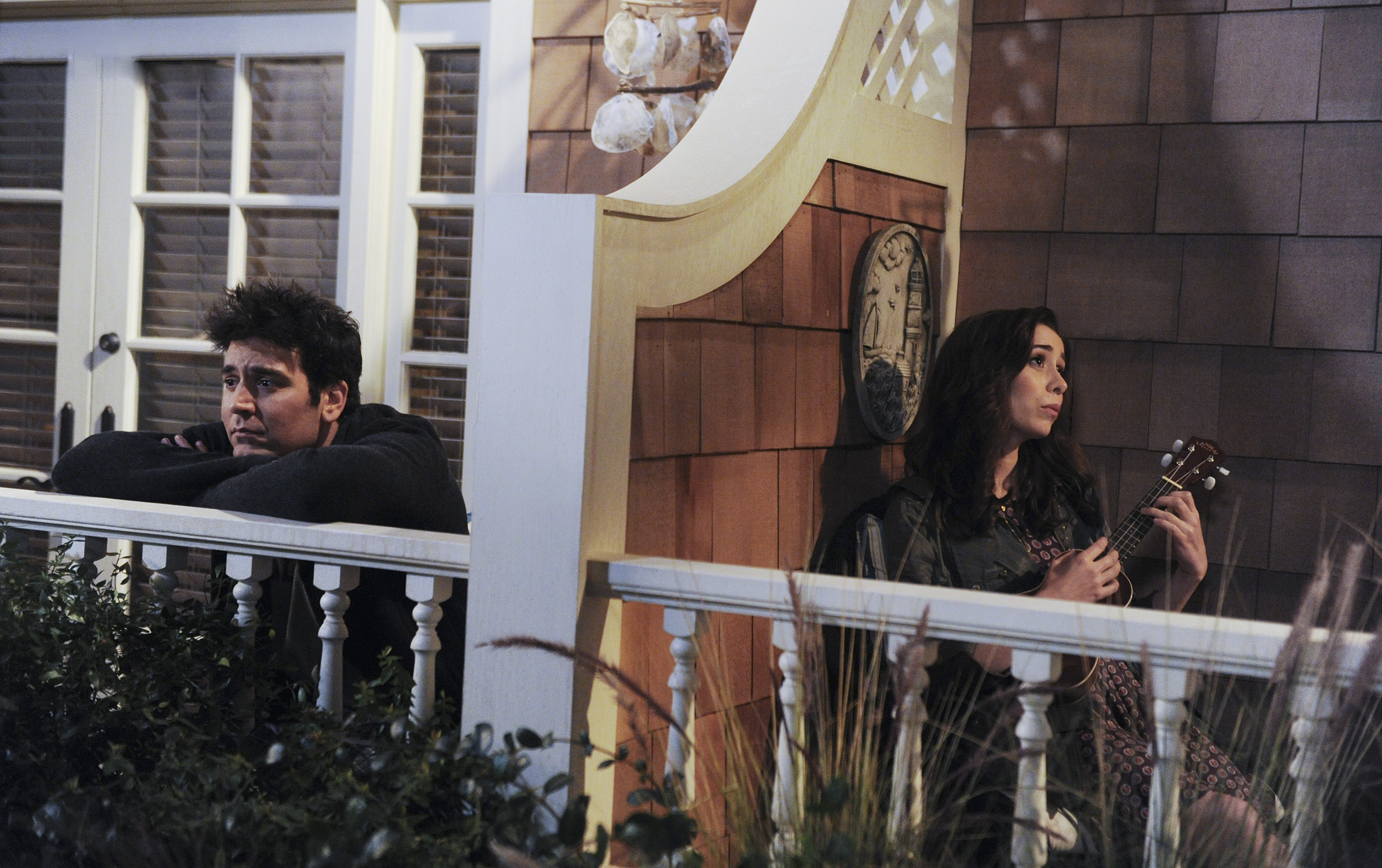 Craig: It became a walk down memory lane. You're literally recreating sets and scenes and wardrobe from eight seasons and showing how the mother intersected with those different scenes. That episode took place over eight years and it was a good rehearsal for the finale which took place over 17 years. The episodes we're citing here happened when we realized we were on TV long enough to try something completely crazy. Neither of those episodes would have been a season two episode of HIMYM. You had to grow up and into doing those bigger, bolder swings.
DL: How did you manage to keep the show fresh when you were working on it for such a long time?
Carter: The way to keep it fresh is to really shake things up plot wise—by calling our shots with things like announcing that Barney is going to get married and we don't know whom he is going to marry. Or the episode where Marshall's dad dies—that is a life-changing event for Marshall in a way that you never come back from. And there's the whole format for the ninth season, where we just said: the whole thing takes place in a weekend. Taking big risks is what kept it fresh and what kept it fun.
DL: Out of the main characters, were there some that you liked writing for more than others?
Craig: It would change over time. There are moments in the series where you might have been fond of writing the storyline for somebody versus the other. It's a hard question to answer. Because I think they were five babies of ours in a way.
DL: Did you have any favorite characters that you introduced for two or three episodes?
Carter: For me, the Captain [played by Kyle MacLachlan].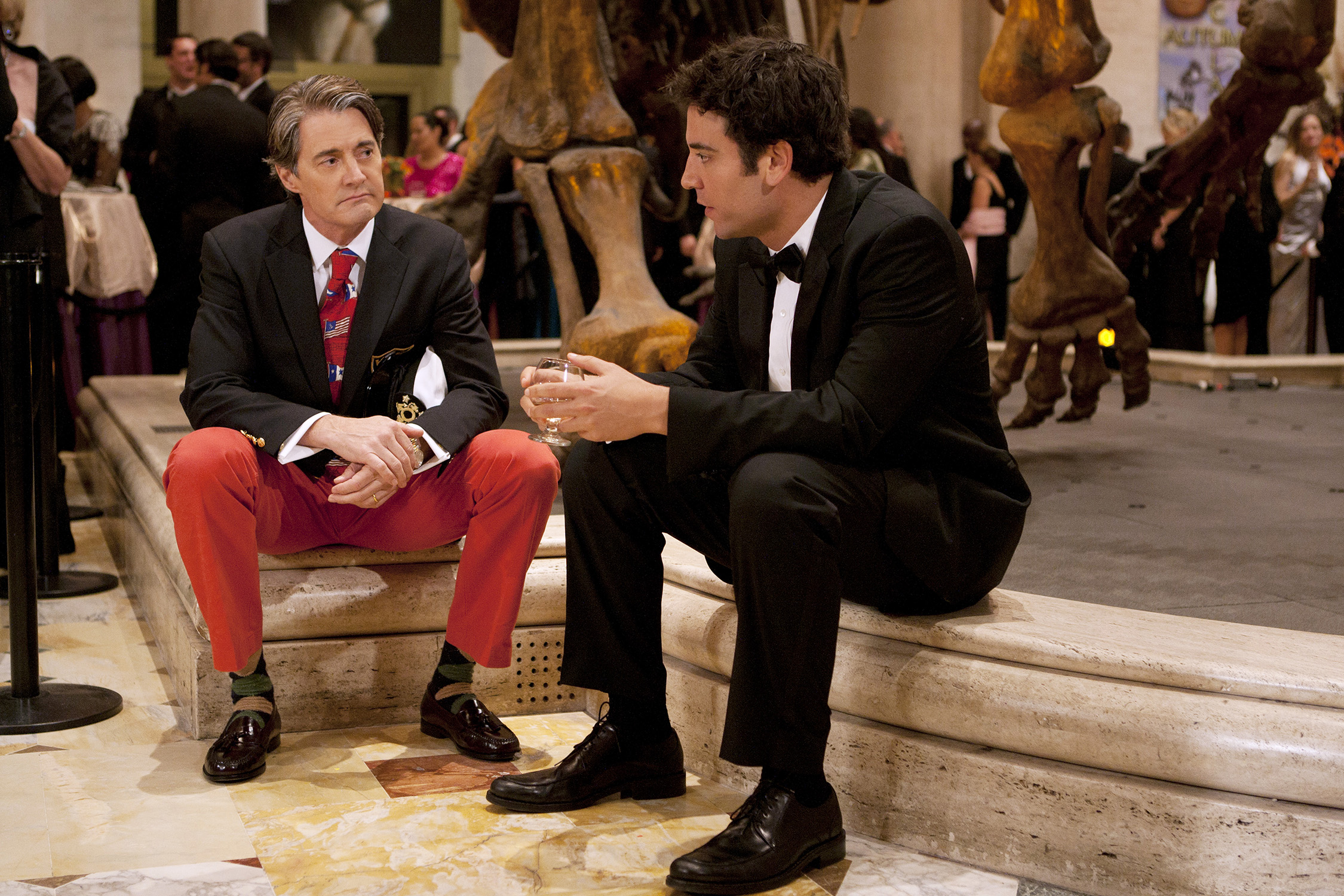 Craig: Carter has a glimmer in his eye when he talks aboutthe Captain. He loves that it was a guy who was obsessed with boats.
Carter: I took a sailing class one summer early on, and I got all into sailing. I just like the world of people who are really into boats and sailing and get excited. There's a lot of material there.
Craig: There's nothing funnier than someone who's way too into something.
Carter: I really liked when the Captain says that a real man chooses his own name because it's not true, most people don't do that.
Craig: He named himself. He's such a weird, eccentric character.
DL: Craig, did you have a favorite?
Craig: In terms of side characters, one thing that pops into my head is I always loved writing Marshall's crazy superstitious stuff because that's definitely me. I'm a guy who will stay up until three in the morning watching the stupid UFO show followed by the other stupid UFO show, followed by the third stupid UFO show, and shows about Big Foot and the Loch Ness monster. I think it's just a crime that as a civilization we haven't yet caught the Loch Ness Monster.
I also loved Ted's jerk of a friend Punchy—he's like the Captain, his main character trait was one thing: he just liked punching people in the arm. I loved Chris Elliot playing Lily's dad. Carter and I were such enormous fans of Chris Elliot's show Get a Life, his super weird, abstract sitcom in early 90s. We were fans of his when he was on Late Night with David Letterman, which was before we worked there.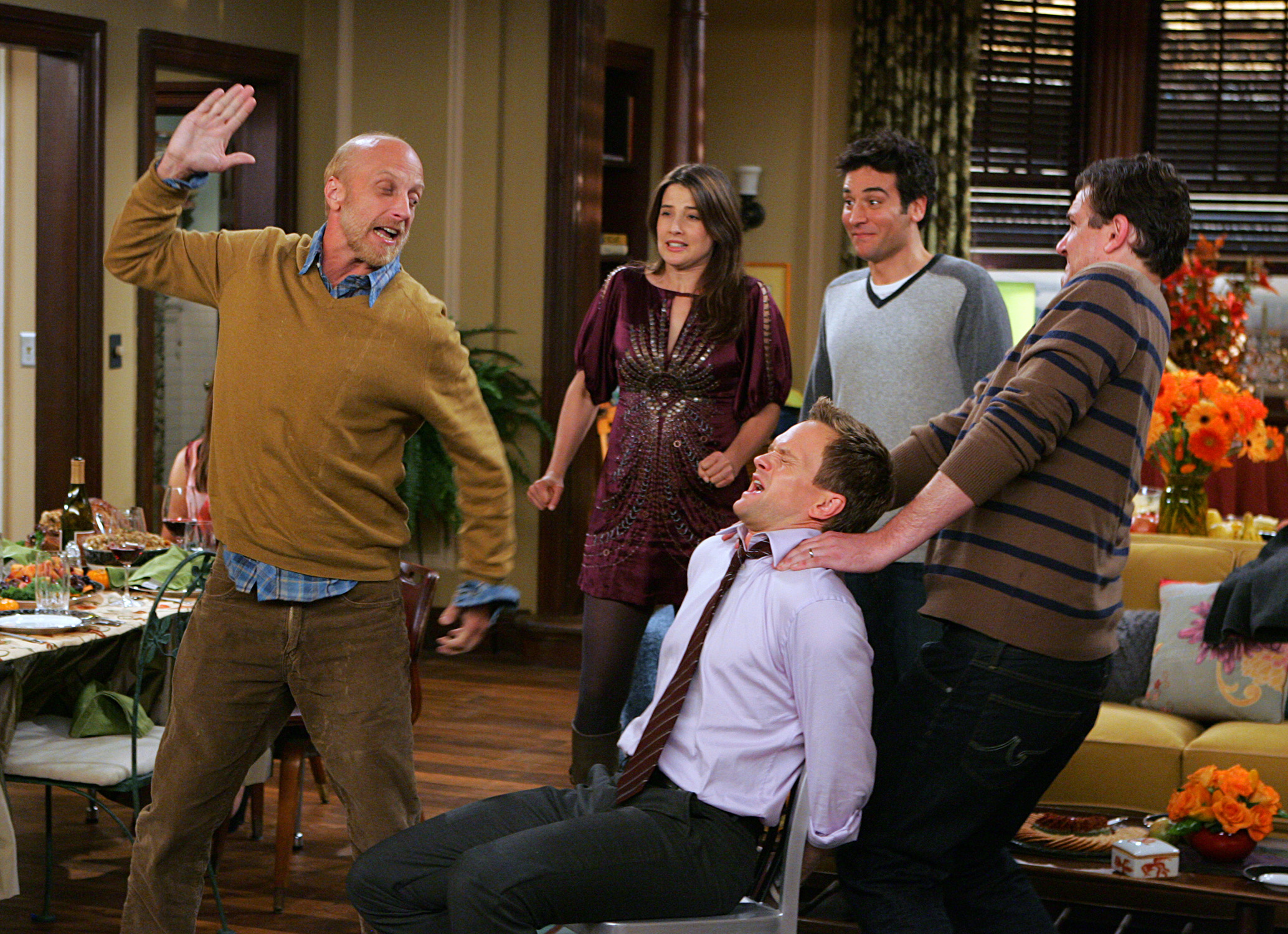 Carter: So much of the casting of the show was just us being slaves to our high school selves, saying if we had a time machine we'd want to go back and say: OK. You're going to work with Chris Elliot; you're going to work with agent Cooper from Twin Peaks, you're going to work with Weird Al Yankovic.
Craig: Bob Odenkirk. We made Bob Odenkirk a jerk lawyer. He was a jerk lawyer before he was a jerk lawyer on Breaking Bad.
Craig: We were kids in a candy store. Weird Al Yankovic, I mean, come on! Finally getting Weird Al on the show …
Carter: It was a dream.
Craig: We basically got to live our high school dreams.
Carter: Ted was convinced that he came up with "Like a Surgeon."
Craig: He had pitched "Like a Surgeon" to Weird Al and had it ripped off of him by Weird Al. And we pitched it to Weird Al and he was like: "Yeah, sure! I ripped off 'Like a Surgeon' from Ted. I'll come play that, yeah!" He's such a cool guy. We got to work with so many dream people, it's almost hard to believe.
Carter: And this has a little of overlap with Punchy because it's kind of a similar character. But Marshall's brother also was fun; his only thing was he just beats the crap out of Marshall, punishing him.
DL: What are you two working on now?
Craig: We took the summer off. But we have some exciting ideas. We're thinking about feature films, we're thinking about a next series. The big news is that we've moved to New York and we will be working out of New York and hoping to kind of set up shop there to make a series, whether it's for network or cable or Amazon or Netflix.
DL: What do you think about the new opportunities?
Craig: We're open to finding the right venue for an idea. The marketplace has gotten so diverse and niche that you can find a home for things you couldn't usually find a home for, and we are lucky enough to maybe try some different things now, having had some success in network. That said, we love writing a network show, and I'm sure we'll want to do it again. But this is a time to remember what it's like to write without an exact thing that you're writing for and without a deadline and it's a huge challenge. Nothing is scarier than the empty page or the empty dry erase board when you're just starting a new thing.
DL: Is there a dream project that you've always wanted to do?
Carter: I would love for us to do a movie musical, a movie with songs.
Craig: Couldn't be more excited about that. We've talked about that a lot.
Carter: So many of our favorite movies have songs, like Once or Hedwig and the Angry Inch. I like the stuff the South Park guys do.
Craig: We have a lot of interest in doing that, because basically every song you ever saw on HIMYM was usually written by Carter or myself or the two of us together. We ended up writing like 50 songs for that show; there could be a HIMYM musical on Broadway. We want to figure out a way to keep writing music, because at Wesleyan the way we started working together was in bands and writing songs. Within writing comedy, we figured out how to get all these songs on to HIMYM. That was a big part of the joy of the show, whether it was the Robin Sparkles songs or just like any silly little song that any character ever sang—that was always the part of the episode we worked hardest on. So we love working our musical nerdiness into our work, and we'll always look for a way to do that.
DL: Have you ever considered working on a drama series?
Carter: I think we're open to anything other than something exactly like HIMYM. I think life is short, and you want to try see how many things you can do in one lifetime and one career. We love a lot of dramas. I was just started to rewatch The West Wing again and what a great show that was.
Craig: Phenomenal show … and the funny thing is that most of what we watch are one-hour dramas. When you're writing a sitcom, you don't want to go watch a lot of other sitcoms, and Carter and I are so influenced by shows like Six Feet Under The Sopranos, Game of Thrones, just shows that excite and surprise you in any medium. We've always tried to work dramatic elements into HIMYM when we could, and some part of me thinks that we could take that further in another project.
DL: What was your favorite show growing up?
Craig: Cheers, which had some lovely dramatic elements, was a favorite for me.
Carter: It's hard to think of a show I like more than Cheers. Get a Life and Twin Peaks were two shows that I definitely got into for a very brightly burning two years.
DL: I can see the influence of Cheers on your writing.
Craig: Part of it was we wanted a bar where the characters couldhang out, and that was the influence from Cheers. Friends was obviously a bit influential, too. But the way that Cheers would have these dramatic arcs, season-long arcs, and showing these characters having ups and downs in their lives, was so lovelyand human. These characters were going through real things, and that was inspiring to watch.
DL: Do you think your education and time at Wesleyan had any influence on your career after you left?
Carter: For sure. I think Wesleyan was a place for people to march to their own drummer, instead of just getting slotted into some program and just putting your head down and doing your work for years. It was the kind of place that if there's not a humor magazine on campus, you start one and you gather your friends together and you write it. Everyone was working on their own thing and putting something together. It wasn't so much about everyone just studying for finals. It was studying for finals but also coordinating your suits for your soul band. And I think: Man! That's a good preparation for the real world, so much more of a preparation than just reading Kant and Goethe.
Craig: It was the diversity of the experience that was most meaningful to us, without a doubt. Those kinds of extracurricular passions that Wesleyan allows you to get into become as meaningful educationally as anything else. For my senior thesis, I wrote a short story collection. Tom Drury worked here at that point; he is a wonderful fiction writer, he was my advisor, and Carter and I took his class. So I was writing a short story collection, playing in a soul band, and writing a screenplay for my friend's senior film that he shot. Carter and I were also writing a screenplay, and Rebecca [Alson-Milkman '98], my then girl friend and now wife, was choreographing evening-length works that would be performed at theaters here. It was such an inspiring place and it made you feel like you could do your own thing and have it succeed and have it go somewhere. We learned so much in our classes, but also the community and the creative intrepid spirit here was intoxicating. We got to meet each other and have a kindred work ethic and aesthetic. We learned what we wanted to do with our lives.
Carter: It's good training for being a television showrunner. I think that's why so many showrunners are from Wesleyan.
Craig: Because you're always wrangling things together. Show running is like running a three-ring circus and Wesleyan is like a three-ring circus, because there's so much going on, you're able to take all these experiences and shape them. It's not just people slaving away at one thing, what they're told to do; there are industrious students who do their work, but there's also such a desire to try and make creative things.
Finally, let's give a shout out to my wife, Rebecca, whom I met at Wesleyan. You asked if this school had any influence on my life, and that was the biggest influence of all. There is no way it could have had a more lasting influence on my adult life. I'm very grateful for the experience.
DL: Do you want to say anything about the HIMYM Complete Series DVD box that just came out in September?
Craig: There is nothing Wesleyan specific to it, but we always loved all the Wesleyan references we worked into the show. We had a whole writers' room that was essentially pitching Wesleyan references even when we weren't, because they knew we liked that. Our wardrobe department called up Wesleyan and got a lot of Wesleyan T-shirts, so that even in scenes that had nothing to do with Wesleyan, just to make our day, they'd put Ted, Marshall, or Lily in a Wesleyan sweatshirt. We didn't even ask for it half the time. People just knew we were proud of our school, and they would get Wesleyan props and wardrobe and put them in the scene.