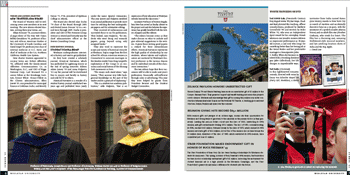 Wesleyan undergraduates interested in history can't wait to get published.
So they have created a scholarly journal, Historical Narratives, which was published by Lightning Source at the end of spring semester. Editors Adam Janvey '03 and Anna Halperin '03 say the journal will be distributed free to majors and faculty in history and sold for $7 to others.
Historical Narratives is a remake of a student history journal established two years ago and published twice yearly under the name Spectral Connections. This year Janvey and Halperin switched to an annual publication to provide more time for selecting the best undergraduate papers and for substantive editing.
They received 40 submissions and narrowed those to six for publication. They looked, says Halperin, "for students who were doing real research papers, going beyond using only assigned books."
They also tried to represent the scope and variety of historical research at Wesleyan. Topics range from the first school for African American women in Connecticut to same-sex marriages in the Muslim world; from King Leopold's exploitation of the Congo to an economic and social history of the Shining Path movement in Peru.
"The essays each stand alone," says Janvey. "They assume very little background knowledge on the part of the reader and do a great job of explaining."
"This is a student-run academic publication," adds Halperin, "that is an expression of how education at Wesleyan extends beyond the classroom."
Assistant Professor of History Magdalena Teter has served as faculty adviser to the project and said she believes the experience has greatly benefited both the writers of papers and the editors:
"The editors become critics as they make choices on what to include and give editorial suggestions to the writers. It gives those writing good papers a reward for their extraordinary efforts. Historical Narratives represents the high quality of scholarship by our students, whose talents and sophistication are nurtured by Wesleyan's history professors in the various classes and by individual outside-of-the-classroom interaction."
The two editors hope that their successors will be able to make next year's publication financially self-sufficient through sales or advertising. This year they were helped by grants from President Bennet and the Student Budget Committee.