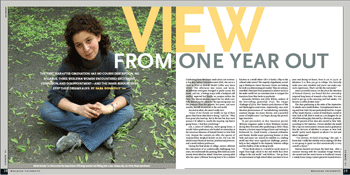 GRADUATING FROM WESLEYAN MADE JIMIN LEE NERVOUS.A few days before Commencement 2002, she sat on a chair in front of Klekolo World Coffee near Main Street. The afternoon was sunny and warm, Middletown teenagers lounged in packs across the street, and Lee, a biology major with a backpack still stuffed, expected her family on campus within the hour. The almost-alumna sipped her tea while carefully describing her plans for the upcoming year. Lee felt pressure from her parents, her peers, and most notably, herself, to succeed in the real world.
Succeed at what, she wasn't really sure.
?Some of my friends are totally on top of their game; they know what they?re doing,? said Lee. ?They have great jobs lined up. But in the last few days most seniors I?ve talked to, maybe the majority, say they?re going home. I find that comforting.?
Lee, a native of California, wasn't going home. A month before graduation, she landed an internship at the American Museum of Natural History in New York City. Despite the coveted job offer, the specter of responsibility weighed heavily on her. For Lee, life ahead meant financial worries, professional pressure, and a world without professors.
During the final weeks of college, seniors celebrate the culmination of an academically challenging four years, but underneath the partying often lurks an acute anxiety about what lies ahead. How does a young adult who has spent a lifetime learning how to be a student function in a world where GPA is barely a blip on the cultural radar screen? The majority of graduates, according to Wesleyan?s Career Resource Center, are looking for work in a deteriorating job market. They are nervous, unsettled. They have been prepared to achieve much in the wider world but are uncertain how to navigate the transition from blue books to paychecks.
Alexandra Robbins and Abby Wilner, authors of the best-selling Quarterlife Crisis: The Unique Challenges of Life in Your Twenties (and alumnae of Yale and Washington universities, respectively), say a mid-twenties phenomenon of ?overwhelming instability, constant change, too many choices, and a panicked sense of helplessness? can begin during the postcollege transition.
To put personality on this transition period, Wesleyan magazine spoke to three Wesleyan women during their first year after graduating in 2002: Chaya Braxton, a history major living at home and writing in Richmond, Va.; Sarah Krainin, a classical civilization and theater double major pursuing theater in New York; and Jimin Lee. Search for stability in a shifting world was their most significant challenge, particularly as they adapted to the disparity between college and the rhythm of the working world.
?If you think about it, it would be much easier to segue from high school to the real world than from college to the real world,? said Robbins. ?You go from an environment in high school where you have to be in your seat during set hours, from 8 a.m. to 2 p.m. or whatever it is; then you go to college. You basically make your own schedule and you?re not under anyone?s supervision. That?s not like the real world.?
Jimin Lee would concur. On the job in the Museum of Natural History, Lee found that her internship required long hours of research at her desk. ?It?s very hard to get up in the morning and feel awake; I?ve become a coffee drinker now.?
The class graduating in the wake of the September 11 attacks met a world shaken. Unemployment was rising and New York City was particularly hard hit. In spite of this, Sarah Krainin, a native of rural Maine, moved to New York in fall 2002 to work as a set designer for an off-off-Broadway play directed by a Wesleyan graduate. Fully 29 percent of her class also moved to New York, according to CRC statistics. Unsure whether she would like a big city environment, Krainin said at graduation that the decision of whether to remain in New York would ?pretty much depend on whom I?ve met and what?s happened.?
?I?m nervous. It?s kind of exciting,? she said. ?I know that I really like stability and accepting a life that is not going to grant me that automatically is very actively a choice.?
Krainin learned one lesson the hard way. After a summer touring with the Canadian Fringe Festival, she moved into her aunt?s house in Rockland County, a stately home along a nature preserve located about a 90-minute commute from downtown Manhattan. At first, the situation seemed ideal. She could live in a safe and comfortable home rent free, while she looked for work in the city. The drawbacks, however, of a remote location and extended status as a guest wore on her. From August to mid-October, she searched unsuccessfully for work and spent many of her evenings watching television. She began to feel isolated and, as she put it, ?useless.?
?I had no purpose, I had no goals,? she said.
She eventually landed a job in the theater department of Hunter College High School and decided to move closer to friends in Brooklyn. By the time Krainin?s self-imposed January deadline rolled around, she was too busy with theater work to consider leaving New York. Throughout her first year, she phoned her parents often, both for an emotional lifeline and for practical advice.
?There were a lot of things that I have to worry about now that I didn?t have to worry about at Wesleyan, like, oh, do I sign this lease?? she said. ?Or if I cut my hand and I have no health center, what do I do??
One year after graduation, Krainin lives with a roommate her age in a small apartment in Park Slope, Brooklyn. The apartment is worlds away from the spacious home in Rockland County—she describes her neighborhood as ?run down? and the apartment floors slanted like the ?rolling hills of Scotland?—but the space is hers. She found that emotional stability post-college can be as simple as finding a place to fit in.
?I didn?t just move,? she said. ?I moved and I got theater gigs and work picked up. It was a combination of feeling needed, feeling I had a purpose, and feeling the environment that I had chosen, i.e., my new apartment, was serving this purpose.?
Chaya Braxton has faith, which helped her to keep perspective during difficult times. In the year after graduating from Wesleyan, the history major lost three jobs to the shaky economy and faced numerous professional rejections while living at home with her mother. Braxton, whose mother is a career consultant, says she mailed up to 25 résumés a week for jobs in the Richmond, Va., area.
?Somebody should pay me to write cover letters, because I write the best,? she said from her home in the suburbs of Richmond. ?I've gotten interviews just on my cover letters.?
During the year she continued to hone her writing skills, even in the absence of an outlet for publication. ?I studied composition books. I went over my old papers. I wrote letters to the editor that I never sent.? She also started attending meetings of the Richmond Association of Black Journalists.
She believes getting through the first year is all about a feeling.
?If the normal person looked at my circumstance, you wouldn?t say that I have any reason to be happy at all,? she said in March. "I just lost my job on Monday, it?s a struggle to put gas in my tank, I?m living with my mom, I have no idea what I?m going to do, and still, I?m excited. I have so much inside of me that?s just waiting to come out, in its own time.
?I?m convinced, at some point, I?m going to get a flood of calls,? she said.
There was no flood of calls, but her fortunes turned around when she placed a cold call to the editor of Style, which is Richmond?s version of the Village Voice. She proposed an article about the city?s up-and-coming slam poetry scene. The editor told her to go for it, and soon she had both her first major published piece and an invitation to write more.
Braxton has found it challenging to both work on her craft and still pay the bills. ?I?m caught, in the real world, between trying to eat and support myself but also pursuing my dream.?
She sighed as her voice trailed off.
?Sometimes one will take longer than the other.?
Most times, one does take longer than the other. Jennifer Karlin and Amelia Borofsky, both Wesleyan alumnae from the class of 1999, used their struggle to reconcile Wesleyan-fostered ideals with those of the working world as the basis of their new book, ReGeneration, which gathers the writing, artwork, and testimonies of twentysomethings searching for meaning amidst the rat race. [See sidebar, p. 23.]
Neither author believes in the ?Quarterlife Crisis? theory, and they presented their book, in part, as an alternative to it. ?Events aren?t crises but more moments of change and moments to look at where you?ve been and where you?re going,? says Karlin. ?This happens throughout your life. The decisions that we make matter, but they don?t matter in the way you think they do. Either decision you make is going to put you on a road to other decisions.?
Karlin and Borofsky believe Wesleyan should do a better job of preparing seniors for potential pitfalls. They suggest exit seminars addressing not only the job search, but time and money management, relocation and relational stress, and reasonable goal-setting. But, c?mon, this is Wesleyan. As students desperately milk the last sunny days of undergraduate life, would any of them leave Foss Hill to attend a seminar titled ?Life After College??
Michael Sciola, director of Wesleyan?s Career Resource Center, knows they wouldn?t. The CRC does run several transition seminars throughout the year, including a panel discussion with recent grads on ?Liberal Arts Power: Putting Your Wesleyan Degree to Work? and a series called ?Seminars for Survival,? which focuses on real-world issues like how to find an apartment, buy a car, and navigate workplace etiquette. The ?Seminars for Survival? run during the weeks prior to graduation and have chronic attendance problems. Why the low turnout?
?Avoidance,? he said. ?By the time you?re a senior in college, you?re at the top of your profession. No one is better at being a student. You?ve been doing this all your life and now you?re being told that you have to go on and do something else. It?s kind of ironic, but the career center really represents an end to college.?
Nonetheless, Sciola isn?t concerned. The Wesleyan CRC is unique, he said, because alumni can use its services for free for the rest of their lives. Roughly one-third of alumni take advantage of the CRC after graduation and, of that portion, more than 60 percent are in the first five years out. Lifetime free access to CRC services was instituted in 1996 to respond to alumni need. The CRC, Sciola believes, becomes even more relevant after the first year out.
Preliminary numbers from Wesleyan?s most recent graduated class, 2003, suggest the CRC might become relevant sooner rather than later. With roughly a third of seniors reporting as of June 1, fully 53 percent claim to be actively looking for a job, 21 percent report that they have found employment, and 22 percent plan to attend graduate or professional school. Sciola noted that the number of 2003 seniors planning to attend graduate school is almost double that of last year.
One year after leaving Wesleyan, Jimin Lee remains in New York City, despite initial pressure from her parents to move home to California. After a series of short-term internships at the American Museum of Natural History, Lee was offered a position on the staff. She carefully budgets her money, and her parents have helped with her school loans.
Employment, financial stability, and her parents? expectations still preoccupy her. When asked to reflect on her first year out, Lee recalled something she said in May 2002, sitting in front of the coffee shop in the awkward hours between student life and independence.
?My head is full of stuff and has been for a while,? she said that spring. ?It?s really hard to step back and look at life objectively. I feel like now, I can look back at high school and see how it really was and maybe three years from now I can look back at college and see how I really felt.?
One year later, during a late-night phone call from her new apartment in Queens, Lee again brushed aside a request for reflection.
?Ask me in a few years,? she said.
---
---
---
The world felt confusing and overwhelming. Sometimes there was a sense of endless possibilities. Other times, despair loomed. Faced with this confusion so soon out of college, Amelia Borofsky ?99 and Jennifer Karlin ?99 wrote a book.
Borofsky remembers hitting upon the idea for the book in a car ride through The Presidio. Karlin remembers the inspiration came on a walk across the Golden Gate Bridge. It hardly matters where, for they talked all the time about how to navigate post-college life.
?In your early 20s, you think you?re the only one who doesn?t have it together,? Borofsky explains. ?But we noticed that everyone we talked to was feeling similarly—and writing about it. Our hope was that the book would start a real dialogue—only larger—a multilogue, with lots of different voices saying, ?No, nobody has it figured out, and maybe nobody ever has it figured out, whatever it is.??
Their book, ReGeneration: Telling Stories from Our Twenties, is a collection of stories, essays, poems and photographs that explore the experience of coming of age in the new millennium.
While parents and grandparents might nod sympathetically recalling their own youth, Borofsky and Karlin say today?s twentysomethings face unique stresses. The ease of transportation throws the question of ?Where shall I live?? into sharp relief (They call it ?itchy pants syndrome,? defined as ?the realization that wherever one is, one could be somewhere else.?) Their friends travel the globe, have coed roommates, change jobs frequently, and feel sexual identities to be more fluid than one would have found just a generation ago. E-mail and instant messaging make communication nearly instantaneous—and raise the expectation that answers will come that quickly.
To gather submissions documenting their contemporaries? creative responses to life, they tacked up an ad on corkboards in coffeehouses and bookstores, sent it to friends ?in every major city where we know people,? and published it in Poetsand Writers magazine.
They received nearly 600 pieces, and from this outpouring they have culled their rich ?multilogue.?
Amanda DeWald ?98 writes about teaching in an inner city junior high and becoming ?a shaping force in the lives of so many other people. My daily creed had been summed up by [student] Lamont in his letter to me, as heartfelt and as reiterative … ?But I will try to do better and this time I mean it.??
Loam Akasha-Bast fantasizes about the sort of personal ads that she, a young single mother, might place: ?Snake-wielding priestess of the kitchen-drain sludge seeks androgynous dishwasher punk for sexual housecleaning experiment. Big plus if naked Barbies in the bathtub turn you on.?
?I didn?t go out to ?score,? because I considered it an expression of predatory male sexuality in a patriarchal culture. I viewed dating as a superficial preoccupation of people who did not understand the urgent attention that the environmental crisis needed,? writes self-described ?sensitive male? Michael Ellsberg, before his erotic encounters with ?Juana? changed his notions.
When Borofsky notes that their favorite pieces were by other Wesleyan graduates, Karlin laughs and responds, ?Oh, that?s not true!?
?Yes,? Amelia insists, ?we kept being drawn to those—out of 50, we have at least 10. The Wesleyan writers were self-aware, critical, and artistic. They approached their contributions as: Here?s our art and here?s what we have to say about it.?
?I don?t know if I could make a distinction between Wesleyan contributors and others,? Karlin demurs, ?but in the ones we liked, we found the authors had the ability to move between self-awareness and awareness of self in context with others. And the type of education Wesleyan offers encourages that movement. Almost every class I took had to do with trying to see relationships between self and the world.?
Borofsky and Karlin are interested in promoting discussion about navigational tools to embrace the ?in between? or liminal times throughout life.
?We do not really believe in the idea of a crisis at all, since history has taught us that growth and change rely on loss and repair,? they write. ?We see the twenties … as a watershed of possibilities.? The twenties are a liminal state, a threshold, a point in life where so much is in flux and so many outcomes seem possible.
Download a PDF of the complete article HERE 
ReGeneration contributor John Krist wrote about this ?neither-nor? state as a traveler in England: ?The liminal state is when someone is between two worlds, where they are both more insightful and more dangerous to existing order. The material world and the spiritual world, say.
The voices from the borderlines, the book suggests, will hold a different perspective than those in the center. Learn to enjoy the observations—and excitement—those voices offer, knowing that stability and transitional stages ebb and flow throughout life.
It is our hope that in reading this anthology you are inspired to continue questioning while awakening the transformations that may be hibernating inside you, the editors write. Spending three years creating, collecting, editing, writing, and promoting this anthology has been our regeneration project. Readers, we hope, will run, laugh, and regenerate right through these pages and on into their own multidimensional lives. —Cynthia Rockwell