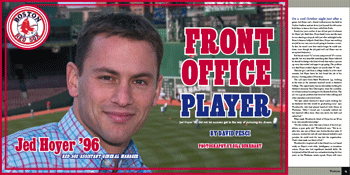 ON A COOL OCTOBER NIGHT JUST AFTER A GAME, Jed Hoyer and a friend walked across the field in Yankee Stadium and sat down just beyond the left center field fence to have a few beers with Babe Ruth.
Barely two years earlier, it was all just part of a dream for Hoyer '96. Back then, Hoyer hadn't even met the man he was sharing a six-pack with just after midnight in the Bronx's famous ballpark. Back then, Hoyer was working at a job he was very sure wasn't going to become a career. In fact, he wasn't sure how much longer he could continue, even though the job paid well and Hoyer was on an upward trajectory.
But the job wasn't "it," or even a step toward "it"–a non-specific but very heartfelt something that Hoyer believed he should be doing–the kind of work that wakes a person up every day excited and eager to get going. The problem was that Hoyer couldn't figure out exactly what "it" was.
Then he got a call from a college buddy. In a few short seconds, Jed Hoyer knew he had found the job of his dreams. Starting salary: $8 an hour.
The call came from Mark Woodworth '94, working at the time as the assistant baseball coach at Amherst College. The opportunity was an internship working for Amherst alumnus Ben Cherington, then the coordinator of international scouting for the Boston Red Sox. The job was a grunt position that involved video-editing and other mundane entry-level tasks.
"He had called Amherst's head coach looking for an Amherst kid who would be graduating soon," says Woodworth, who had played baseball with Hoyer at Wesleyan. "After I found out, I casually walked out the baseball office door, then ran down the hall and called Jed."
What made Woodworth think of Hoyer for an $8 an hour, nine-month internship?
"On the surface, sure, this was a lowest of the low positions, a pure gofer job," Woodworth says. "But in reality this was one of those rare foot-in-the-door jobs. If someone worked his tail off, and showed initiative and promise, he could work his way into the organization. That's what made me think of Jed."
Woodworth's inspired call to his friend was not based solely on Hoyer's work ethic, intelligence, or tenacious nature. Hoyer also had significant baseball skills. He had played all his life and was a standout during his four years on the Wesleyan varsity squad. Hoyer still owns Wesleyan's career and single-season saves records and in hits ranks in the top 20 all-time. He'd also gotten two hits in the College World Series Final off Jarrod Washburn, a player who would go on to an All Star career in the major leagues and a World Series title with the Los Angeles Angels. After graduation, Hoyer had been an assistant baseball coach for Kenyon College and for Wesleyan.
"Jed had played at a high level and he knew how to evaluate talent," Woodworth says. "He had the skills, creativity, intelligence, and initiative to work in a major league front office."
Oh, and there was one other thing.
"I grew up a huge Red Sox fan," says Hoyer, who was raised in Plymouth, N.H. "Baseball has been my greatest passion since I was about 5 years old. During my childhood I played, read, studied, and talked about baseball incessantly, and definitely bored my parents and sisters to tears in the process.
"I didn't care about the money at all," Hoyer says. "They could've paid me less. I knew this was the opportunity I had been looking for. I knew it instantly."
There was just one problem. Somehow Hoyer had to convince Cherington that a guy with a well-paying consulting job was serious about dropping everything for a low-paying, no-benefits, short-term internship typically filled by a recent college graduate.
It took several phone calls and a few face-to-face meetings before Cherington was persuaded that Hoyer was a viable candidate.
"He impressed me with his baseball intellect, analytical ability, and general creative thought," Cherington says. "He really knows the game well and moves easily back and forth between subjective and objective forms of player evaluation."
About two months after their initial conversation, Cherington told Hoyer that if he wanted the job, it was his. Hoyer was ecstatic. Like any avid baseball fan who had ever traded baseball cards as a kid or sat around barstools proposing theoretical trades as an adult, he had fantasized about running a major league team. But getting a crack at a job that could put him on a career path toward a front office position–with his favorite team, no less–was dreamlike. Hoyer couldn't wait to tell people. He couldn't wait to start.
But there was a caveat.
The team had just been sold and Cherington told Hoyer that all new hires were frozen until the sale was final and the new ownership group evaluated every position in the organization. In fact, Cherington didn't even know what his position would be under the new group.
Just like that, reality gave his dream a swift kick between the eyes.
"The Red Sox were sold in December," Hoyer says, his voice thickening with emotion as if the event had happened yesterday, "and the new ownership group immediately froze all new hires and initiated an organization-wide audit until they took control in March."
Instead of giving notice to his consulting firm or telling all his friends he was going to work for the Red Sox, Hoyer went to work every day wondering if the opportunity he'd worked so hard to get, and had invested so much in emotionally, was going to vanish before he even had a chance to start.
"It went on for a few months," Hoyer says. "It was torture."
Spring training 2002 had already begun and Hoyer still hadn't heard one way or the other. Once the new ownership group took over, Hoyer knew that that he would learn his fate shortly. He feared the worst when Cherington finally called.
"He said it was such a low-level job that it was apparently not even in the audit," Hoyer says, then smiling broadly. "I was in."
From the outset, Hoyer's objective was to learn as much, and do as much, as he could: to make himself so indispensable that at the end of his nine months Cherington and the Red Sox would have to extend the internship or even make him a full-time employee.
Hoyer expected to step into a whirlwind, but the first few weeks were slower paced than he anticipated. The team was still in Florida and the entire front office was in flux under the new ownership.
"I was just getting acclimated, doing whatever I could, but I was only working about 40 to 50 hours a week," Hoyer says. "Then the team came back and I met Theo."
"Theo" was Theo Epstein, the 28-year-old Red Sox general manager. Epstein began chatting up the new intern, who looked a bit older than the other interns (Hoyer and Epstein were born just three weeks apart).
Epstein was impressed with Hoyer's education, his experience crunching numbers for a consulting firm, and his facility with Excel and PowerPoint. And they had a lot of the same ideas about baseball and talent evaluation.
"Jed has a very analytical mind and good baseball judgment," Epstein says. "He was a natural to contribute."
So Epstein made an executive decision.
"Next thing I knew I had gone from being the scouting intern to working directly for Theo," Hoyer says.
Then the whirlwind began.
Hoyer went from working 40 to 50 hours a week to "closer to 80 to 100 hours." He mastered a sophisticated major league video scouting system known as BATS and worked on several special projects for Epstein, most of which he can't discuss. But one he does mention gives an idea of the breadth and challenge of some of his tasks.
"I did a statistical analysis of every minor league coach in baseball," Hoyer says. "It was an interesting study because we were pretty sure at the outset that this was not the type of performance that could be completely quantified. But we were looking more for trends–were players or certain positions or a player's particular skill sets improving more under one coach than another? Was similar improvement seen when the coach moved to another team or level?"
When asked if he found any specific insights that the Red Sox used in hiring new coaches, Hoyer just smiles.
"Some of the information was intriguing."
And then his smile flattens and he offers a qualifying statement.
"A lot of people think our front office is filled with stats guys who live or die by computer printouts and Sabermetrics," he says. "We like stats, but more than anything we like good information: stats, scouting reports, coaches' evaluations, talent evaluations that we can make in person or using video, reports on a player's personality. We don't rely on any single area. We want as much quality information as we can acquire."
During the next nine months, Hoyer focused primarily on generating reports and analysis that the Red Sox did not have under the previous leadership. He also was fortunate that the new front office was not fully formed, presenting him with an opportunity to help out in various areas.
"When I started the internship, I knew I only had nine months to convince them to hire me full time," Hoyer says, "I just tried to do everything I could to show that I was valuable. My timing really couldn't have been better because there was so much work to do and just not enough employees."
He worked on contract negotiations, scouting, player development, and even picked the brain of Bill James, a noted baseball statistics guru whom the Red Sox had recently hired.
"It was a lot of work, but it was also extremely interesting," Hoyer says. "I look at that year as 'baseball grad school.' By the end of the nine months I was confident I could succeed in this environment."
Epstein was equally enthusiastic about Hoyer's potential and promoted him to a full-time position: baseball operations assistant. For Epstein, it was an easy decision.
"Jed had risen quickly because of his performance," Epstein says. "He could be trusted to produce thorough, thoughtful work and generate ideas that make us better."
As Epstein's right-hand man, Hoyer faced an even larger workload.
"It was my first off-season, which is when the GM and the front office staff are working at their peak with contract issues, acquiring free agents, dealing with minor league issues, making trades, and building the team for the next year," Hoyer says. "And that year there was the added pressure of Theo becoming GM at age 28. Everyone wanted so badly to get his tenure off on the right foot. It didn't make for a relaxing holiday season. Ever since then my Mom has reluctantly become understanding of our crazy schedule during the holidays."
Hoyer acquired new skills during the off-season. He saw how Epstein negotiated contracts and deals and learned on the fly about the proclivities and habits of agents and other teams' general managers. Along with the other front office personnel, he served as a sounding board whenever potential decisions about players were discussed.
"Theo doesn't want yes-men," Hoyer says. "He wants to hear what we all think and why. It really makes for a great process because we have so many good talent evaluators with such varied backgrounds on our staff."
That first off-season with Epstein as general manager, the front office focused on finding undervalued offensive players. The team traded and signed several players who were not well known, but the front office was confident that they had constructed a strong offensive team.
"A 162-game schedule is a marathon, and you never know what can happen over six months. But we were pretty confident that this team would score a ton of runs, especially in our ballpark," Hoyer says.
Their confidence seemed to be well-placed right up until the last game of the 2003 American League play-offs when the Sox squandered a 5-2 lead in the 8th inning against the New York Yankees and lost a trip to the World Series on an 11th-inning home run by Aaron Boone.
Hoyer and his fellow front office staffers were as crushed as any die-hard Red Sox fan.
"Devastated," Hoyer says. "Just sitting there, watching that ball go off the bat?" his voice fades and he shakes his head.
But then his eyes brighten.
"After we recovered a few days later, we realized how well positioned we were to have a great team in '04. We felt like we had plenty of offense. We needed another top-of-the-rotation starter and a relief ace to improve our run prevention. Schilling was clearly the top priority."
Curt Schilling, one of baseball's premier pitchers, was playing for the Arizona Diamondbacks. He had helped shut down the Yankees in the 2001 World Series. He wasn't a free agent but the Diamondbacks were looking to shed his high salary in a trade.
"A few weeks later–after we had completed the trade terms with the Diamondbacks–I was on a plane with Theo flying to Arizona to meet with Curt and his wife, Shonda," says Hoyer.
The trade was contingent on Schilling negotiating a new contract with the Red Sox. Major League Baseball typically allows 72 hours for such a negotiation, but if it was not satisfactory, Schilling could void the trade and Hoyer and Epstein would be flying back to Boston empty handed.
Schilling, who is intelligent, outspoken, and known to be very opinionated, differs from most professional baseball players in that he prefers to handle his own contract negotiations. To get his approval for the trade, the Red Sox had to offer him not just a competitive salary, but also had to convince him that the team and Fenway Park were a good fit for his skills and aspirations.
"Fenway has a reputation of being a home run park, which is always a concern for a power pitcher like Schilling who gives up a lot of fly balls," says Hoyer, who had been promoted to assistant to the general manager. "But it really isn't. It's a doubles park. So part of my job was to gather information to prove this to him, and in a way that he would identify with."
Hoyer provided extensive statistical information to support the point. He also created video discs of all Roger Clemens' starts in Fenway, the pitcher whom Schilling most likened to his own style. And there was a letter.
"We actually wrote a short letter to Curt just before we left, explaining why we thought coming to the Red Sox was in his best interests," Hoyer says. "But as we were flying to Arizona we realized it would be awkward to just give it to him at the beginning of the negotiations, especially if we were sitting there while he was reading it. We wanted him to read it, digest it, and think about it."
As soon as they landed, Hoyer drove over to Schilling's house and hand-delivered the letter.
A few hours later, Hoyer found himself sitting at the Schillings' kitchen table with Epstein and others from the Red Sox, including team president Larry Lucchino. They talked for several hours. It was the Wednesday before Thanksgiving and after they finished for the day, Lucchino headed to the airport to fly home to San Diego for the holiday. The negotiations were scheduled to continue on Friday, so Hoyer and Epstein were about to go back to the hotel. Schilling stopped them and asked if they would join him and his family for Thanksgiving dinner the next day. Hoyer and Epstein figured Schilling was just being polite and begged off. Schilling's demeanor changed.
"He said he would consider it a personal insult if we didn't join them," Hoyer recalls. "So of course, we said yes. It was a great time and a lot of fun, from the meal to watching football afterwards with Curt and his family. We didn't even discuss negotiations until the night was almost over."
By the end of the day on Friday, the Red Sox and Curt Schilling had reached an agreement.
"While we were flying home, Theo and I were talking about how we could work in baseball for 40 more years and never have a negotiation like that again–sitting casually at a table with a superstar and his wife, no agent, and going over deal points," Hoyer says. "And then a month later, there we are sitting with Alex Rodriguez and his wife in the Four Seasons in New York–no agent, drinking coffee to stay awake at 3 a.m., while we discussed a deal to bring him to Boston. It was the most surreal and exhausting month I've ever had by a long shot."
Rodriguez, also known as "A-Rod," the reigning league MVP, was another off-season target. As much as both parties wanted it to happen, the deal fell through when the Major League Baseball Players Association would not approve Rodriguez's proposed contract restructuring with the Red Sox, saying the superstar was giving up too much salary. The deal crumbled. The Yankees swooped in with their larger budget and scooped up Rodriguez.
"That was certainly an unexpected blow," Hoyer admits. "We never thought A-Rod would switch positions to go to the Yankees. But despite it, we felt that we had a very strong team going into 2004. After a solid April, though, we were a disappointing team for the next three months. Thankfully, we caught fire in August and found ourselves right back where we had been the year before."
That is, in the American League Championship series, playing against the Yankees. Again, things were not going well. The Sox were losing, and Hoyer, Epstein, and staff member Josh Byrnes were hearing about it, literally.
"It was game two in Yankee Stadium, and we're losing, and this really obnoxious fan was sitting next to Theo and just verbally laying into him all game long. He listed off literally every player who had ever played for the Yankees and said 'Champion' after his name," Hoyer says. "We just sat there taking it, not saying anything. But we were all burning up inside. And during one of the tirades Josh leans into me and says, 'Someday we're going to beat these guys, here, and when we do, we're going to go out to Monument Park (behind the left centerfield fence) and have a few beers'."
Hoyer nodded. The Red Sox lost that game and the next one, putting them on the precipice of a four-game sweep and elimination.
Then the Red Sox mounted perhaps the greatest comeback in sports history, winning the next four games in dramatic fashion, the last on a cool October night in Yankee Stadium.
"We were in the visitors' clubhouse spraying champagne all over each other. We had just won four straight against the Yankees–the last two in Yankee Stadium–to go to the World Series!" Hoyer says. "And then I look across the clubhouse and see Josh smiling. He held up a six-pack and nodded towards the door."
Hoyer smiled back, slid out of the clubhouse with his co-worker and good friend, and they walked across the Yankees' field to the monuments. They draped their arms over Babe Ruth, drank their beers, and called their families and closest friends.
"That was one of the greatest moments of my life, as a member of this organization and as a Red Sox fan," Hoyer says, grinning. "It was just an awesome thing to witness firsthand!"
The Red Sox went on to sweep the Cardinals in the World Series, the first World Series win for the Sox in 86 years. The victory was followed by a parade through Boston, celebrations that went on for weeks and a state-by-state New England tour of the World Series Trophy that lasted for several months.
"It was crazy for about a week, but the end of the World Series signals the beginning of the off-season and we had to get back to work," Hoyer says.
While Hoyer and his colleagues made some impressive additions to the club, the 2005 season played out differently than 2004. Injuries plagued the team, most notably to Schilling and star closer Keith Foulke. Though the team finished in a dead heat for first place with the Yankees in the American League East, they were swept in the first round of the playoffs by the Chicago White Sox. Difficult as that was to take, turmoil followed the team into the off-season. Epstein's contract negotiations broke down and, on October 31, he announced he was leaving the team. Hoyer was taken completely by surprise.
"It didn't hit me until the next morning," Hoyer says. "At that moment, I realized that he was gone and I didn't really know what to expect."
To complicate matters, Epstein's heir-apparent, Byrnes, had just left the team to become the general manager of the Arizona Diamondbacks.
With the off-season about to begin, and several of the team's starters becoming available for free agency, the Red Sox front office looked to be in disarray. Hoyer admits it was a tremendous challenge.
"There was a day or two of shock," he says. "But then everyone in our department really pulled together to make sure that nothing slipped through the cracks."
Nearly every day, the relentless Boston news media speculated that a rift between team president Lucchino and Epstein had driven Epstein away, that Epstein could return to the organization any day, or that Lucchino could be leaving. Meanwhile, Lucchino's interviews with several potential general manager candidates were falling short and the off-season was speeding by.
Amid all this, on December 13, 2005, the team made another major announcement: Hoyer and Cherington were named co-general managers.
In just under three years, Hoyer had gone from an $8-an-hour intern to the top of his profession at one of the most prestigious organizations in sports. The dream of a boy trading baseball cards had turned into a reality for Jed Hoyer. At age 32, he was running the Boston Red Sox.
The timing could not have been worse.
Hoyer was promoted in the middle of the busiest period for baseball executives. The unique co-general manager structure also looked, at least outwardly, like an arrangement that could potentially hamstring both men. But Hoyer was confident it could work.
"Ben is such a good teammate and so trustworthy that I knew the 'co-GM' part was nothing to worry about," he says. "The biggest challenge was that we had no time to catch our breath. No time to settle in. December is typically a month of little sleep, but I knew it would be even more difficult than usual."
Hoyer and Cherington dove in, proposing trades, deciding which free agents to target, and what other changes to make. During the process, the Yankees outbid them for popular Boston centerfielder Johnny Damon. It was a tough loss for the team, but Hoyer knew they had to move forward.
As a fan, you become attached to certain players,"?Hoyer says. "In our jobs, we always have to focus on the big picture: balancing both short-term and long-term interests to determine what's best for the organization. It isn't easy, especially in some cases; trust me. But it's the nature of the business."
Still there were successes. Hoyer had worked on the deal to acquire an outstanding pitcher, Josh Beckett, as well as several other players who he and others in the front office hoped could make the team better in the coming year.
The pace was frenetic, sleep was almost non-existent, and yet Hoyer was thriving.
And then, 44 days after he was named co-general manager, the team made yet another stunning announcement: Theo Epstein would return as executive vice president and general manager. Hoyer was named the assistant general manager and Cherington, vice president for personnel.
Hoyer gives no indication of bitterness or disappointment with the reshuffling. In fact, he was elated about the return of his friend and mentor.
"I always thought that Theo would be the GM of the Red Sox for decades," Hoyer says. "Even being close to the negotiation, I thought that things would work out at the 11th hour. I'm thrilled that he's back."
Hoyer says he also learned valuable lessons during his brief stint as the team's co-general manager.
"I was in constant contact with every team and every agent. I established a lot of relationships and had a lot of experiences that will help me assist Theo better than I could before. Also, I was able to see what it is like to 'sit in that chair.' That experience gave me a much greater appreciation and empathy for how challenging it is to be GM of the Red Sox."
As for his present position, and his future, Hoyer is enthusiastic and optimistic.
"I couldn't be happier with the position I'm in today," he says. "I get to walk into Fenway Park every day to work with like-minded people. It never gets old. As far as being a GM someday, I hope it happens but I'm not in a hurry. I have so much to learn and so many great people to learn from. I don't just want to be a GM, I want to prepare as much as possible so that I have every opportunity to be great at it. And if I never get to be a GM, I will still have incredible memories and will have had the chance to love going to work every day for many years. I know how lucky I am to be able to say that."
Sure sounds like the words of a man who is living his dream.