For An International Student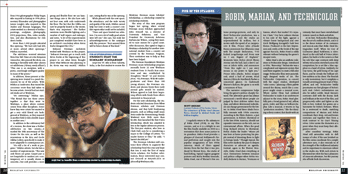 Arijit Sen '07, who is from Calcutta, India, is the first student to receive the Wesleyan Freeman Asian Scholars' Scholarship, a scholarship created by scholarship students.
The story of this new program began last spring, when several Freeman Asian Scholars approached John Driscoll '62, a director of University Relations, and Vice President for University Relations Barbara-Jan Wilson, saying they wanted to raise money for a good cause. After discussion, they opted to begin a Wesleyan scholarship for another international student from a country not covered by the Freeman Program. Their motivation was to help as they have been helped.
The Freeman Foundation's Wesleyan Freeman Asian Scholarship program annually hosts 22 new Wesleyan students from 11 Pacific Rim countries and was established by Houghton "Buck" '43 and Doreen (Hon. '03) Freeman. With 88 undergraduates and fewer than 100 young alumni, the Freeman students and alumni knew their early annual gifts would be modest. Wilson agreed to link their beginning efforts with funds from others interested in financial aid.
For the new scholarship, the students solicited donations from fellow Freeman scholars and Freeman alumni, and they held fundraising projects, such as selling small Asian items under the Homecoming/ Family Weekend tent. With more than $3,000, they launched the first FASA Scholarship, which was awarded to Sen in the regular admission process. The first-year student, who lives in Clark Hall, says he is considering a major in the College of Letters. "Or maybe history or film," he adds. "I haven't decided yet."
The Freeman Scholars will continue their efforts to augment the scholarship fund this year and hope that Sen is only the first of many FASA scholars. For further information, those interested may contact Driscoll at 860/685-2554 or jdriscoll@Wesleyan.edu.
Download a PDF of the complete article HERE