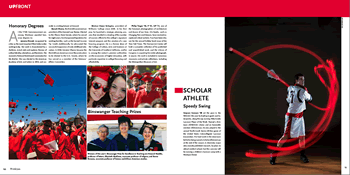 At the 176th Commencement ceremony, Wesleyan awarded honorary degrees to:
Jamaica Kincaid, recognized by critics as the most important West Indian writer working today. Her work is characterized by a rhythmic, lyrical style and explores themes of cultural identity, colonialism, and feminism. She received a National Book Award nomination for My Brother. She was elected to the American Academy of Arts and Letters in 2004, and currently is a visiting lecturer at Harvard.
Barack Obama, the first African-American president of the Harvard Law Review. Elected to the Illinois State Senate, where he served for eight years, he championed legislation for working families, such as the Earned Income Tax Credit. Additionally, he advocated the successful expansion of early childhood education. In 2004, Senator Obama became the third African American since Reconstruction to be elected to the U.S. Senate, where he has served as a member of the Veterans' Affairs Committee.
Morton Owen Schapiro, president of Williams College since 2000. In his first year, he launched a strategic planning process that resulted in a tripling of the number of courses offered in the college's signature tutorial program and the creation of a new housing program. He is a former dean of the College of Letters, Arts and Sciences at the University of Southern California, and he is among the nation's premier authorities on the economics of higher education, with particular expertise in college financing and affordability.
Philip Trager '56, P '81, GP '11, one of the foremost photographers of architecture and dance of our time. His books, such as Changing Paris and Dancers, have received exceptional critical acclaim. Four have been chosen for the annual holiday book issue of the New York Times. The Davison Art Center will hold a complete collection of his published and unpublished work, and the Library of Congress is acquiring his entire photographic oeuvre. His work is included in numerous museums and private collections, including the Metropolitan Museum of Art.