John Sease Dies at Age 80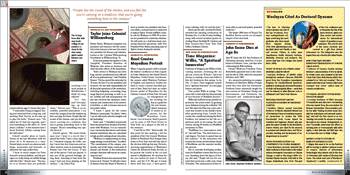 John W. Sease, the E.B. Nye Professor of Chemistry emeritus, died Nov. 12 at his home in Portland, Conn., just days after celebrating his 80th birthday.
Former Wesleyan President Victor Butterfield appointed him to the chemistry faculty in 1946, where he remained full–time until 1988.
At a memorial gathering on campus Professor of Chemistry Wallace Pringle noted that even after his retirement, Professor Sease voluntarily taught his new courses on Chemistry, Energy and Environment, and Chemistry, the Consumer and Environment for another decade. "John loved the environment and felt that an understanding of the appropriate science for non–science majors was an excellent way to make progress. He was a First–Year Initiative course pioneer," said Pringle.
Professor Sease was born in 1920 in New Brunswick, N.J. He graduated from Princeton University and obtained a doctorate from the California Institute of Technology, where he served on the National Defense Research Committee.
Princeton required chemistry majors to write a "Junior Report," and Pringle said that Sease's was "a major 100–page paper containing physical chemistry formulae and equations of thermodynamics and statistical mechanics for atoms and molecules—neat and meticulous. The more complicated the problem, the better John liked it."
At Wesleyan he chaired the faculty committee that constructed Hall– Atwater Laboratory. An expert in electrochemistry, he supervised the thesis of the very first student to receive a doctoral degree in chemistry from the university. For decades he served as the safety expert in chemistry. In 1999 he and his wife, Mary M.A.L.S. '87, established a Wesleyan Prize for Environmental Research. He had a lifelong interest in railroads and steam locomotives, and was an active model railroader. He and his wife traveled extensively and particularly enjoyed sailing.
"John was a wonderful teacher of squash and tennis for me," said Pringle, "as much the game as his gentle style and grace. All close calls went to the opponent. John Risley [professor of art emeritus] who partnered with John on the tennis court, once referred to John as one of the 'last of old–style gentlemen'."
Mary (Lieurance) Sease, died six weeks after him. A talented weaver, potter and artist, she was a founding member of the Wesleyan Potters.They are survived by three daughters, one son, and five grandchildren.
Blast Off
Five students will blast off into simulated space in March when Wesleyan's Zero Gravity Research Team performs a series of tests in a completely gravity– free environment using a mockup of the fire extinguishers NASA has stocked in the International Space Station. The team—composed of Jeff Berko '03, Catharine Wu '03, Laura Raducha–Grace '03, Lex Kravitz '01, and team leader Ian Garrick–Bethell '02—is taking part in the NASA–sponsored Reduced Gravity Student Flight Opportunities Program.
Over a two–day period members of the team will do 60 turns on the "Vomit Comet," a Boeing KC–135A aircraft which flies in parabolic arcs to simulate the experience of weightlessness, and will experiment with different scenarios using the simulated extinguisher. They will try to discover if the equipment will work correctly with all body types in a variety of positions in zero gravity.
Following the flights out of Houston, Texas, they will work with adviser Fred Ellis, professor of physics, to create a video that they will offer to NASA and the Johnson Space Center. They also intend to determine if aiming errors caused by a lack of gravity would prevent astronauts from extinguishing fires and to suggest, if needed, amendments to the user warning label on the extinguisher.
The Wesleyan group is the first team to be selected from Connecticut. Ninetyfive other teams, most from technical or research universities, also will participate in the program this year. Follow the team's efforts in cyberspace at www.wesleyan. edu/physics/zerog/.
Download a PDF of