EDUCATOR MIDDY TILGHMAN '03 KAYAKS ON THE "ROOF OF THE WORLD"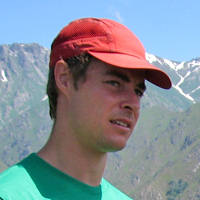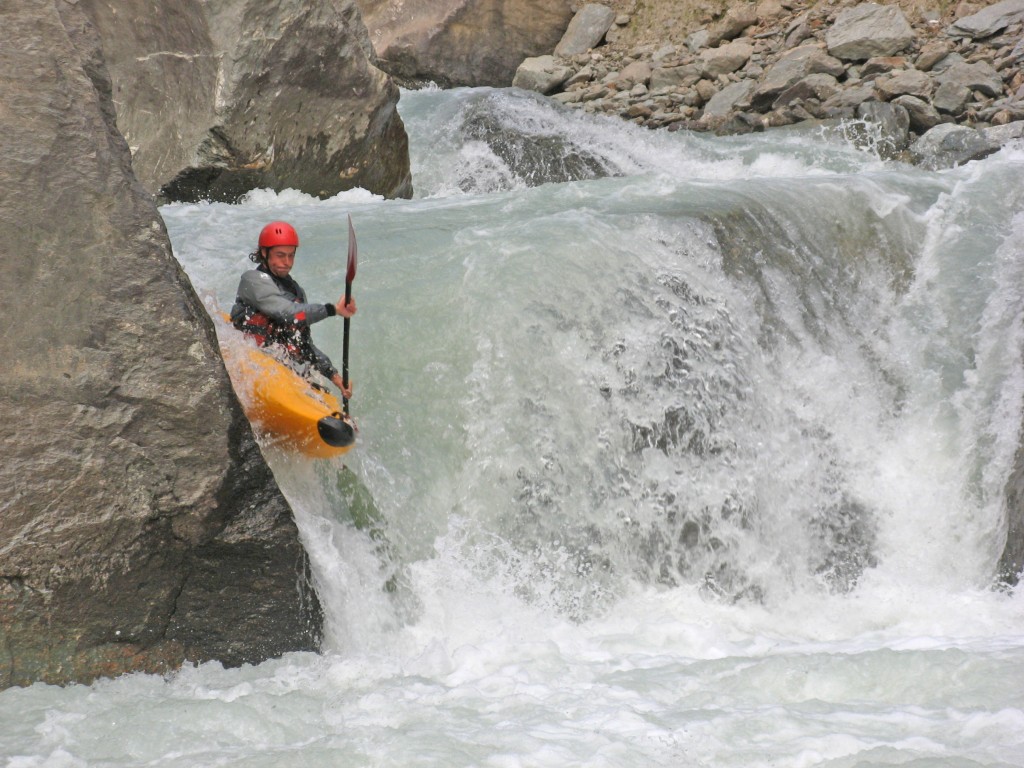 By Gabriel Popkin '03
Long before Middy Tilghman '03 arrived at Wesleyan, he knew his way around a Class 5 rapid. Tilghman grew up a few minutes' drive from the Potomac River's Great Falls just north of Washington, D.C., and by the time he got to college he was already among whitewater kayaking's elite racers. So naturally he arrived on campus with his boat, hoping to keep in shape for the summer racing season.
But he quickly ran into a problem: where to store a 15-foot kayak with only half a double room in WestCo to call home.
By luck, Tilghman's adviser, Associate Professor of Russian Language and Literature Duffy White (now emeritus) was a fellow kayaker. White offered to hang the poor freshman's boat in the garage of his house on Mount Vernon Street (an offer Tilghman calls "far above and beyond the call of duty"). With easy access to the Connecticut River, Tilghman was able to keep in shape while embarking on his coursework. Over the next four years he majored in physics and almost double-majored in dance while remaining near the top of his sport. He also adventured far beyond the standard racing courses. The summer between junior and senior years he and his childhood friend Andrew McEwan, also a world-class kayaker, explored a remote stretch of Canada's Northwest Territory; on the 50-day trip they saw a total of three other people.
In 2003 Tilghman collected his diploma and soon thereafter headed to France, where he taught English and devoted himself to whitewater racing. But after a few years on the competitive circuit, he again felt the pull of unpaddled waters. This time he and McEwan sought out some of the world's most remote whitewater, in the wild rivers that pour down between Kyrgyzstan's and Tajikistan's 20,000-foot-plus Pamir Mountains. The pair and a third friend spent two seasons scouting spectacular rapids, hauling their boats up mountains and plunging down glacier-carved gorges. Things didn't always go smoothly; one misadventure earned the kayakers a week in the custody of the Chinese border patrol.
"Not too many people are going to kayak in Tajikistan," Tilghman says. "It requires more of a sense of adventure. Some people want to drive to the top of a river and paddle down. We sometimes had to carry our boats for up to a week just to get to the beginning of a river."
By the end of the second season, the kayakers had run just about every navigable bit of whitewater in the country. Based on journals they had kept, they published the first river guide for the few kayakers brave enough to try the Pamirs, often called the "roof of the world." By this time the Americans had also gotten to know some of the region's famously hospitable people and learned about some of their hardships. Tajikistan had recently emerged from a brutal civil war, and many of its citizens—especially those living in the isolated rural areas where the Americans did most of their exploring—were still traumatized by the conflict.
Tilghman and McEwan wanted to help, and one evening while on break from the whitewater, they got their chance. They were having dinner in Dushanbe, the Tajik capital, with a representative from the U.S. State Department. The State woman mentioned that she had some grant money available and asked if the two kayakers might be interested in starting a summer camp for Tajik youth. Well, yeah. Tilghman had teaching experience from his time in France, and McEwan had all but grown up in the kayaking camps his parents ran on the Potomac. "We were oddly well qualified," McEwan reflects. Equally important, the Americans, both of whom spoke decent Tajik by this point, had begun to earn the trust of villagers in the isolated regions where the U.S. also wanted to build relationships. So Tilghman and McEwan took the plunge and founded Lageri Amerikoii—Tajik for "Camp America."
"I don't think I was really sure we'd succeed," Tilghman recalls. "We were pretty sure it would be 'one and done'—we'd do it and it would never take off."
Tilghman and McEwan began teaching English, drama, and arts classes to youth living in villages. They also took students rock climbing and organized team sports. Getting local buy-in wasn't easy at first: The regions of Rasht and Isfara, where Tilghman and McEwan were teaching, had been on the losing side of a brutal civil war that tore the country apart between 1992 and 1997. Even a decade later, villagers remained suspicious of outsiders. "The first year, people would say, 'Yeah right, our 14-year-old daughter is going to hang out with these new people all day—no way,'" Tilghman says. "Then someone would watch us for a day and realize we're really quite boring."
One of the keys to earning the locals' trust was that Tilghman and McEwan didn't arrive with a religious agenda, as other foreign aid groups had. Instead, they engaged local educators in shaping how the camps ran, says Umedjon Sharifov, an English teacher in Tajikistan who worked at the camps. "[Middy] likes to listen to people's opinions. Even though he was our boss, he never told us, 'Now you just go do this.' He would always discuss with every single person, 'What do you think about this?' He was also very careful about culture and traditions. Whatever he did, he always asked, 'Is it appropriate in your culture if we do this?' He was really respectful about our culture, and we don't see that with many foreigners in Tajikistan."
"The particular set of qualities [Tilghman and McEwan] have is not easy to come by," agrees Ray Nayler, who as a representative of an NGO in Tajikistan, helped administrate the initial State Department grant for the camps. (Nayler is now a cultural affairs officer based in Kyrgyzstan with the State Department.) "These guys will go anywhere and do anything, which I think comes from their kayaking background. And that translated into…being able to go deeply into the countryside and giving these kids an extraordinary experience." As a result, the camps "gave the State Department a massive amount of reach that we didn't have before," Nayler says, including into villages too isolated for even the Peace Corps.
Far from being "one and done," Lageri Amerikoii has won over its skeptics and flourished. "It's probably one of most successful programs the U.S. embassy in Tajikistan has," says Nayler. The camps have grown each year and now employ a staff of around 70, who serve hundreds of Tajik children in dozens of villages. Tilghman and McEwan insisted from the beginning on equal access for both sexes, an empowering experience in a country where boys and girls often receive very different treatment. Many campers have earned scholarships to study in big cities including Dushanbe, and even in neighboring countries. These alumni bring back positive stories about an outside world that most villagers have never seen.
Tilghman says that watching the world open up to his students reminded him of his time in college, after a less-than-inspiring high school experience. "For me, going to Wesleyan was a wonderful change, where I felt I was free to pursue my interests. That spirit and that freedom to pursue my interests without judgment was something I wanted to bring to the campers in Tajikistan."
Tilghman no longer administers the camps but keeps in touch with camp leaders from a distance these days. He teaches math and science to at-risk youth in the San Francisco Bay Area and is pursuing a degree as a nurse practitioner. He kayaks California's famous whitewater when he can. He hopes to return to Tajikistan some day as a health care provider.
And like a proud parent, he is thrilled to see his camps thrive on their own. This summer, with Nayler's support and management from the veteran Tajik staff, the State Department is expanding the camps for the first time to Tajikistan's neighbor, Kyrgyzstan. That the camps continue without his direct leadership is the true mark of success, says Tilghman. "My dream is that I'll go back in 20 years, the camp's still going strong, and no one will know my name."—GABRIEL POPKIN '03
Gabriel Popkin '03 is a science and environmental writer based in Mount Rainier, Md. He has written for Nature, Science, and Johns Hopkins Magazine. He earned his bachelor's in physics at Wesleyan. See more of his writing at gabrielpopkin.com.