ESPN's Rob King '84 Knows Everyone's Favorite Teams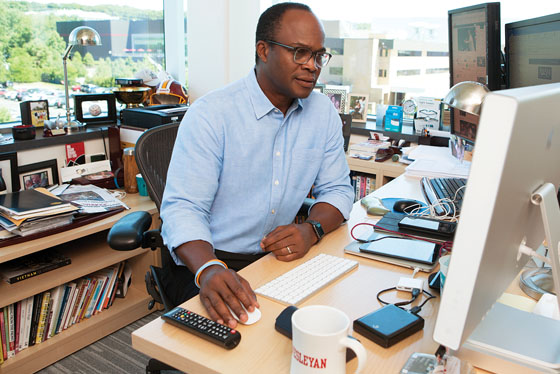 Rob King '84 is ESPN's senior VP in charge of original content newsgathering and digital media. The Associated Press and global journalism's Poynter Institute boast his presence on their boards. What insights does he have that others hope he'll share?
It's a Monday afternoon in June and we're sitting in Rob King's corner office at the ESPN complex in Bristol, Connecticut. Windows on two sides look out onto the campus; a third wall is all glass and looks inward toward the open office where his staff—diverse in age, gender, and ethnicity—stand or sit at workspaces bathed in natural light from windows that wrap the building. On King's fourth wall, which hosts swag for teams that include Wesleyan's Cardinals—two large flatscreens broadcast coverage of the World Cup and the U.S. Open.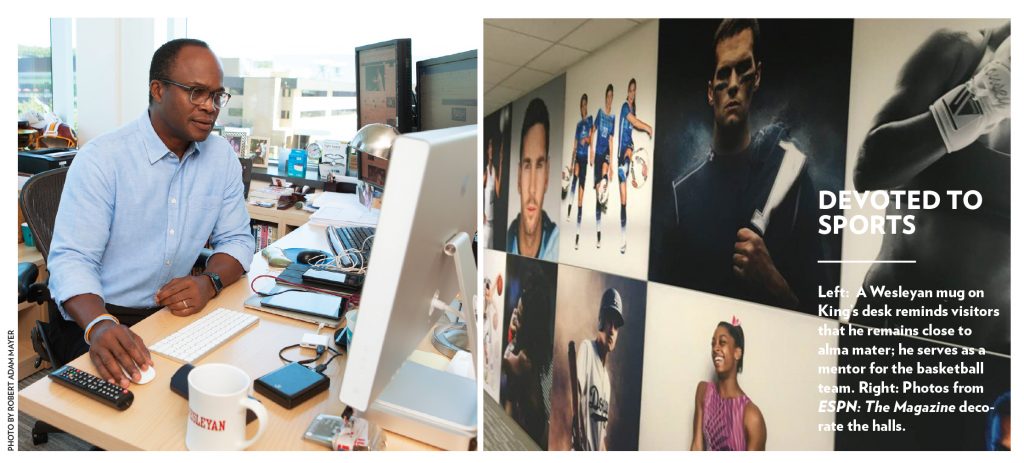 "Every now and then, I run into the executive editor of the Associated Press," King tells me, "and I ask her, 'How's it going?' She'll say, 'It's crazy. Something's happening all the time.'
"'Welcome to my world,' I tell her."
The TVs are on mute, but the figures on the screen provide a kinetic backdrop.
"That's the way things are, 24/7—and that's a journalist's problem, but it isn't about us anymore. There's no longer a mass audience to capture. Instead, it's a massive audience of individuals: everyone believes that he or she has the right to access the information that matters most to each of them, at any given moment."
He points to words emblazoned on an adjacent building: "To serve sports fans anytime, anywhere."
"We're trying to make sure that we live up to our mission."
Substitute "sports fans" for any other audience, and you see why the Associated Press, RevealNews.org, and the Poynter Institute would seek King's input on their board.
Paul C. Tash, chair and CEO of the Tampa Bay Times/Times Publishing Company, and chair of one of journalism's leading resources, the Poynter Institute, recalls King's entrée onto Poynter's national advisory board. "It was like those old E.F. Hutton commercials: when Rob talked, everybody listened," Tash says. "We were so impressed that we elected Rob to the Poynter trustees, and I nominated him for the board of the Associated Press. Rob is one of the most insightful and perceptive executives in the media business. He represents both deep journalistic experience and a keen sense of where audience and advertisers are moving. I feel lucky to count him as a friend and an advisor."King, who joined ESPN in 2004, recalls that his plan evenbefore he entered Wesleyan had been journalism—editorial cartooning, to be specific. His respect for the profession had been shaped in childhood: His parents—one a Democrat, one a Republican—had subscriptions to at least four daily newspapers and an evening TV news habit. His father, Colbert I. King, is the Pulitzer-winning Washington Post columnist. "As a family of color, we never really had the luxury of not thinking about the way in which the world was changing. So we've always understood the importance of informing folks who are underrepresented," he says.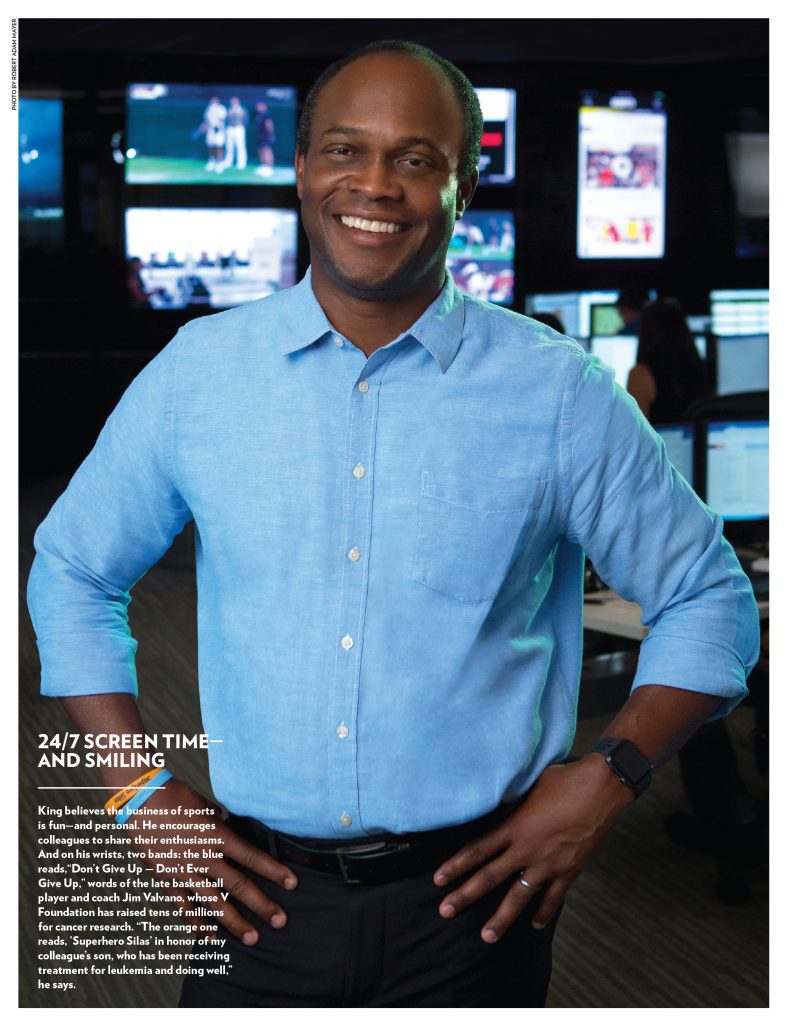 At Wesleyan, Rob King majored in English, ran track, and was on the basketball team. He recalls: "Some of the most powerful learning experiences were time spent in conversations. That willingness to be open, learning to listen, and then daring to participate has informed a lot of what I've done in my career."
His own experience at the Post began as a mail sorter in 1984. "As a result of bustling around there, seeing journalists Bob Woodward, Bill Raspberry, and the great editorial cartoonist Herblock walking the halls, I learned pretty quickly that I really wanted to be in a newsroom environment—and I learned where to shave off time from my regular duties to do a cartoon every day and pitch it internally." These turned into daily meetings with Herblock, at the editorial cartoonist's request.
A journalism fellowship and then a number of newspaper positions—including at The Philadelphia Inquirer—allowed him to hone his skills as an editorial cartoonist, reporter, and sportswriter. "We think you can lead," his mentors told him, and moved him into management. Then, in 2004, ESPN beckoned.
Founded in 1979 as "Entertainment and Sports Programming Network," ESPN is a global sports media outlet, with a website, cable network, magazine, podcasts, apps, Twitter feed, and more. Owned by Disney (80 percent) and Hearst Media (20 percent), the company reaches more than 118.6 million unique global fans per month on digital; the ESPN cable network is in 86.2 million households (according to Nielsen); 33 million follow the ESPN SportsCenter Twitter handle; and ESPN The Magazine readership is 14.5 million. The company name is synonymous with high-quality, multifaceted sports coverage around the world and across platforms.
Fourteen years after his move to ESPN's central Connecticut campus, King is now a senior vice president and leading his team in "reimagining all of ESPN's digital products."
He sums up his career as "just getting a sense of the room and figuring out where I might be able to have some fun." An incisive reader of the ESPN audience, he is masterful at anticipating the future, crossing platforms, raising expectations, and then surprising the viewers with something new.

DAta-Driven
"I could show you the real-time data feeds that tell us what folks are consuming on our site—and what folks who like ESPN are doing on other sports sites," he says. "I could tell you right now what the 33 million people who follow the SportsCenter Twitter handle are interested in—and how frequently that changes."
As a timely example he mentions LeBron James's free agency: "Immediately after the Cavs got eliminated by the Warriors, six of our top 10 stories had to do with LeBron. We also know that the volume of news reporting around LeBron would get to a point of ridiculousness. So it's our job to be surprising and creative."
His team proposed commissioning artists from all around the country to illustrate what their city might do to recruit LeBron? It was that simple.
"The visual designers worked with our NBA team to create billboards that would appear in every city trying to recruit Lebron James.
"Of all we've produced this week, this project has the longest engagement; people are going through the entire display on our site."
Personalized Experiences
"One of the reason we did all of those billboards was so we'd be able to send the Memphis Grizzly billboard to our Memphis Grizzly fans, or the Washington Wizards billboard to the Washington Wizards fans," King explains. And receiving one would be the entry point to interest in others.
He's talking about that massive audience of individuals.
"If you and I each called up Zappos, or Amazon, we'd each see different merchandise on the site," King points out. "Most people don't realize, but the ESPN app is literally a different app for virtually every user.
"That is a core expectation of the modern consumer. And that's a core expectation of anybody entering any social experience."
He points to the music industry, the film industry, even dance clubs that have developed new models to appeal to individual tastes. All songs are available as singles—no longer solely part of an album purchased in a record store; movies are on-demand and served up in the privacy of one's own home. "I've seen dance clubs where people put on headsets, and they're actually dancing to their own music in a club setting," he notes.
"So I don't understand why a media company would then present itself as only one thing. In a world in which people feel they're the center of their media experience, that's actually a really important business imperative to try to figure out."
In The Moment—Together and Alone
"So even as we are shifting to personalized experiences, we know that the nice thing about live sports is that we're all in the moment together," notes King. "We create affiliations with others who are rooting for the same player or team. There's something magical about that, like a music concert."
Still, to get everyone together requires work with individuals.
For instance, the World Cup: "For us to treat every fan as though he or she understands the full history of the team from Portugal is naïve. We know there's a bunch of 12-, 13-year-old kids who just care about Ronaldo, because they played him in the FIFA video game. That's how they were introduced to global soccer, and that's how they know him."
For that group, says King, those ESPN folks covering the World Cup called on another Disney company, Marvel Comics. Their artists and writers created a comic book series that told the story of the players.
"This was literally our guys sitting with the Marvel Comics guys, laying out storylines, and then getting out of the way as the Marvel team designed something that was easy for us to render on our site and our app," says King.
"We're living in that balance at all times: If we're serving fans anywhere, anytime, we're also charged with thinking about each one. We're mining data to figure out where we need to start. We're trying to make sure that we sound authoritative and that we never lose the sense that it should be fun."
Offer the Best Elevator
A few years ago, King came to an epiphany on audience expectation based on a visit to his parents' home with his son Eli, then 2. His parents had recently remodeled their home to care for King's grandmother, which included installing an elevator.
"On the first visit after that, Eli spotted a door he'd never seen before.
"He says, 'What's that?' My dad says, 'I'll show you.' So he opens up the door and they walk into this tiny room. My dad closes the door and pushes a button. The room shakes. When it stops, the door opens, and they're on the second floor."
Upon returning home, King began carrying his tired youngster upstairs. "But where's the elevator?" Eli asked.
"That's audience expectation," says King. "You see something one time, you expect it to be that way going forward—otherwise it's not satisfactory. If you try to launch a video and it's moving slowly, you're out of there.
"You don't get many chances with audiences; everyone has more options for how to spend their time."
That is true, he says, even with how you report a story. You have to be the one with the "elevator"—and it has to be the best one.
"When you think about the expectation that Amazon has created for the consumer, every media company's got to scratch its head and say, 'Man, how are we ever going to get there?'
Coming In Through the Chimney
Eight years ago, King says they began the quest for personalization, with research to find out how people were using the ESPN site.
"Building a website is like building a house and then inviting people over for a party—and you watch your guests arrive to discover the many ways they enter the home. Some people are coming in through the chimney, or the basement door, or a window. They come in all different ways. On the web, every story is a point of entry—so how do people access our site?"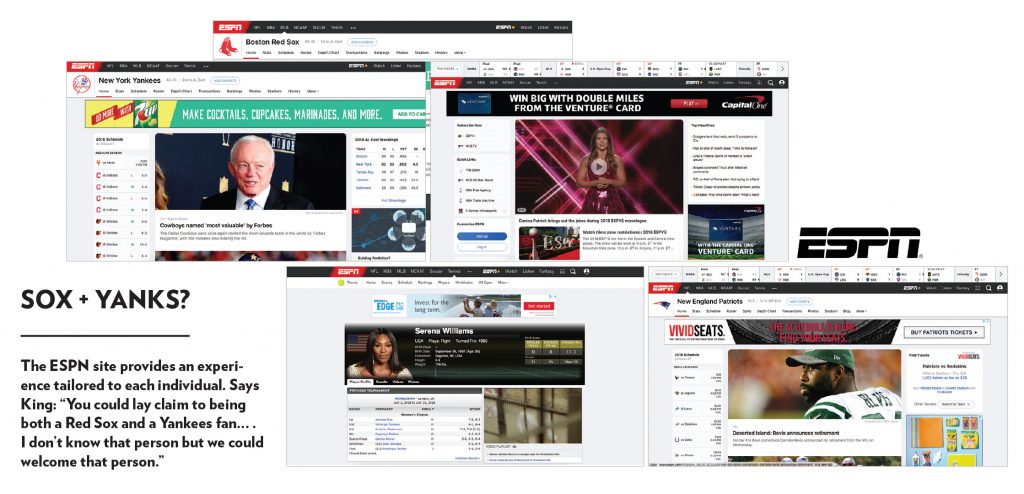 They found that more than 80 percent of their audience could be served by only covering 100 teams and six sports. Digging deeper, they discovered that 31 of the 32 NFL teams were in that top 100, so it was an obvious decision to cover the NFL, team by team, creating NFL Nation.
"By the way," King notes, "the team that wasn't in the top 100 then, the Jacksonville Jaguars, was a playoff team last year, so you can't automatically rule out any team."
The Future is Now
"Almost a decade later, we've adopted a little bit more machine learning and the ability to respond in automation fashion, as opposed to purely with individual labor," notes King. "But we still have each NFL team covered individually because the relationship is so profound."
Additionally, they're developing "direct-to-consumer products," which means "the ability to have people subscribe to your work," he explains.
Subscription, a core experience in cable networks, is what ESPN has gradually brought into the digital space, with the ability for those with cable subscriptions to view the networks there.
"ESPN+ is our direct-to-consumer product. It's a newly added experience made up of exclusive long- and short-form video. With monthly and yearly price points, it enables the subscriber to see live games and original programming that they can't see anywhere else.
"This product gives us the opportunity to drive new content to audiences, but it's also a placeholder, in case the traditional cable model should ever change. Then we have the ability to go directly to consumers and have them pay us for access to what we're doing."
Only two months into this experimental new venue, King considers it "a direction that is really important for us to understand and to be great at."
Getting to Know You
If we are able to select only what we like, do we have the opportunity to broaden our taste?, I ask King—remembering how the purchase of an album for one particular song often brought me to enjoy others I hadn't heard.
His answer: "Absolutely; I think some of that comes from really intelligent product design.
"For example, YouTube's long been a rabbit hole. You go in to see one video, and the next thing you know, you're looking at another. The same with Netflix. Their ability makes it easy to discover other things you'd like—that's possible in media.
"Recently, I heard the senior executive of The Boston Globe talk about their subscription product, which is based largely on the quality of their journalism. One of the most important factors in making sure that they find and hold their audience is the degree to which that audience is exposed to their journalism frequently. So they're trying to get people to come back to their site repeatedly, in order to understand the value proposition."
Packaging the Full Experience
"One of the great things about ESPN is that we don't have a problem with frequency of visits to our site," King notes.
"But we spend a lot of time at espn.com packaging things together to make sure we've created an experience, not just one piece. If you found a topic you enjoy, there are a number of complementary pieces—video, audio, text, told through different lenses—that will help you enjoy the space that you've wandered into.
"For example, we discuss LeBron through an NBA lens, a celebrity lens, the lens of The Undefeated, which looks at the intersection of sports in the African-American culture. We help navigate people from the NBA section to The Undefeated, to a clip from First Take, where Stephen A. Smith has point of view. We enable fans to move through our ecosystem."
He also notes that the experience is flexible. "You could lay claim to being both a Red Sox and a Yankees fan and navigate our system. I don't know that person, but we could welcome that person."
What is News?
When asked if King sees the for-profit model as the future for journalism, he has a counter query: "I think that the bigger question is, what is news?
"We're seeing all different relationships created between consumers and news. I don't really know the answer.
"I'm on the boards of some not-for-profits that are charged with nourishing the soul of journalists and trying to do good journalism—and they face competition from all sorts of entities.
"They're as close to the ground and as committed to serving an audience as we are. It has been an incredible honor to find myself at a point where places like Poynter or the AP, or the Center for Investigative Reporting would consider what I know to be of use.
"Providing information, making it accessible, and interesting, educating and uniting an audience is always going to be important to society."