Historical Row: The First Argus Editors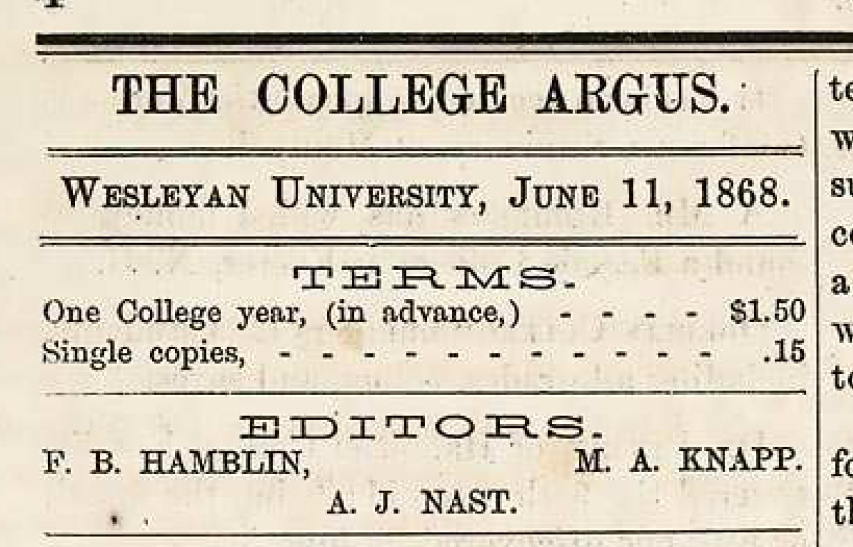 Editorial Triumvirate
Editors (l. to r.) Freeman B. Hamblin, Martin A. Knapp, and Albert J. Nast, all of the class of 1868, started a journalistic tradition with The College Argus, on June 11, 1868 (shown here). Photos courtesy of Olin Library Special Collections and Archives.
"Every college of note, to-day, which wishes to sustain even a passable reputation, must have an organ, reflecting the popular sentiment of its students, and giving to the world a broader view of its internal life and workings." So declared Freeman Birney Hamblin, Martin Augustine Knapp, and Albert Julius Nast, the three editors of the first issue of The College Argus, published 150 years ago on June 11, 1868. "We promise a sheet correctly portraying the spirit of college life and thought, and, striving to forget how to be dull and prosy, we shall make the Argus as true an exponent of Wesleyan wit, news, and prospects, as we may." All members of the Class of 1868, all interested in journalism—what became of these editors after graduation?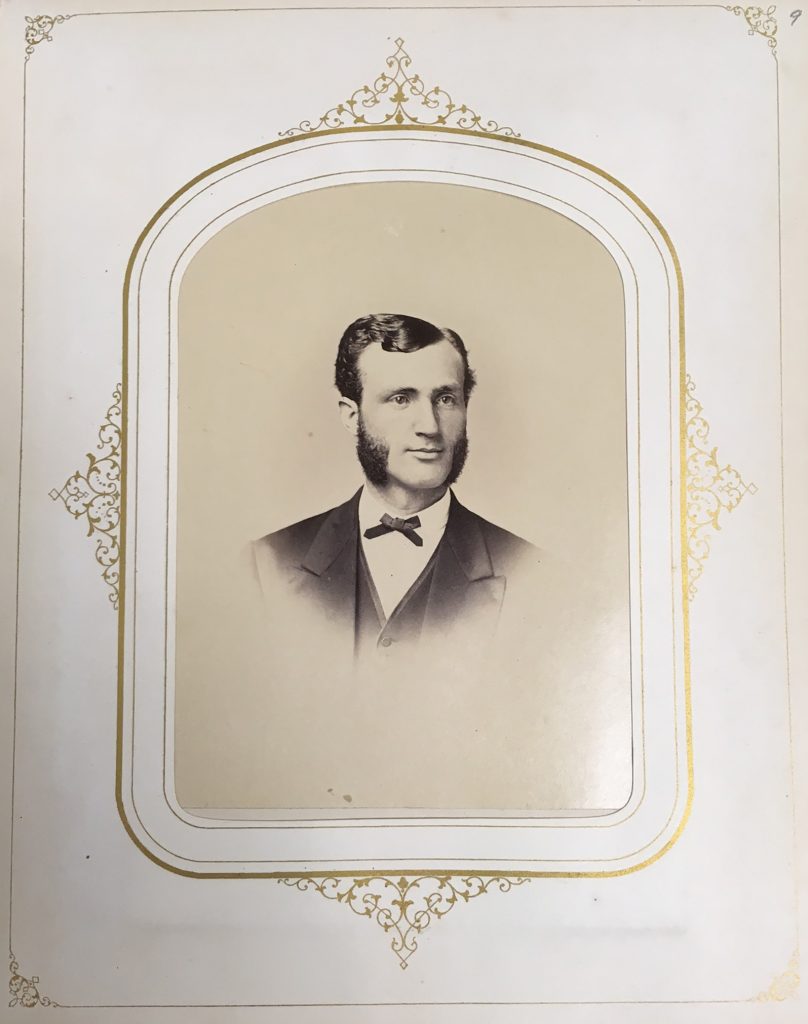 Freeman B. Hamblin attended the Boston Theological Seminary and preached to a local congregation. His plan was to conduct missionary work in India, but in 1869 he contracted typhoid fever and died. He was 27. In his obituary published in The Argus, his former classmates wrote, "He had all the qualities that seemed to promise an eminent career. Physically, intellectually, and spiritually he seemed formed for a first class pulpit orator."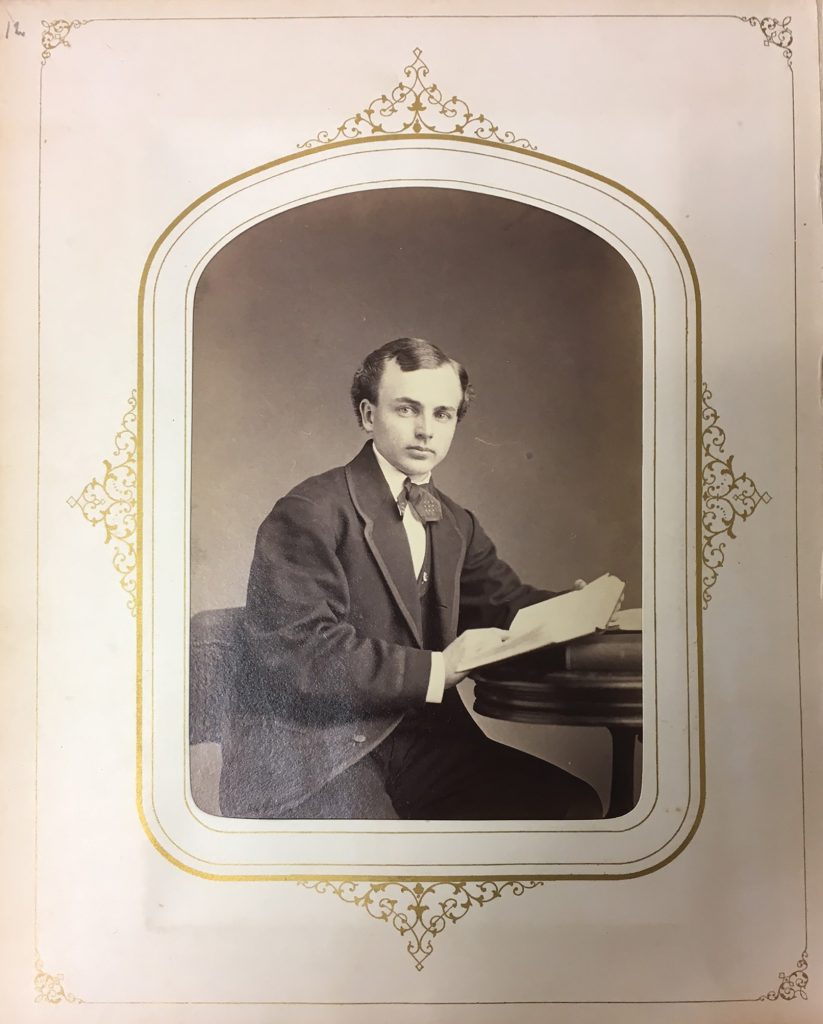 Martin A. Knapp enjoyed an illustrious career in law and public service. After becoming a successful attorney in Syracuse, he was appointed to the Interstate Commerce Commission, becoming chairman in 1898. He went on to serve on the United States Commerce Court and United States Court of Appeals. His interests included regulation, mediation, and transportation, and he wrote occasional articles and delivered papers at conferences, some of which were later reprinted. In the opening years of the 20th century, he argued that the government should own the nation's railways, writing that "railroads are public highways, having the same essential relation to social order as the streets and avenues which have been dedicated to public use and always controlled by the state as matters of primary and common concern." The Chicago Daily Tribune said that "he is the head of the bureau that puts the screws upon the most powerful aggregation of capital in the United States—the railroad." For 35 years, he was a trustee of Wesleyan. He died in 1923.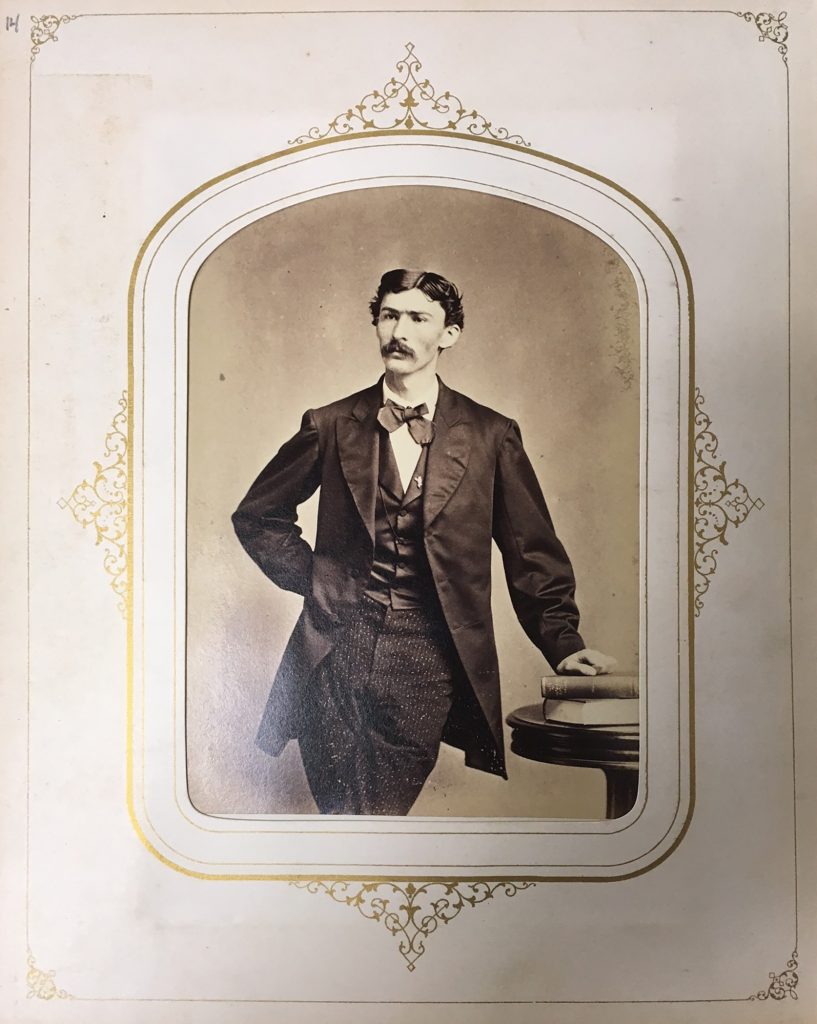 Unlike his fellow Argus editors, Albert J. Nast found a career in journalism. He started off as a Methodist pastor, but was not wild about preaching. He then briefly taught at colleges. In 1884, he joined the staff of Der Christliche Apologete, a popular German Methodist newspaper established by his father and published in Cincinnati. In 1892, Nast became editor. He also served as a delegate to Methodist conferences and was president of the boards of trustees of Baldwin-Wallace College and William Nast College (named in honor of his father) in Jiujiang, China. His tenure at Der Christliche Apologete came to an abrupt end in 1918, when he got caught up in the anti-German politics of World War I. "Our loyalty has been questioned," he wrote in his published resignation statement, asserting that his newspaper had demonstrated a "most unambiguous and decisive loyalty to our country and our government." He died in 1936. His nephew was Condé Nast, the legendary publisher of Vogue, House and Garden, Vanity Fair, and Glamour.