HISTORICAL ROW: HENRY BACON'S IMPRINT ON WESLEYAN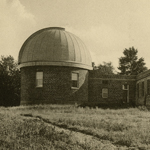 Henry Bacon is known today primarily as the architect of the Lincoln Memorial in Washington, D.C., dedicated in 1922. Before his death in 1924, he designed a number of prominent public buildings and monuments. He also played a critical part in shaping Wesleyan in his role as, in the words of Wesleyan historian David Potts '60, de facto campus planner and architect. In 1913, Bacon proposed a master plan for the university that envisioned a quadrangle formation of buildings and sidewalks replacing Andrus Field. He designed and oversaw the construction of Eclectic (completed in 1907), the Skull & Serpent Society tomb (1914), Clark Hall (1916), and Van Vleck Observatory (1916). He provided the initial designs for Hall Laboratory (1927; it stood on the site now occupied by the Science Library) and Olin Library (1928). He directed renovations to South College, the President's House, Memorial Chapel, and Rich Hall (now known as the Patricelli '92 Theater). Had he lived longer—he died at age 57—he might have had an even greater impact on the campus and community.
Bacon's papers—which include drawings and blueprints, correspondence and memoranda, photographs, scrapbooks, and much more documenting his interests and work both at and away from Wesleyan—are housed in Special Collections & Archives and are a valuable resource for the study of the architect and his work.