Elvis Rings from South College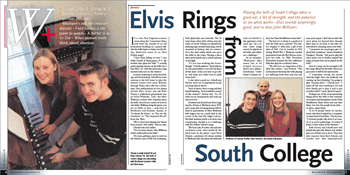 It's a late New England autumn noon along the Connecticut River, and from the steeple of an old brownstone building on a grassy hillside the bells begin to chime out the lilting, distinctive notes of…an Elvis Presley song!?
"'Can't Help Falling in Love,'" says Holly Schroll of Massapequa, N.Y., the student who plays the bells. "I actually prefer playing classics on the bells, but I love Elvis, too. And that particular song sounds really nice on the chimes."
A junior majoring in molecular biology and biochemistry, Schroll has been coming to the bell tower to play the chimes nearly every noon Monday through Friday since she was a freshman. Her performances do not always include Elvis. In fact, she and Peter Harvey, a sophomore government major from Piedmont, Calif., the other Wesleyan student who regularly plays the bells, draw from a variety of sources and styles. Walking along the green, you are as likely to hear a selection of Beethoven and Brahms, hymns or "Scotland the Brave," as "You are My Sunshine" or "The Imperial March" from Star Wars.
"We've also been playing the theme from Jurassic Park lately," Harvey says. Schroll nods and smiles.
"Yes, for some reason, John Williams works really well on the bells."
Of course, getting a piece to work on the chimes is part of the fun of playing, both physically and mentally. The 16 large brass alloy bells sitting atop the tower of South College are operated by pressing large wooden hand pegs, beech mounted on hickory, that are connected to the steel cables which run up to the bells in the tower. Playing a piece takes quick hands and a certain amount of strength.
"It's not just working the levers, though," Schroll explains. "Each bell has its own personality so you can't hit them all the same. Some you have to go softer, and some you really have to push down hard."
It also takes a good ear. Schroll and Harvey work out arrangements based on songs they've heard.
"A lot of times I hear a song and find myself thinking, 'How would that sound on the chimes?'" Harvey says. "So, I'll write out an arrangement and come up and try it out."
Students and faculty have been ringing the chimes at Wesleyan since 1918, and a large pile of arrangements left behind by generations of other Wesleyan bell ringers sits on a small desk in the corner of the tiny bell ringer's alcove. But both students prefer to do their own transposing, though it is a challenge with the chimes' limited range.
"We have only 16 notes, and only five accidental notes, what would be the black keys on the piano," says Peter Frenzel, a professor of German studies at Wesleyan who also plays the bells and took on Schroll as his apprentice a few years ago. "As a result, some songs cannot be played on the bells, and others are a challenge."
As an example, "Wesleyan's alma mater has to be fudged because there's no G-sharp," Schroll says. "I don't know if anyone notices, but I hear the difference every time." The lack of a G-sharp is a product of how the bells were acquired. The tower's original 11 bells were a gift of the class of 1863. Cast in London in 1916 during World War I, Wesleyan needed permission from the War Bureau to import the bells. In 1966, President Butterfield donated the five additional bells that play the accidental notes.
"We will have an inspection of the bells this winter," says Frenzel. "The mechanisms that keep the bells playing are suffering from wear and tear and may need repair. I don't know what the exact plans are beyond that, though there may be an alum or two who are interested in donating some new bells."
"I guarantee we are going to get a G-sharp bell, somehow," asserts President Douglas J. Bennet. "Not just to play the alma mater, but to further expand the range of music that can be played on the bells."
Even if a song can be arranged to fit the range offered by the bells, there's no guarantee it will fit the instrument.
"I remember seeing the movie Saturday Night Fever one weekend and coming up here thinking I'm going to play 'Staying Alive,'" Schroll says. "I spent all the time working it out and then finally got to play it and it just sounded awful. I never played it again."
Perhaps one of the most interesting things about the bells is that everyone on campus and throughout much of the Middletown Main Street area can hear them, but very few people know who— or what—plays them.
"A lot of people think it's mechanized, that they're played by a computer or some kind of machine," Harvey says. "I've heard people talk about it in classes or at social gatherings. It's kind of funny to hear some of the theories."
Both Harvey and Schroll have told people they play the chimes, but neither goes out of their way to do so. They also take requests from their friends and anyone else who knows they play.
"I remember being jet–lagged, having just returned from a long trip, and meeting Peter Harvey on his way up to play the bells," Bennet says. "He asked me if I had any requests, and I said something to the effect of, 'How about a lullaby?' A few minutes later I heard Brahms' lullaby coming from the bell tower."
Schroll usually plays at lunch, Harvey in the late afternoon, both for about 20 to 30 minutes at a time. Frenzel plays on such occasions as weddings, memorials and funerals, or whenever the urge strikes him.
"I have so much respect for Peter Frenzel's musical abilities, and his prot&eaigu;g&eaigu;s are really doing incredible things with the bells," Bennet says. "The music is so diverse they are probably reaching a lot more people in Middletown. I think it's magnificent."
"It's fun, and I love playing up here alone," Harvey says. "This is an incredible, powerful instrument. I can watch the campus from the window up here and play for them. People like the sound of the chimes, and you feel like you're carrying on a tradition, that you're giving something back to the campus. There's something very special about it."
Schroll agrees, "My entire freshman year I kept it a secret that I played the bells. I had a class right after I finished ringing the bells; one day I went into the classroom and another student came in humming 'My Bonnie Lies Over the Ocean.' It was one of the pieces I had just played. It was one of the greatest feelings, sitting there, listening to him hum the song I had just been playing on the chimes."