Veteran V.P. and Treasurer Taylor Joins Colonial Williamsburg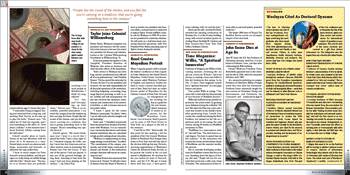 Robert Taylor, Wesleyan's longtime vice president and treasurer, left the university in late January to become the senior vice president for finance and administration at the Colonial Williamsburg Foundation in Williamsburg, Va.
In his new position he reports to Colin Campbell, President Emeritus of Wesleyan, who serves as chairman and chief executive officer of the foundation.
"Bob's service to Wesleyan has been long, and his contributions have affected all of us in profound ways," said President Bennet. "He has served the university for 29 years, the last 15 as vice president and treasurer. He has held responsibility for all financial operations of the institution, including budgeting, accounting, longrange financial planning, as well as asset, liability and risk management. He also has overseen the operation, maintenance and construction of all university facilities, as well as human resources and public safety.
"I know I speak for the entire Wesleyan community," he added, "when I say we will sorely miss his insights and his leadership."
Taylor said, "I benefited enormously from my almost three decades of involvement with Wesleyan. It is an extraordinary community that attracts and retains talented individuals who are committed to high-quality undergraduate education.
"Wesleyan is implementing its longrange strategy across all fronts," he added. "The commitment of the campus community, and of the larger community of alumni and friends, to the institution's strategic objectives will ensure its continuing success."
President Bennet also announced that James van B. Dresser '63 will take a leave of absence from the Board of Trustees to serve as interim vice president and treasurer while a national search is conducted to replace Taylor. Dresser fulfilled a similar role for Wesleyan in 1998–99 as interim vice president for university relations. He will work on a half-time basis overseeing financial operations, with Vice President Peter Patton assuming some of Taylor's duties during the interim.