Bennet Enters Final Year As President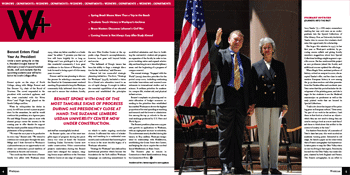 Under a warm spring sky on May 4, President Douglas Bennet '59 informed a crowd of several hundred faculty, staff, and students that the upcoming academic year will be his last in his South College office.
Bennet spoke on the steps of North College, along with Midge Bennet and Jim Dresser '63, chair of the Board of Trustees. The crowd responded to the president with sustained applause, and the event concluded with the "Alma Mater" and "Fight Song" played on the South College carillon.
When he relinquishes his duties in 2007, he will have served 12 years as president. In the meantime, he said he would continue his presidency at a vigorous pace. He and Midge Bennet plan to meet with alumni groups across the country in the coming year to offer thanks for support that has made possible many of the accomplishments of his presidency.
"We want the next year to be productive in every way," Bennet said. "We intend to continue our usual pace through the year. Midge and I look forward to Wesleyan's 175th anniversary as an opportunity to celebrate our university's proud tradition of education in the arts and sciences.
"You could say there has been a Bennet family love affair with Wesleyan since 1929, when my father enrolled as a freshman," he added. "I promise you that our love will burn brightly for as long as Midge and I are privileged to be part of this wonderful community. I have great confidence in the future of Wesleyan. We look forward to being a part of it for many years to come."
Dresser said he was planning to discuss the process for selecting a successor with the Board at its Commencement weekend meeting. He promised to keep the Wesleyan community fully informed about the process and to ensure that students, faculty, and staff are meaningfully involved.
As Bennet spoke, one of the most tangible signs of progress during his presidency was close at hand: the Suzanne Lemberg Usdan University Center now under construction. Other construction projects undertaken during the Bennet years have changed the campus, ranging from a major addition to the Freeman Athletic Center at one edge of campus to the new Film Studies Center at the opposite edge. Bennet's accomplishments, however, have gone well beyond bricks and mortar.
"The hallmark of Doug's tenure has been his ability to forge a strategic direction for the institution," said Dresser.
Bennet led two successful strategic planning initiatives. The first, "Strategy for Wesleyan" (1998), included a vision for a liberal arts education tuned to an era of rapid change. It sought to define the essential capabilities of an educated person and established the principles on which to make ongoing curricular choices. It affirmed the value of scholarship and teaching in a residential community and confirmed that knowing how to learn is the most durable legacy of a Wesleyan education.
"Strategy for Wesleyan" also defined key institutional priorities which became the foundation for the $281 million Wesleyan Campaign: an enduring commitment to need–blind admission and thus to building the university's student aid program; an expansion of the faculty in order to improve teaching ratios and expand scholarship and teaching in new, interdisciplinary areas; and the beginning of a program of campus renewal.
The second strategy, "Engaged with the World" (2005), describes priorities for the period 2005–2010, including continuing curricular innovations and renewed commitments to international studies and to science. It outlines priorities for academics, campus life, student aid, and physical infrastructure.
Bennet's emphasis on planning and on strict allocation of budget resources according to the priorities thus established has enabled Wesleyan to devote the highest proportion of its total spending to teaching and research and the lowest to administration among the top 50 schools in the annual rankings produced by U.S. News and World Report.
The Bennet presidency has seen a 25 percent growth in applications to Wesleyan, with an eight–point increase in selectivity. The endowment nearly doubled during his tenure, to $631 million. Wesleyan invigorated its relationship with Middletown, establishing the Green Street Arts Center, and helping the city to acquire the 100–bed Inn at Middletown on Main Street.
The Bennets plan to remain in Connecticut at their family residence along the Connecticut River.