Volleyball Claims ECAC Title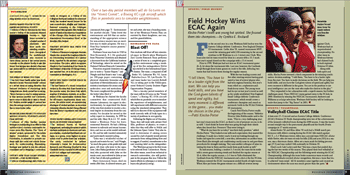 A best–ever 27–11 record and an Eastern College Athletic Conference (ECAC) Division III North championship were two of the achievements of the women's volleyball team during the 2000 season. It was the team's second straight trip to the post–season playoffs and the fourth 20–win campaign in 17 varsity seasons.
Alexis Keeler '02 and Eliza Allen '03 each had a 30–kill match performance with Allen's coming during the ECAC title match against M.I.T., a 3–1 Wesleyan victory. Allen was a second–team NESCAC all–star while Keeler, who set team records for kills (520) and aces (101) in a season, was a first–team choice. Allen set a team mark for hitting percentage (37.3) and was ranked 16th nationally in Division III.
Head coach Gale Lackey said that "this was a team that peaked during the last two weeks of the season. They played their best volleyball at the NESCAC Championship and the following week winning the ECAC Championship. Although the team broke numerous team records and certain individuals received all–star recognition, this was a team that truly achieved 'team mind.' All 14 members came together and created an environment where the sum was much greater than the parts."