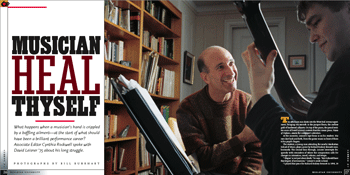 The afternoon sun slants into the West End Avenue apartment, bringing out warmth in the parquet floors, the mellow gold of hardwood cabinets. On top of the piano, the pencil–written score of David Leisner's newest chamber music piece, Vision of Orpheus, awaits the composer's attention. At the moment, Leisner's rapt focus is on his student. His eyes dart back and forth, from the guitar music in front of them to his pupil's fingers.
The student, a young man attending the nearby Manhattan School of Music, plays a piece by Richard Rodney Bennett once, hesitantly. The second time through, Leisner interrupts frequently with reminders of where the composition calls for changes in intonation, mood, volume, and tempo.
"'Elegiac' is not just about death," he says. "But it should have that degree of seriousness." Leisner's smile is kind.
"I played that piece for Richard Rodney Bennett in 1998, 30 years after he'd written it. He was adamant about the tempo," he continues, bringing out the metronome. "It's very important to him."
The student plays the piece yet again. This time it is intricate, beautiful. He hears the difference and smiles at his teacher. Leisner beams back. "This musician's language is just right for you,"
When you ask David Leisner why he took up the guitar, he laughs heartily. "I took up the guitar because I was really bad at the violin! I was sawing away at 'Mary Had a Little Lamb,' and it just wasn't happening." Then, more seriously: "It wasn't one of those magical stories: 'I heard Segovia and my life changed.' It was as much an issue of practicality: the guitar is easy to carry around; it's not expensive. And the desire to make music is powerful; it's primal, really. I had to find an instrument that suited me, and the violin felt awkward."
Instruments have their own personas as well: "The violin is throbbing passion, urgency. It reaches out and grabs you. The guitar has a natural humility, an intimacy. Listening to it in a concert hall, you either have to work a little to reach it, or you have to be seduced by it; you have to let it draw you in." He pauses. "That is its strength as well as its weakness, I suppose."
Beginning with the instrument when he was 13, Leisner played in the popular folk tradition, then moved on to classical guitar. He knew he wanted to study music in college, but "I didn't want the narrow focus of a conservatory education. I wanted liberal arts," he recalls. From his home in California, he chose Wesleyan, where he found a lifelong mentor and friend. "From the moment I encountered [Professor of Music Emeritus] Dick Winslow in class, I knew he was a remarkable man. He was a total inspiration."
Winslow, who wrote weekly choral pieces for Wesleyan's chapel services, also wrote a piece for Leisner, "Variations on a Tune of Stephen Foster."
"I was pleased," recalls Leisner. "The more I fiddled with it, the more I saw how wonderful the piece was and how right the music was for me."
After only his junior year, Leisner, a self-professed "quick study," entered the first international classical guitar competition to be held in North America. It attracted virtually all the important American classical guitarists. He tied for second place.
"The competition gave me confidence," he recalls. "And it also opened some doors." He soon moved to New York to launch his performance career, beginning his "apprenticeship" as a musician in a restaurant.
"I played right in the middle of the dining room, next to the desserts—me and the chocolate cake! I learned a tremendous amount about getting up and playing for people who weren't listening 100 percent of the time, but they were affected, you could tell. There were so many genuine compliments.
"Of course, I had some dissatisfied customers, too. When I played the great sonata by Ginastera, a very noisy piece full of wild sound effects—I had a lot of gall to play it for the dinner crowd, but I was preparing for a competition and needed to practice it—a lady went up to my boss and said, 'Tell that guitarist never to play that piece when I am here. Ever again!'"
Meanwhile, Leisner was garnering enthusiastic reviews and international concert invitations. He was ready to leave the dinner crowd behind.
"At the end of 1983, I had made a recording in the RCA studio and submitted it to Nonesuch, who said, 'We love the stuff; we want to make two albums of it.' And they were going to send me a contract."
In addition, Leisner had also met Ralph Jackson, who was a music administrator. The two formed a loving domestic partnership.
Talent, ability, a career that was beginning to soar, and personal happiness: David Leisner had it all.
Then, his dream began to unravel. His own words recount this personal journey best:
It was during the concert season—from winter through May of 1984—that I started to notice something was wrong in my right hand, the plucking hand. There seemed to be a subtle lessening of speed in it, but I put off thinking about it until the summer.
Meanwhile, my contract from Nonesuch was delayed for one reason or another, the director resigned, and it took several months for the new director to call me. Although he had the advice of the old director to sign me for a contract, he said, "Really, I have to hear any new artists for myself." So this was on hold.
That summer, after the concert season was over, I spent a long time looking at my right hand while I was playing, hanging my head down and watching what was happening. After this period of intense self–examination, my hand problem worsened: Whenever I put my hand to the strings, my fingers—pinky, ring, and middle finger—would curl into my palm. I could pull them out again, but slowly, and as soon as I would pluck, the fingers would curl again. Yet—and this was an important characteristic—I never felt any pain.
Without pain, you can't pinpoint the source of an ailment. People would tell me to relax, that it was all in my head. It was maddening to hear that advice over and over again. I knew it was physical but couldn't prove it.
I began that fall season with a concert in Oregon. The second half of the concert was a technical tour-de-force, the twelve Études of Heitor Villa-Lobos. While I was playing, my fingers were curling like crazy; I couldn't control them. On the spot, I had to refinger all twelve &Eaigu;tudes, with just my thumb and forefinger. I was terrified—transposing at the speed I was playing. Sheer determination saw me through.
When the concert ended, I was ready to give up. Some guitarists were in the audience, though, and they congratulated me, saying I'd played a magnificent concert. I said, "You've got to be kidding!" Nobody noticed I'd used only two fingers—but I knew I was in trouble.
When I got home, I immediately tried to find help. I first worked with a guitarist well-versed in anatomy, who had helped people with various performing problems. He also sent me to a chiropractor. From there, I went to a master practitioner of shiatsu—acupuncture without needles—and he didn't help me, either.
For the remainder of the 1984–85 concert season, I canceled concerts one by one, hoping I'd be better in two months, or three, or four. Finally, I canceled all.
During that first year I felt as though I was losing, to death, a dearest friend. I was devastated.
The guitar was my identity—I was going to say, "my professional identity," but of course it's more than that. The tactile urge to make music with the fingers and body is a need that all performing musicians share. For five years I went from one practitioner to another, some Eastern, some Western, most of them promising me salvation. None of them delivered.
Throughout it all, Ralph was solid as a rock and picked me up off the floor so many times. Who knows why some relationships survive? Hard work and some luck—and maybe some magic.
The world would have looked totally black to me if I were not also a composer. This crucial part of me came to the fore when the performance side was down.
Through composing, I was able to be active making music again and reached some prominence, not only for guitar, but also for other instruments and orchestra and vocal music. I thought, "When God closes a door, He or She opens a window." Composing saved me.
Eventually, I found out that my condition has a name: focal dystonia. The defining characteristic is that the fingers curl into the palm without control—and without pain. In five years of exploration, I discovered that hundreds, maybe thousands, of people all over the world have this condition, and they are all musicians— many of them pianists and guitarists.
Two pianists, Leon Fleisher and Gary Graffman, made this condition famous when they first began suffering from it in the '60s. It stopped Gary Graffman's career; Leon Fleisher continued to try and regain the use of his hand, but he still has not recovered. What I also found in all these years of searching: Nobody has a cure for focal dystonia.
In 1990, I again sought help—but for the very last time: An eclectic person with various Eastern approaches, who made the condition worse. At that point, I thought, "If there's no known cure, then why am I trying to have other people help me? Maybe I'll find the answer within," and I did nothing for it for a year.
Then, in early '91, I came home one day and went over to the guitar—understand, I had hardly touched the instrument for seven years. I reached for it, simply because I wanted to feel my fingers make music.
So, using my thumb and index finger as I'd done at that last performance in Oregon, I started to pick through some pieces. It started to sound pretty good. Gradually, over a period of weeks, I found all sorts of ways around my handicap. And then I thought, "Well, I'm going to give a little informal concert," so I invited some people over and played about half a concert. After more practice, I graduated to a full–length informal concert. I decided, "I'm going to do this in public!"
Daringly, I gave my first public two-fingered concert in Jordan Hall in Boston, one of the great halls of the world, where Richard Dyer reviewed it for theBoston Globe. Most people in the audience didn't know anything was wrong, but Dyer had most certainly known.
Dyer, whose rave review ran under the headline "Leisner Returns with Vigor and Virtuosity," concluded by saying: "Leisner closed with a major work composed for him in 1975, 'Variations on a Tune of Stephen Foster,' by Richard Winslow, who taught Leisner composition at Wesleyan. This is a magnificent double set of variations, stately, quirky, heartfelt, imaginative, and it was impossible not to be deeply moved at the close, when the guitarist finally put words to the theme, 'Hard Times Come Again No More.'"
It was a powerful moment—and Richard Dyer understood what I was saying with Dick's piece: I'd made it through. I was performing again.
I continued these two–fingered performances for several years. Given the challenging repertoire that I was playing—Paganini, some contemporary composers—most guitarists thought I was completely out of my mind, finding my way around with only two fingers.
But I was just so grateful to be able to play music in a halfway decent manner—to please people with it and to please myself with it—that it felt magnificent. Still, I knew my playing wasn't quite right.
About a year after this, I had a discussion with a guitarist who mentioned using the large muscle groups in plucking the guitar. His words went right into the center of my being and they stayed there.
That very day, I came home, picked up my guitar and started swinging at the strings with broad motions. I didn't know what I was doing, but I knew that by swinging at the strings I was automatically engaging the large muscles in my upper arm.
Within five minutes, my ring finger, which I hadn't used in eight years, was suddenly working properly. Five minutes! I couldn't believe it!
Tears started falling—I had no idea what was happening. I was astonished—and very hopeful. Because if I could do that in five minutes, what could I accomplish with more time and more work?
In about a year's time, the middle finger restored itself to more or less normal, and in another year's time, the pinky and later the ring finger gradually righted themselves. By 1996, four years after I began, I played a concert where my hand was 100 percent. It was cured.
I didn't know exactly what I had done, since this was pioneering work, but I sort of knew. I'd realized that the focal dystonia spot is at the apex of the arm, the shoulder and the torso. It's the scapular muscle region, where lots of muscles come together.
Intuitively, I tried involving those muscles in the stroke, the ones at the opposite end of the arm from my fingertips, supporting the work of the smaller muscles, which had been overworked or poorly worked.
Most people in recent generations have been oriented to using small muscles. Fingers, everything is fingers. Pianists now don't do what the old school did, lifting their arms and dropping them to strike the keys. You watch videos of all the great pianists, Rubinstein and all the ones before him, and you see this wonderful sense of weightedness in their playing, whereas contemporary pianists use only their digits; only their fingers move across the keys.
In this era, musicians play louder to fill larger concert halls. They play more difficult repertoire, play it faster, and are more competitive. And how are most musicians accomplishing these things which require greater and greater effort from the body? They are playing with a technique that emphasizes smaller and smaller muscles. It doesn't make sense.
Meanwhile, most of the medical professionals with whom I've been in contact don't believe that I've discovered a cure for focal dystonia. They have been unsuccessful themselves in curing the condition, so they believe that the condition I had wasn't focal dystonia, because it's supposed to be incurable—it's absurd!
I've also been helping other musicians who have focal dystonia. People find me—some from my Web page—and they want to know what I did. I tell them to come to New York to take a minimum of four lessons. In that time, I can show them how to use their large muscles in a way that will stay with them long after they've gone home from these lessons in the city.
Along with teaching, I am writing, performing, playing and recording. I can do all of that now. Let me tell you, it was quite a journey—and it's great to be back.
I'm now recording with Azica, a relatively young recording company, and I've released two CDs—a Bach and the complete solo guitar works of Villa-Lobos. Two more are upcoming: One with the music of Johann Kaspar Mertz, a 19th-century composer whom I helped rediscover, and a contemporary album, which includes Dick Winslow's piece. After that, we've planned an all-Leisner recording.
I'm performing in major concert series around the United States and have begun to play quite a bit in foreign countries. Recently I've played in Greece, the Czech Republic, the Philippines, and Mexico; this spring I'm in Italy twice for concerts. Also I continue to teach at both the New England Conservatory and The Manhattan School of Music.
I'm 47 years old and feel in some ways like a young emerging artist, because there were 12 years of my professional life that were taken away from me and I'm just now at the place where I would have been at age 35. I have had to put a tremendous amount of energy into rebuilding my career. It's going beautifully; I have no complaints, except—I want it to go faster!
Of course, I learned a tremendous amount in that time—about all kinds of things: about music making, about playing the guitar, about life, about relationships. I think if I'd had the dazzle and complications that go with the performance career, I would have relegated my composing to the underworld, as it were.
Now I'm dealing with my career in a very different way, calling myself a guitarist-composer, not just a guitarist who also composes. I think it emphasizes the uniqueness that I represent in the music world, and that is, more or less, the return to the 19th–century-and-before ideal of the musician as everything: composer, performer, and teacher—which is exactly what Dick Winslow is. I hope he knows that he's been such an enormous influence for me.
I'm also excited about the piece I'm writing that's over there on the piano. It's a major commission from a concert series in New Mexico for string quartet and guitar, which I'll be playing with the St. Lawrence string quartet, who are top-notch. I'm really thrilled with this opportunity to compose and perform.
It's quite a large-scale piece, five movements, about 17 minutes long. It's called Vision of Orpheus, and that, by the way, has everything to do with the experience of my hand, about going to the underworld after a great loss and then coming back from the underworld. But of course Orpheus doesn't win in the end.
In a segment just before the end of the piece, I've written in a momentary triumph, but then the triumph evaporates and the music is about loss.
That's how life is. It doesn't always give back 100 percent. I was lucky in this case, and I hope it lasts, but one never knows what will happen in the future.
Whatever successes I have, I will enjoy them and make the most of them. Now I know that at any moment, they can be taken away.
On May 26, 2001, Reunion attendees, graduating seniors, and their families crowded into the World Music Hall to hear David Leisner in concert and telling his story. If you would like further information about David, please visit his Web site: http://davidleisner.com.