Uproar Over Act of Conscience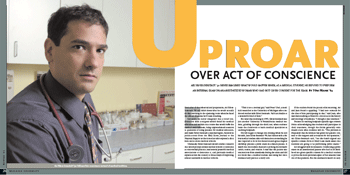 EVEN AFTER ALL THE REHEARSAL AND PREPARATION, Ari Silver-Isenstadt '90 still didn't know what he would actually do that morning in the operating room when he faced the ethical dilemma he'd been dreading.
Certainly, he never imagined that a brief confrontation with a surgeon would derail his medical education and set him on a course that would ruffle the medical establishment, bring unprecedented attention to questions of using patients for medical education, and make Silver-Isenstadt a national figure, featured in publications from the Wall Street Journal to the National Enquirer as the iconoclast who exposed a dirty little secret about medical schools.
Ultimately, Silver-Isenstadt would conduct research that would prompt several medical schools to renounce a controversial practice, lead several powerful medical associations to denounce it, and persuade medical experts across the country to debate ways of improving ethical standards in medical schools.
"This is not a normal guy," said Peter Ubel, a medical researcher at the University of Michigan who conducted studies with Silver-Isenstadt. "Ari's an idealist to a wonderful kind of fault."
But until that morning in 1993, Silver-Isenstadt was just another University of Pennsylvania medical student, grinding through the third year, when students leave the classroom to learn medical specialties at teaching hospitals.
His life began to change one evening when he and his wife, Jean Silver-Isenstadt '90, had dinner with a fellow medical student who told them about something he was required to do in his obstetrics-and-gynecological clerkship: practice a pelvic exam on a female patient. It wasn't that the student objected to probing the woman's cervix, uterus, and ovaries. It was that the patient was unconscious from anesthesia during the exam and did not know that a medical student was using her most intimate body parts as a study tool.
If the student found the practice disconcerting, Ari and Jean found it appalling. "I had zero stomach for the idea of him participating in that," said Jean, who was then studying at Penn for a doctorate in the history and sociology of medicine. "I thought it was unethical."
Patients in teaching hospitals typically sign consent forms acknowledging that students will participate in their treatment, though the forms generally omit details about what students will do. "The problem is frequently that the woman has given her generic consent to the surgeon and associates for the operation," Ari Silver-Isenstadt said, "but she hasn't signed any specific consent form or likely been made aware that students are going to be performing pelvic exams."
Ari struggled with his situation. Conducting a pelvic exam on an anesthetized patient who had in all likelihood not given specific consent for a medical student to probe the most personal aspect of her anatomy was out of the question. But the alternative wasn't so easy. Medical school operates somewhat like the military: the chain of command is clear and strict, and students who defy it by raising ethical protests risk the penalties of insubordination: being ostracized, a bad grade, pressure to find another career.
"What was unique about Ari's situation was the kind of moral courage he showed in confronting people about it, because your grade is at risk when you start making trouble," Ubel said.
The anxiety was heightened by Ari's inexperience as an activist. He grew up in a planned community near Baltimore, the son of a merchant seaman and a homemaker. He met his future wife in seventh grade and they became engaged at Wesleyan. Ari Silver-Isenstadt's first encounter with activism at Wesleyan was being rejected from West College, "because I had never thought about sexuality issues." He rode the bench on the football team "backup to the backup" for three years and double-majored in chemistry and molecular biology and biochemistry.
Ari was uncertain how he would respond to a request that he perform an exam even as he entered the operating room at the hospital at the University of Pennsylvania. He was not seeking a confrontation, and a part of him wanted to duck the issue. Like most medical students, he just wanted to get through. He was so nervous that he felt physically shaky. The female patient was already unconscious—fully anesthetized—and after the surgeon did a pre-operative pelvic exam, he invited Silver-Isenstadt to do one himself.
"Did she give her consent for me to do this exam?" Silver-Isenstadt asked.
The surgeon hesitated. She knows she's in a teaching hospital, he said. She knows students are involved.
Silver-Isenstadt made up his mind. "I'm not comfortable doing the exam," he said.
The surgeon grew angry. Although he couldn't force a student to do something, the surgeon made clear he thought Silver-Isenstadt was wrong. For the rest of the operation, Silver-Isenstadt recalled, "I felt like an outsider with nobody talking to me."
The issue might have died there, but Silver-Isenstadt upped the ante. Meeting with the medical school's ob-gyn course director, he said he wouldn't participate in delivering any babies because "those women were not asked about a medical student participating in the delivery of a baby or watching."
And he said he would refuse to do any pelvic exams, even on alert and awake women, because they would be under pressure to consent even if they didn't want a medical student examining them. "I thought that was coercive," Silver-Isenstadt said. "I'm walking in and saying: 'May I do this to you?' She's got to refuse me face-to-face and fear that her refusal might have implications for her health care."
The next meeting was with three associate deans of the medical school, and it quickly turned unpleasant. Why was he so interested in the patient's point of view? they asked. Did he really want to be in medical school?
Silver-Isenstadt fired back that if the medical school was going to discipline him for taking a principled stand, would the deans really want to see a story about that in the Philadelphia Inquirer?
"It got a little bit—I don't want to say hostile—it got a little bit heated," Silver-Isenstadt recalled. "Basically I had painted myself into a box where I wasn't going to participate in anything."
So Silver-Isenstadt left the medical school. He needed to get away. "It was essentially too hot at school," he said. "I had started finding it very difficult to learn the things I was supposed to, because I was too busy criticizing the structure of my education."
What he wanted instead was to understand medical education—to understand why he saw classmates he respected start making puzzling decisions, "like using patients as practice dummies without the patient's consent." He enrolled in Penn's school of education for a one-year master's program, and one day he called Ubel, the Michigan researcher who was then teaching at Penn's new bioethics center, one of the first in the nation.
Together, they designed studies aimed at exposing what Ubel called the "hidden curriculum"—the cultural norms that influence how students evolve into doctors.
"I almost felt like I was trying to bring out into the light a culture that wasn't training new physicians to be—I don't want to say 'to be ethical,' because boy is that awfully inflammatory—but to be forthright with patients and always put the patients first," Silver-Isenstadt said.
The first three studies by Silver-Isenstadt and Ubel received scant attention. The first, published in 1997, reported on the different ways medical students identified themselves in nametags and found that some used such misleading titles as "student doctor" or "student physician;" others simply listed the student's name and university affiliation.
The second study, based on a survey of 2,600 medical students in Philadelphia, found that as students progressed through four years of medical school, they found it less and less important to tell patients at teaching hospitals that they were students, even though patients wanted to know when someone was a student.
The third study, published in 2000, affirmed earlier studies that found patients generally willing to interact with medical students—a finding that the study said "has important implications for informed consent."
No one was fully prepared for the reaction to the fourth study when it was published in February 2003, in the prestigious American Journal of Obstetrics and Gynecology, the journal of the American College of Obstetricians and Gynecologists. By the time it came out, Silver-Isenstadt had gone back to Penn and finished medical school. He and Jean had returned to their native Columbia, Md., with their three children and two cats, and he was working as a pediatrician at Franklin Square Hospital in Baltimore.
In fact, little attention was paid to the study's main finding: that medical students became less concerned about getting patient consent for pelvic exams precisely during the third-year ob-gyn clerkship that had troubled Silver-Isenstadt. Rather, the media latched on to the simple notion that medical students were conducting pelvic exams on anesthetized women at all and the implication that the women were not giving consent.
Some women may have been asked for consent, he concedes, noting that it's difficult to gather accurate data on that point. He has no doubt that most did not give consent, however, becuase the pervasive culture of medical school was that you did not ask.
The Miami Herald, the first paper to write about the study, ran a story on page one under the headline, "Med Students Often Do Pelvic Exams on Women Without Consent, Report Says."
The Philadelphia Inquirer came next, followed by the Wall Street Journal, whose story was picked up by the Associated Press and run around North America, and then the Washington Post. Even the National Enquirer weighed in with a lengthy interview with Silver-Isenstadt under the headline, "Invasion of the Body-Watchers—Women Patients Getting Pelvic Exams from Total Strangers & THEY DON'T EVEN KNOW IT!"
"Most women would be outraged to know medical students are performing pelvic exams on them without their explicit consent," Silver-Isenstadt told the supermarket tabloid in an interview he was initially reluctant to do. "But it's a common practice."
Medical schools quickly found themselves on the defensive. The National Organization for Women called on the medical community to stop the practice and to add explicit language to consent forms "so patients could opt out of 'educational' pelvic exams that would have no benefit to their care."
Fourteen national nursing associations, including the American Nurses Association and the American Academy of Nursing, wrote a letter to the Association of American Medical Colleges demanding medical schools "cease this practice immediately."
In California, the state assembly passed a bill that would make it a misdemeanor to perform pelvic exams without specific consent. Wisconsin state legislators also raised questions. Student newspapers across the country inquired about the practice at their medical schools.
The reaction was swift—"beyond our wildest dreams," Silver-Isenstadt said.
The American College of Obstetricians and Gynecologists issued a statement saying that a pelvic exam done on an anesthetized woman for educational purposes "should be performed only with her specific informed consent, obtained when she has full decision-making capacity."
A statement by the American Association of Medical Colleges called pelvic exams on anesthetized women without consent "unethical and unacceptable."
The Washington University School of Medicine in St. Louis, one of the top-ranked medical schools in the country, announced a new policy wherein "women are specifically asked if they consent to a pelvic exam by a medical student."
The Medical College of Wisconsin, a private school, revised its patient consent procedure that had consisted of a general form saying the students would participate in patients' care and added a requirement that physicians ask patients if a student can participate in pelvic exams. "We are sensitive to this and decided we would do it," said college spokeswoman Toranj Marphetia.
The attention surprised some advocates, who had been fighting over consent for pelvic exams since the 1970s and had persuaded some medical schools to revise the practices over the years. "It's a very old issue, which is why the recent coverage is astonishing to me," said Judy Norsigian, author of Our Bodies, Ourselves, a woman's health guidebook. "Very few [reporters] took the time to find out this was not a new problem."
But the attention also fueled more recent efforts to deal with the situation. "Ari's study did me a huge favor by reminding people that this is a persistent practice," said Robin Fretwell Wilson, a law professor at the University of South Carolina who cited the study in testimony in June before the Federal Trade Commission urging a national solution to issues of patient consent. "I think there would have been a tremendous amount of disbelief—people would have said, Yeah, whatever, that's been fixed."
Wilson recently formed a task force, including Silver-Isenstadt, to examine the use of patients for teaching purposes.
Yet some medical experts were wary of the attention paid to the study and unsure of its implications.
"To have a woman give consent specifically for a pelvic exam by the student begs the question of whether she ought to give consent for every aspect of the student's care," said Anthony Scialli, director of the Georgetown University Hospital ob-gyn residency program. He added, "If a medical student puts a hand in a woman's abdomen through an incision, he can feel the uterus that way. But if he or she puts one or two fingers in the vagina and feels her uterus that way, that requires special permission."
Adriane Fugh-Berman, a clinical professor in the department of health care sciences at George Washington University Medical School, fears that requiring informed consent for pelvic exams will lead most patients to say no. Poor women would feel the impact, she suggests, since they have the fewest alternatives. "Right now, this is an area where it's pretty democratic," she says.
Fugh-Berman also says requiring informed consent about a specific procedure would increase paper work and bureaucracy "that keeps increasing exponentially." And, she said, "I think it's actually a really trivial issue compared to all the unnecessary surgeries that are done on women."
But some advocates say pelvic exams are unique procedures that require unique levels of consent. "Women feel differently about pelvic exams than about having their lungs examined. If women feel differently about pelvic exams, then they should have the right to say, 'No, I don't want this done,' and they should be told when it's going to be done," said Amy Allina, program and policy director for the National Women's Health Network, an independently-funded advocacy group.
Jean Silver-Isenstadt feels her husband's research may mark a turning point in the medical establishment's attitudes towards patient consent. "It's too soon to tell, but it's possible that he may have tipped the scales," she said.
For Ari Silver-Isenstadt, the experience has brought indelible changes to his own perspective on medicine. "It used to be that when I heard the word 'activism,' I thought of rallies, marches and chants," he wrote in a column in the Journal of the American Medical Association. "Now I see a broader range of meaning in the word… Students are able to better medicine by improving the training process, enhancing patient care and developing as physicians who can see beyond the examining room."