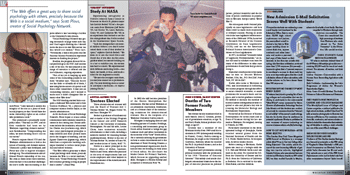 Three alumni–elected trustees will join the Board of Trustees July 1: Thomas Broker '66, Megan Norris '83, and Isaac Shongwe '87.
Broker is professor of biochemistry and co–leader of the Virology Program in the Cancer and AIDS Research Centers at the University of Alabama, Birmingham. He and his wife, Louise Chow, have numerous scientific achievements to their credit, including a sensitive method for detecting human papillomaviruses. Broker is the son of Thomas Broker '36, brother of Steve '69, and brother–in–law of Linda, MAT '71.
Norris is a senior principal in the Detroit office of Miller, Canfield, Paddock and Stone, where she practices in the area of employment law and trains employers and other lawyers in the requirements of the Americans with Disabilities Act.
In 2002 she will become president of the Detroit Metropolitan Bar Association. She has served Wesleyan as an admission interviewer, fundraiser, and as a former chair of the nominating committee for alumni–elected trustees. She is the recipient of a Wesleyan University Service Award.
Shongwe is managing director and founding partner of Letsema Holdings, a consulting and investment group in South Africa founded to bridge the gap between black and white businesses in the economy of the "new" South Africa. He is currently advising the government on how to attract investments and is the chairman of Rural Housing Finance, a non–governmental organization that finances low–cost housing in rural areas of South Africa. He also chairs the Maths Centre for Primary Teachers, which focuses on upgrading teacher skills. Shongwe is a Rhodes Scholar and is married to Molebatsi Pooe '94.