HISTORICAL ROW: CROSS STREET A.M.E. ZION CHURCH AND WESLEYAN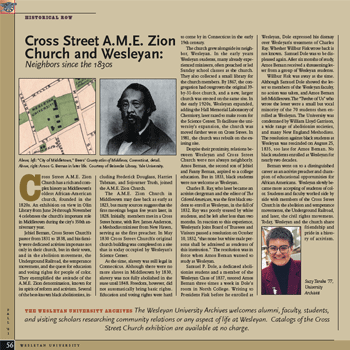 Cross Street A.M.E. Zion Church has a rich and complex history as Middletown's oldest African–American church, founded in the 1820s. An exhibition on view in Olin Library from June 24 through November 4 celebrates the church's important role in Middletown during the city's 350th anniversary year.
Jehiel Beman, Cross Street Church's pastor from 1831 to 1838, and his family were dedicated activists important not only in their church, but in their town, and in the abolition movement, the Underground Railroad, the temperance movement, and the quest for education and voting rights for people of color. They exemplified the attitude of the A.M.E. Zion denomination, known for its spirit of reform and activism. Several of the best–known black abolitionists, including Frederick Douglass, Harriet Tubman, and Sojourner Truth, joined the A.M.E. Zion Church.
The A.M.E. Zion Church in Middletown may date back as early as 1823, but many sources suggest that the first meetings began five years later, in 1828. Initially, members met in a Cross Street home, with Rev. James Anderson, a Methodist minister from New Haven, serving as the first preacher. In May 1830 Cross Street Church's original church building was completed on a site that is today occupied by Wesleyan's Science Center.
At the time, slavery was still legal in Connecticut. Although there were no more slaves in Middletown by 1830, slavery was not fully abolished in the state until 1848. Freedom, however, did not automatically bring basic rights. Education and voting rights were hard to come by in Connecticut in the early 19th century.
The church grew alongside its neighbor, Wesleyan. In the early years Wesleyan students, many already experienced ministers, often preached or led Sunday school classes at the church. They also collected a small library for the church members. By 1867, the congregation had outgrown the original 39– by–31–foot church, and a new, larger church was erected on the same site. In the early 1920s, Wesleyan expanded, adding the Hall Memorial Laboratory of Chemistry, later razed to make room for the Science Center. To facilitate the university's expansion, the church was moved farther west on Cross Street. In 1981, the church was rebuilt on the existing site.
Despite their proximity, relations between Wesleyan and Cross Street Church were not always neighborly. Amos Beman, the second son of Jehiel and Fanny Beman, aspired to a college education. But in 1833, black students were not welcome at Wesleyan.
Charles B. Ray, who later became an activist clergyman and the editor of The Colored American, was the first black student to enroll at Wesleyan, in the fall of 1832. Ray was poorly treated by white students, and he left after less than two months. In reaction to this experience, Wesleyan's Joint Board of Trustees and Visitors passed a resolution on October 10, 1832, "that none but white male persons shall be admitted as students of this institution." The resolution was in force when Amos Beman wanted to study at Wesleyan.
Samuel P. Dole, a dedicated abolitionist student and a member of the Wesleyan Class of 1837, tutored Amos Beman three times a week in Dole's room in North College. Writing to President Fisk before he enrolled at Wesleyan, Dole expressed his dismay over Wesleyan's treatment of Charles Ray. Whether Willbur Fisk wrote back is not known. Samuel Dole was to be displeased again. After six months of study, Amos Beman received a threatening letter from a group of Wesleyan students.
Willbur Fisk was away at the time. Although Samuel Dole showed the letter to members of the Wesleyan faculty, no action was taken, and Amos Beman left Middletown.The "Twelve of Us" who wrote the letter were a small but vocal minority of the 70 students then enrolled at Wesleyan. The University was condemned by William Lloyd Garrison, a wide range of abolitionist societies, and many New England Methodists. The resolution against black students at Wesleyan was rescinded on August 25, 1835, too late for Amos Beman. No black students enrolled at Wesleyan for nearly two decades.
Beman went on to a distinguished career as an activist preacher and champion of educational opportunities for African Americans. Wesleyan slowly became more accepting of students of color. Students and faculty worked side by side with members of the Cross Street Church in the abolition and temperance movements, the Underground Railroad, and later, the civil rights movement. Today, Wesleyan and the church share friendship and pride in a history of activism.
–Suzy Taraba '77
University Archivist