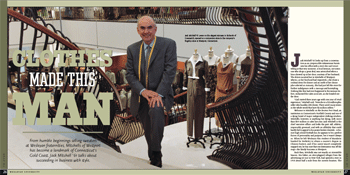 JACK MITCHELL '61 LOOKS UP FROM A CONVERSATION as an irrepressible saleswoman bursts into his office with a story she can't resist telling at that very moment. A local woman, not someone who shops a great deal, was astonished when a limo showed up at her door, courtesy of her husband. The driver escorted her to Mitchells of Westport, where?as her husband had requested?she chose a cocktail dress for dinner and an outfit of her choice (she selected an Armani). She had just left the store for further indulgences with a massage and hairstyling. Nothing like this had ever happened to the woman before, exclaimed the sales associate, as she headed out the door.
"Gail started three years ago with one year of retail experience," Mitchell said. "Now she is a $2-million-plus seller who handles 200 clients. There aren't many stores in the whole world that have $2-million sellers."
Welcome to Mitchells on the Boston Post Road, an institution in Connecticut's Fairfield County and one of a dying breed of major independent clothing retailers. Mitchells, however, is anything but dying, with more than $50 million in sales last year. Jack Mitchell is the chief executive officer and looks the part: tall, athletic, impeccably groomed, and with an affability that could hardly fail to appeal to his power-broker clientele. A former high school football star, he appears to be a perfect fusion of personality and purpose, but it wasn't always so. When he left Wesleyan this student of Mandarin headed for Berkeley to obtain a master's degree in Chinese history, and if his career wasn't completely mapped out, he was sure that one destination was off the map?the family business in Westport.
Back then, Mitchells was not exactly an irresistible beacon. His father, an ulcer-plagued refugee from the advertising rat race in New York, had opened a store in 1958 about half a mile from the current location. The elder Mitchell had been thinking about relocating to Florida, but his wife inhaled a whiff of the future when the spouse of a relocated Mobil executive asked her where to buy clothes for her husband and sons. The Mitchells stayed put and began business with a handful of $65 suits and $10 ties in what had been a small plumbing supply showroom.
Jack Mitchell remembers the early days when his family would bring a station wagon full of sweaters up to Wesleyan on weekends. "We'd go to fraternity houses to sell. In those days students all wore jackets to dinner. We dressed up more."
By age 30 he had acquired business experience with the New England Institute for Medical Research and perhaps more important, was struggling to pay the bills for his wife and four young sons. When his brother asked him to join the prospering family business, he agreed, but without much conviction.
"I didn't think I'd like the business at all," he says. "But I loved it from the start."
Before long, as a Wall Street Journal writer noted in a 1999 column about Mitchells, the rat race came to them. In nearby Stamford a Swiss bank built the world's largest trading floor; GE and IBM became neighbors. Media and entertainment businesses spilled out from New York.
As Fairfield County transmuted to Connecticut's Gold Coast, Mitchells acquired a spacious new location suitable for menswear labels such as Ermenegildo Zegna, Giorgio Armani, Brioni, Canali, and Joseph Abboud?suits that go for $1,000 and up?way up. The demand for a high-end wardrobe is driven by Wall Street types for whom clothing is an element in the competitive arsenal. The Mitchells are well aware that these individuals can shop just as easily on Savile Row, Via Montenapoleone or Fifth Avenue. Classy clothes are not enough.
"Our customers are thirsty for extraordinary service," Mitchell says. The staff is geared to meet the needs of customers such as the executive who bought two suits and needed them ready the same day for a trip to Europe. With a 23-person tailoring department led by an Italian master tailor, the staff had the suits ready on time, but their focus on the customer went further. The sales associate noticed that it was the executive's birthday, and when he later sat down to a meeting, he felt an envelope in his pocket and pulled out a birthday card.
A database with detailed information about 50,000 clients lies at the heart of Mitchells customer-service operation. The Mitchells know every item their customers have ever purchased, as well as nicknames, hobbies, and anything else that will help the sales staff maintain personal connections. When a busy executive calls ahead to arrange a visit, sales associates put out a selection of clothes based on the customer's known preferences and past purchases. All that's required of the customer is a nod.
"We hug our customers and they hug us," Mitchell says. "We sign thousands of personal notes a year. We call people when we have something new to show them."
For those who want to become more knowledgeable about their attire, Mitchells produces clothing magazines where one may learn, for instance, that cashmere comes from goats combed by hand to produce fibers that are readied for hand-knitting in a tedious, labor-intensive process. Up to four miles of yarn go into one fine cashmere sweater. It takes a single Tibetan goat four years to grow enough fleece for just one sweater, ten years for a full-length overcoat. The Italians and Scots are said to produce the best cashmere. Knowing that may or may not stop one's jaw from dropping at the $2,125 tag on an Avon Celli 24-ply hand-knit cashmere sweater that weighs four pounds.
The business is family-run, with Mitchell's wife, Linda, four sons, and brother all involved. Jack sets the tone by walking the floor with a tape measure draped around his neck and shoulders: a subtle reminder that no one in the organization is too highly placed to work one-on-one with a customer.
"One of our golden rules is that everyone works on the floor, especially on Saturdays," says Mitchell. "We do 45 percent of our business on Saturdays when it's wall-to-wall people." Free cups of coffee and a wide-screen television for any kids in tow are added touches.
Lately, the staff has been dispensing advice about casual office wear that would have been unthinkable a few years ago. Fewer sales of suits mean more of sport coats and sweaters, so business hasn't evaporated, but if the trend to casual turns out to be just the latest disappearing fad, Mitchell won't be sorry.
"The top people hated it from the start," he says. "Ask them why they went casual; the answer is they had to because of tremendous competition for technologically savvy young people.
"We've seen a dramatic shift just recently as the dot-com world has come apart. People are dressing a little more seriously. They're looking for jobs and realizing that business is serious. Clothes do have an effect on communication.
"I still believe in first impressions," he asserts. "You can't be sloppy in your dress."