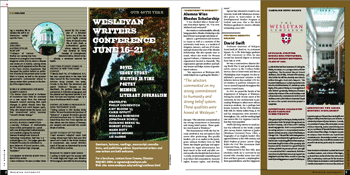 "I was shocked when I found out," says Kim-Marie Spence '00. "I'm overwhelmed and overjoyed!"
Her reaction is understandable. After all, being awarded a Rhodes Scholarship is the kind of honor most people only dream of.
Spence, a government and economics major as well as a member of the university's track team, is a resident of Kingston, Jamaica, and one of 18 international winners this year of the Rhodes Scholarship. She also spends time in Israel, where she works for Women Against Violence, a Palestinian women's organization located in Nazareth. The organization operates shelters and halfway houses and helps victims of genderbased violence.
"My experience at Wesleyan definitely helped me in getting the Rhodes," she says. "The selectors commented on my strong commitment to humanity and strong belief system. These qualities were honed at Wesleyan."
The humanitarian work she has become involved in was not Spence's first career after graduating. She quickly landed a job as an analyst at the prestigious Lehman Brothers firm on Wall Street. But despite good pay and opportunities for rapid advancement, her heart wasn't in the work and after several months she decided she had to leave "a cushy, yet personally unsatisfying job to do what I feel committed to: women's rights, human rights, and development."
Spence has returned to Israel to continue her work with Palestinian women. She plans to matriculate in the Developmental Studies Program at Oxford next year. She is the third Wesleyan graduate to receive a Rhodes scholarship since 1987.