Professor Emeritus of Religion, David Swift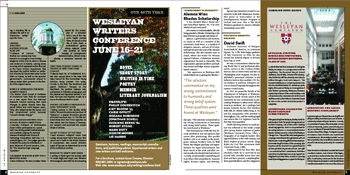 Professor Emeritus of Religion David Swift, 87, died Oct. 14, in Kennett Square, Pa. A Phi Beta Kappa graduate of Yale University in 1936, he also earned his doctoral degree in divinity from Yale in 1939.
He was a conscientious objector during World War II and performed alternative service in the Civilian Public Service, first in forest work and then at Philadelphia State Hospital. He also established a personnel initiative in the Selective Service that enabled CPS forest workers to perform volunteer service in mental hospitals throughout the eastern United States.
In 1955, he joined the faculty of the Department of Religion at Wesleyan. During his nearly 30-year career at the university, he was instrumental in persuading Wesleyan to admit more African American students. He is perhaps best known, however, for his 1961 Freedom Ride with Dr. Martin Luther King, Jr. He and his companions were arrested in Birmingham, Ala., and the resulting legal case went to the U.S. Supreme Court before they were acquitted.
Swift's life-long interest in racial justice was reflected in two books: Joseph John Gurney: Banker, Reformer & Quaker (Wesleyan University Press, 1962), a biography of an English banker who opposed slavery in the 19th century; and Black Prophets of Justice: Activist Clergy Before the Civil War (Louisiana State University Press, 1989).
Predeceased by his first wife, Jane (Nichols) Swift, he is survived by his second wife, Dorothy Jones; four children and their spouses; a stepdaughter; three grandchildren; and five stepgrandchildren.