CONVERSATIONS: REDEFINING THEATER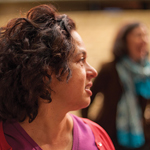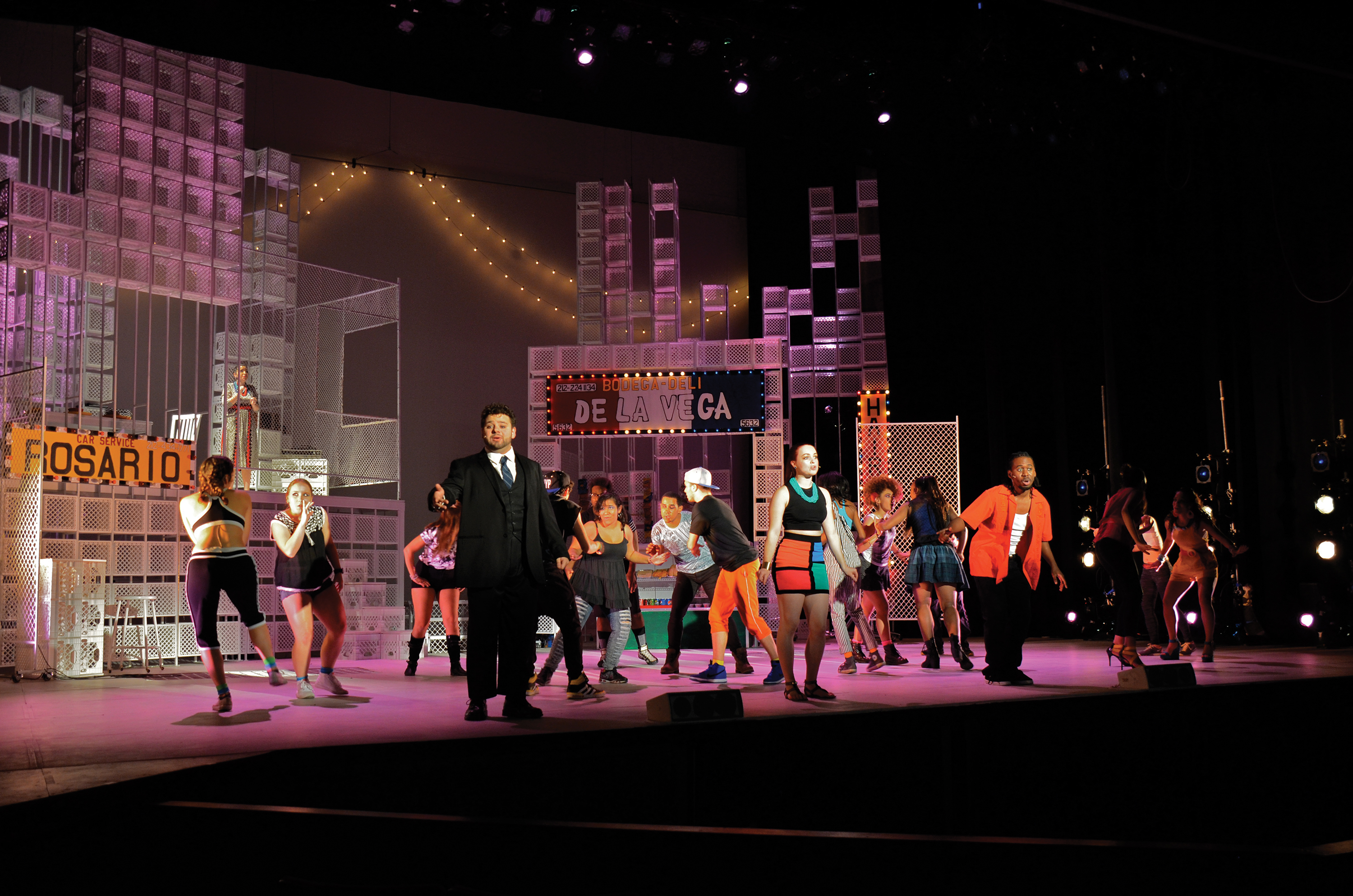 As theater professor Cláudia Tatinge Nascimento shares her knowledge of the art form, she hopes to inspire her students to create the theater of their own generation. Directing In the Heights gave her a chance to connect with many who hadn't worked in theater before.
Last November 12–14 at the Center for the Arts Theater, the Wesleyan departments of theater and music presented an exuberant production of In the Heights, the Tony Award-winning musical written and conceived by songwriter, singer, and actor Lin-Manuel Miranda '02, who offered the first incarnation of the show at Second Stage during his sophomore year. Associate Professor of Theater Cláudia Tatinge Nascimento, who directed this 2014 production, first connected with Miranda in 2001, when he was a senior at Wesleyan and she was a new member of the faculty.
David Low (DL): Why did you decide to direct In the Heights at this time? How did that come about?
Cláudia Tatinge Nascimento (CTN): I have a background in music and in choreography. I saw that the students here have an interest in musicals, and Lin's In the Heights has several advantages: it is a musical born out of a liberal arts education, and what is really smart about him is that he didn't try to fit into the market. He tried to think about how he could insert himself and his voice into the market, to say, "Okay, how can I carve a place for me and for this community on Broadway?"
This musical made it possible to cast a very large and diverse group of students. It was a way of reaching out to other communities on campus, not just in terms of ethnic background, but also of interests.
Only one of the 22 students in the cast had appeared in a theater faculty production before, and only a few were theater majors; others were majors in the sciences, English, German, mathematics, Latin American studies, psychology, sociology, and other fields in the social and natural sciences. More than half were first-year students or sophomores. The same was true for the backstage crew and the 14-piece band that brought together students from Wesleyan and guest musicians from the Hartt School of Music and the Middletown community.
This play is about community. One of my main concerns was how to build a sense of community with the cast and the crew, and how to facilitate conversations about class, gender, and race in the process of making this fictional community on stage. It was really a joy. It was a great cast. Students were very supportive of each other. I was delighted to meet so many students whom I never would have met.
DL: Does this show speak to you personally, too? Do you have an affinity for what it's saying?
CTN: I do, in the sense of community. I like the way that social relationships develop in Latino and Latin American communities. I was raised in Brazil and recognize in the musical some cultural traits such as a lightness and an ease with impromptu. You don't need to invite someone for dinner in advance. It's more like, "Come over!" and people just come over. It's very clear in Lin's vision for the musical how different generations mix, and I recognize that from my upbringing. There is the younger cousin who is hanging with the older cousin; the grandmother is not the old lady shoved apart, but she's participating in the story. So these are certain cultural traits that I recognize and are very dear to me.
DL: What was your directorial approach to the material?
CTN: We decided that we could not replicate the production values of a Broadway show—we didn't have the budget for that. Theater Department productions are courses for credit, so my commitment here was primarily with the pedagogical experience. For example, I felt that it was interesting to have students choreograph and then I advised them on what was missing in the choreography. It gave them a sense of ownership over the production and the opportunity to practice a more directorial role. I also assigned students to be the leaders of the male chorus and female chorus, so they worked as vocal coaches with the rest of the group. I had another student who assisted me with the acting. Of course, I supervised everything in case there were holes, but I saw the process of putting a show together as a learning process.
DL: Have you worked on musicals before?
CTN: Yes, at Wesleyan and elsewhere. I directed Bertolt Brecht and Kurt Weill's The Threepenny Opera in 2008. Between acts, the production moved from the Chapel into the '92 Theater with a full orchestra and 18 singers. I feel comfortable working with music, and Weill's music is so beautiful, really stunning. For In the Heights we had Adjunct Assistant Professor of Music Nadya Potemkina as musical director and band conductor. She's phenomenal.
DL: What are some of the favorite plays that you've directed at Wesleyan?
CTN: I would say Threepenny and Doctor Faustus Lights the Lights, by Gertrude Stein. For the latter, I invited the Italian composer Demetrio Castellucci to write an original musical score. He's young and has a company, Dewey Dell, of dancers and performers in their mid-20s. I took a non-realistic approach to this modernist text, as if the action were taking place inside a writer's mind. I loved working with scenic designer and Assistant Professor of Theater Marcela Oteíza, who created the wonderful projections for the piece.
I also liked doing Charles Ludlam's The Mystery of Irma Vep. It was hilarious. It was a student's senior thesis, and I directed it in the '92 Theater. As an undergraduate, Ludlam was in a way like Lin—he created his own niche in the professional métier. Ludlam wanted to do theater and was told in college that he could never play the lead, so he invented a whole style of theater where he could play the lead. That's genius.
DL: What courses have you taught?
CTN: I've taught directing, but mainly I teach acting and theory. This spring semester I'm at the Center for the Humanities teaching a course called Contemporary Stage and the Anti-Theatrical Prejudice. I have a big question: Why are people calling certain performance pieces anything but theater? I mean, there's dance-theater. Why isn't it called theater?
Theater is a catalyst of applied arts, so why not call these arts performances theater? I think there's an anti-theatrical prejudice going on, because people started thinking that theater is boring—they connect it with derivative foms of realism or with very traditional kinds of theater. But theater can be many things. For example, who said that theater needs text?
DL: What role do you think theater has in the liberal arts?
CTN: I think that for the spectator, theater helps provoke, depending on the type of theater, of course, a level of reflection, because it both removes us a little bit from our daily life, but also connects us to it. People talk about suspension of disbelief, but theater also has the potential to suspend commonplace assumptions so we can look at relationships and understand dynamics more clearly.
When you engage in a true creative process, it becomes a way of self-examination, and, if we are going to go the way of the Russian formalists, of re-enchanting the world; we re-meet things as if for the first time again. So if you want to talk about empirical experience or critical thinking, if you want to speak about relationships and social dynamic, the theater is a big playground for these conversations and kinds of engagement.
As a professor of theater at a liberal arts institution, what interests me is not to train students to join the market. The biggest challenge is to prepare them to create the theater of their generation. This is a very delicate position: I have to transmit what I know, but I don't want to impose my likes and tastes. I do want to transmit the craft and critical thinking and theory so that students can then run and create the theater of their generation.
DL: Do you think it's harder for people of color in the United States to make a living in the theater, because of the way the business is constructed?
CTN: Yes. In theater (and film and television), the question is who is visible, who is allowed to be seen. I wanted to work with a diverse cast for In the Heights because who is allowed to be seen informs the spectator. If you've never seen yourself on stage, you also imagine fewer possibilities for your own life. Certainly there's been a lot of progress, but how many plays, TV shows, and movies do you see in which race is not playing an enormous role? The lead is rarely of a person of color, or else it's an all of-color show. It's pretty obvious.
DL: It's not obvious to everyone, though.
CTN: Isn't that amazing? That's also part of the task of the theater teacher. When I teach acting, I want students to rehearse roles that are different from the roles in which they might be traditionally cast. In most commercial theater, you're trying to match the actor to an idea of the role. When you are teaching, you want to do the opposite. If a student already has an ingénue look, I'd rather have her play the ugly, disheveled person so that she develops an understanding of other experiences. It's important to let someone rehearse different possibilities, different experiences, and imagine alternative realities. Pedagogically that's more interesting because that's when students start to realize that they don't have to fulfill a predictable social role. Which is what Lin did in writing In the Heights.
DL: And he is doing it again now in his casting of people of color as historical figures in his new musical Hamilton, about Alexander Hamilton and his peers.
CTN: Exactly. It's the ability to imagine other possibilities for your life. Because, truly, you teach a number of students every semester, and how many really become professionals? Very few. Life in theater is a very hard life. I tell my students: If you don't like rehearsing and you don't like being rejected, don't do theater because you're going to rehearse for 85 percent of your professional life. And only 15 percent of the time you'll be on stage and in front of an audience