The Art and Craft of Location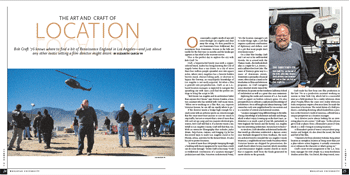 OCCASIONALLY A NIGHT'S WORTH OF RAIN will come through Los Angeles and clear away the smog. It's then possible to see Downtown from Hollywood, the mountains from Downtown. Homes in the hills are visible for the first time in months and the landscape appears in bas-relief in the rearview mirror. This is the perfect day to explore the city with Bob Craft '76.
Craft, a bespectacled family man with a copper-colored beard, makes his living knowing the City of Angels better than a taxi driver. In a city of more than four million people sprawled over 466 square miles, where every Angelino has a favorite hidden burrito stand, obscure hiking path, or shortcut to bypass the freeway, an encyclopedic knowledge of Los Angeles is not easily acquired. Yet when a film is greenlit into pre-production, Craft, as an L.A.-based location manager, is expected to navigate the sprawling city with ease—and find the perfect settings to bring the script to life.
"Bob knows Los Angeles and its architecture better than anyone else I know," says Fermin Davalos, a location assistant who has worked with Craft many times. "When we're working on a film that, say, requests Victorian houses, he can tell me exactly where to go."
If the director wants a bridge high enough for a crash scene with an airborne sports car, remote enough that the stunt won't hurt anyone or cost too much to stop traffic, but not so remote that a crew of more than 100 can't set up camp and run massive electrical generators, Bob Craft will find it. If a director wants a waterfall in Los Angeles County, Craft will find that, too. With an extensive filmography that includes Jackie Brown, Pulp Fiction, Gattaca, and Hanging Up, he has discovered ways to make Los Angeles stand in for Florida, Africa, and even for the distant future. It's also his job to protect locations.
"A crew of more than 100 people tramping through a building with heavy equipment for more than a week can do some damage," writes Craft in his essay, "Only in Hollywood: Confessions of a Location Manager" [Architecture and Film, Princeton Architectural Press]. "It's the location manager's job to make things right, a job that requires a judicious combination of diplomacy and dollars. And it's a job that most people don't even know exists."
On a clear blue Sunday, Craft and I set out in his well-traveled Honda. He is armed with the Thomas Guide—the textbook-thick atlas is a staple for L.A. drivers—and a caffeine-free Diet Coke. The maze of freeways gives way to a maze of downtown streets. Downtown is primarily a financial center, often used as a stand-in for Manhattan in films and television programs. As Craft navigates some deserted streets toward the loft district, he points out the Southern California School of Architecture as well as a great dim sum restaurant.
Exploring the nooks and crannies of L.A. has made Craft an expert on hidden culinary gems. It's also prompted him to cultivate a sophisticated knowledge of architecture. He is self-taught and always learning; Craft researches each new neighborhood he encounters and is a member of several area historical societies.
"Location managers bring different things to the table. I bring a knowledge of architecture and style and design, which is what I enjoy. Growing up on the East Coast…architecture is so much a part of your life, particularly in New England: the homes and the history. Los Angeles has very interesting architecture, but you have to find it."
As we drive, Craft identifies architectural landmarks that would go otherwise undetected: a daycare center near Burbank designed by Rem Koolhaus, the modern architect hired to remodel the Los Angeles County Museum; a neighborhood near South Pasadena where Victorian homes are shipped for preservation; the small church where he was married, which resembles a pre-Renaissance English country church so much that it supports itself from the funds generated by movie shoots on the grounds.
Craft made his first foray into film production in the late '70s as a production assistant working on movies in New York City, which led to a successful stint as a field producer for a reality television show (Real People).When the craze over reality television took a temporary respite a few years later, he made the transition to locations. The varied duties of a field producer—including directing, which landed him a position in the Director's Guild of America—offered him a unique perspective as a location manager.
"As a director you're always looking for an interesting place to set a scene," Craft says. "In this job you get to look at places from a filmmaker's point of view, which is a skill I bring to scouting locations."
A filmmaker's point of view is not just about pragmatics and budget; it's also about the mood, the look and feel of the film.
"I learned a lot from [director] Nicholas Roeg about location as metaphor, location as being more than just a place where action happens; it actually comments on or enhances the character or what's going on."
Craft's most recent assignment is the L.A. locations manager for XXX (Triple X)a Sony-Revolution Studios action film. Vin Diesel, the deep-voiced, muscle-bound hero from last summer's surprise blockbuster The Fast and the Furious, stars as Xander Cage, a secret agent for the new generation. Read: tattoos instead of tuxedos, Budweisers instead of martinis. In L.A.'s loft district, Craft and his team carved out a bachelor pad for tomorrow's undercover hero.
"The movie is like a comic book. It's operatic. It's larger than life. It's not supposed to be real. Those were our guidelines for choosing the locations."
From the outside, the loft and surrounding neighborhood reveal nothing of the big-star, big-budget production located within. A young woman in a fancy dress poses next to her car for a photographer as an older man pushes a shopping cart down the street. Craft knocks on the huge wooden door, trying to peer through the dusty window. A moment later the door opens to reveal a security guard.
"Hi, I'm Bob Craft, locations manager." Craft explains we're here to see the set. The security guard is alone in the dark with a card table, a newspaper, and a transistor radio. "Wanna come with me?" Craft asks.
The security guard sets down his paper. "Cool."
In the freight elevator, the security guard confesses he had no idea what he was guarding. "There's a third floor?" he asks as the elevator creaks to a stop.
The third floor is the set of Xander's loft, and it gives exactly the impression it's supposed to: as though an untamed bachelor with a penchant for beer and sports had to leave quite suddenly. The security guard looks around in amazement. This could be a prime piece of real estate, if it were real.
"The idea is that Xander is into extreme sports," Craft explains. That much is clear. One wall has been turned into a climbing wall, and a small half-pipe for skateboarding occupies a far corner of the room. Snowboards, surfboards, and bikes are stacked around the perimeter. Racks of tools and miscellaneous equipment divide the space.
"It took a month to prep this place," Craft explains. "They've actually put down a fake floor. They painted the walls to make it look older. This used to be very nice: bright, shiny floor, nice clean walls."
The detail is impressive. Xander's armchair is the fake leather of thrift store purchases, patched with duct tape. A parachute is tossed over a couch. The apartment is littered with food wrappers and stocked with enough alcohol to throw a party at the drop of a hat. Above Xander's bed there's a poster of Bora Bora. In the film, Xander dreams of saving enough money to vacation there.
Craft wanders over to one of the windows that line the long wall of the loft. "All of these windows are rigged so that they can blow in. The actual windows were taken out and replaced so that when the stunt guys come in, they'll explode easily. Every one of these is going to be smashed."
On a production like XXX, part of Craft's job involves scouting locations appropriate for stunts. The extreme sports consultants working on the film were familiar with the Forest Hill Bridge, the third highest bridge in the West and a favorite among adrenaline junkies. At the XXX production office, Craft opens a carefully organized file cabinet and pulls out the folder on the bridge jump. He unfolds an accordion-style photo spread of the bridge and its verdant surroundings. The city granted permission to use the bridge to Craft and his team, who then arranged for traffic to be rerouted on alternate sides of the street for as long as the production needed. Then they launched a gutted Corvette off the 720-foot bridge into the ravine below. Twice.
The production also constructed a Colombian village complete with drug farm on an undeveloped lot outside the city. Craft discovered just the right piece of land for this elaborate staging on one of his many work-related road trips.
"It's just a lot of driving," he explains. "I spend a lot of time in my car driving around looking at things, exploring."
XXX is the third project on which Craft has worked for director Rob Cohen. They collaborated on The Fast and the Furious, an action film set in the world of street racing. The film was a smash success; it has earned over $150 million domestically so far.
"Rob Cohen brought me in when he was at Universal and gave me a script that was written for New York but would be shot in Toronto. He had just done The Skulls and didn't want to go back to Toronto. He had also shot in New York and didn't want to go there, either. He gave me the script and said, 'I want you to go out and see if we can do this in L.A.' So for two weeks I just went out and drove around and thought, This would be a good street for a chase."
Craft presented the director with locations and descriptions of what he'd discovered in the Greater Los Angeles area, and they brought the idea to the studio.
"On the basis of the presentation and the fact the numbers were right, they decided to shoot in Los Angeles."
In the film Paul Walker (The Skulls, Joyride) is a cop who infiltrates a tightly-knit Latino community to break up a hijacking ring. Craft found this community in Angelino Heights, a predominantly Latino neighborhood north of Downtown. Angelino Heights was conceived in the 1940s as a posh neighborhood with a view of the city's financial center. Most of the original Victorian homes still stand. Some are perfectly preserved in a historical section, but others have suffered the ravaging effects of time and air pollution. This combination of opulence and decay makes the neighborhood a bit like Southern California's answer to Venice.
Navigating through post-church pedestrian traffic, Craft points out the store that The Fast and the Furious crew remodeled (and then re-remodeled) into the neighborhood hangout. Up a nearby street, where a steep hill provides a view of Downtown's skyscrapers, Craft explains what was necessary to convert a peeling Victorian to a home suitable for shooting. In the narrow driveway between homes, the production staff built a garage, painted the house, and put up a fence. In exchange for the disruption, the homeowner was lodged at a hotel and given an additional sum for her troubles. This is standard practice, and keeping the homeowner happy is part of Craft's job.
"If you're going to be blowing stuff up, you have to tell them. You give them an idea of the scene. Most of the time it's a couple of people sitting around talking, but if you're going to have special effects and stunts and whatnot, you tell them. You give people insurance and a location contract, and you tell them that any damage will be taken care of. You may want to use that house again; you may want to be in that neighborhood again, so it's important to keep relationships good."
Should the homeowner, proprietor, or city have any complaints, Craft must handle them. He concedes it's not a low-stress job.
However, had his life not taken an unexpected turn at Wesleyan, Craft might have found himself in an even more stressful field: law. A native of Washington, D.C., he chose Wesleyan because he thought the College of Social Sciences major would be good preparation for law school. He decided to double major in Theater only to add variety to his intense CSS curriculum.
"I wanted to do something different, to have a change of pace. I found I was very good at theater and I loved working with actors."
He directed theater productions at Wesleyan under the guidance of Bill Francisco, professor of theater. Upon graduation, Craft applied to both law and film schools.
"You can starve to death doing theater. I did Rosencrantz and Guildenstern Are Dead for my senior thesis. We did all this work and put it up and when the run's over, it's done," Craft says, explaining his transition from theater to film. "It's never seen again and there's something frustrating about that, but with film you have something to have and to hold."
He chose film school and enrolled at NYU in the same class as noted filmmakers Barry Sonnenfeld (Men in Black), Jim Jarmusch (Night on Earth, Ghost Dog) and Tom DiCillo (Living in Oblivion).
"I'm glad I never became a lawyer," he said. "I don't have the temperament. I loved Wesleyan. I'm a great supporter of the school because I think it's important to have a liberal education—even people who want to go into film. It's important to have a well-rounded education, because you bring everything to the table when you're making a movie. You bring your life experience, so it's good to have a broad life experience."
Craft's own life experience includes being a husband and father of three. He writes screenplays, lectures on architecture for the location managers' union, and last summer directed a run of Danny and the Deep Blue Sea at Hollywood's gritty, windows-painted-over-in-black Crush Bar.
An LA Weekly reviewer wrote, "Director Bob Craft's shrewd melding of locale and plot…adds dimensions of intimacy and imaginative artistry."
Craft's imagination helped save the day on Hanging Up, with Diane Keaton. He and his location team were charged with finding a waterfall somewhere in the Los Angeles area. After three weeks of scouring area waterfalls, only to find that two-and-a-half years of drought had reduced them all to dribbles, Craft suggested his colleague Davalos travel north to Kern County. "It's an example of scouting by deduction. His idea was, 'There's not so much a waterfall that we know of, but there's a lot of water there,'" Davalos remembered.
He made his way up the Kern River and there discovered a power station where water from the river is diverted. After days of poking around and consulting with Craft and the location team, Davalos found an employee of the power station who remembered the emergency bypass switch that would reroute the water and send it cascading down a hill on the other side of the river. Craft convinced the production to pony up the money for a raft, which Davalos paddled to the other side of the river to view this cascade.
"I told the guys, 'Trip the breaker!' The water in the river starting dropping, and then you heard this thing up at the top of the hill and a rush of cold wind as the water made its way down the crevasses, and after about five minutes—Pow! You got this spectacular 300,000 gallons-a-minute waterfall and nobody had ever seen it before."
Waterfall found, Craft and his crew had to scurry into overdrive when the shooting schedule changed, leaving them only a few days to get permits, arrange parking, and deal with Southern California Edison. The scene was shot on time, and the discovery earned Davalos the Location Manager of the Year award from the Association of California Film Commissioners in 2000.
"I always credit Bob with half of that find because it was his idea to go up there, and it was his experience and expertise that allowed us to pull it together in a matter of days," Davalos says. "Bob is an incredibly creative individual. He has the ability to see things as they might be, which is crucial in our industry."
As afternoon settles in, the drive brings us to Pasadena, another neighborhood built for the wealthy, this one in the late 19th century. Craft veers off a main street and buzzes up the alleyway through which Bruce Willis escaped on a stolen motorcycle after throwing a fight in Quentin Tarantino's cult classic Pulp Fiction, for which Craft was locations manager.
A few blocks farther, Craft turns into a residential neighborhood, and we feel instantly transported to East Coast suburbia. Shooting in Pasadena is expensive, and the city has many restrictions, but this neighborhood is a favorite among locations managers because it's so close to Los Angeles yet could not look less like it.
Sturdy oak trees line the street and form an overhead canopy so thick the California sun can barely filter through. On either side, large family homes of varied styles have adjoining, perfectly manicured lawns.
"I love this street with the trees and the houses. There are a number of architecturally significant homes as well. There's a Frank Lloyd Wright and a Greene and Greene. I get to ride around and find places like this for a living," Craft smiles. "I feel very lucky."