Writer's Life Recalled, Horgan House Is Dedicated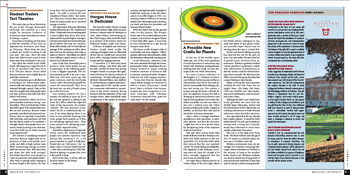 The Russell family's former carriage house behind their High Street mansion became a cultural center for Wesleyan in 1962, when Pulitzer Prize-winning author Paul Horgan, who joined the faculty as director of the former Center for Advanced Studies, made it his home.
Professor of English and American Studies Joseph Reed recalls the evenings at Horgan's home as filled with all the best an intellectual community has to offer?dialogue between brilliant minds with far-ranging interests.
"I remember T. S. Eliot and James Baldwin visiting," says Reed, who with his wife, novelist Kit Reed, was among Horgan's friends on campus who gathered at his home for dinner and hours of conversation. "He had really grand people there: Edmund Wilson, Jean Stafford, Sir Herbert Read (a sculpture historian)."
Horgan died in 1995, and the university community celebrated its commitment to the artist's memory during Reunion with the dedication of the Paul Horgan House. Many individuals made contributions to this project in Horgan's memory, and approximately 50 people attended the ceremony. It was the culmination of an effort begun in 1995, in a meeting between Professor of German Studies Jerry Wensinger (now emeritus), Joe Reed and then-vice president and treasurer Robert Taylor.
Reed and Taylor laid out the ground rules for this project: The Horgan House was to be a useful addition to the campus; it must house Horgan's library; it must hold office space; it must have an area maintained as it was during Horgan's years there.
The house recalls Horgan's style of comfortable and worn elegance. Offices upstairs will house administrators, while the downstairs will provide meeting areas.
At the dedication, admirers of the late artist wandered through the house, perusing the books. Speaking at the ceremony, Howard R. Lamar, Sterling Professor Emeritus of History at Yale University, reminisced about Horgan's lively wit and wide-ranging interests.
"It was clear from his remarks that Lamar valued Horgan as a historian as well as a writer and painter," noted Reed. Twice a Pulitzer Prize winner, Horgan also won recognition in 1955 from historians with Columbia University's Bancroft Prize, given for Great River: The Rio Grande.