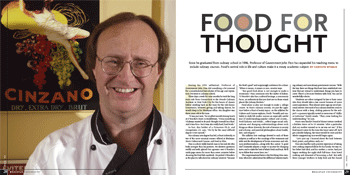 DURING HIS 1995 SABBATICAL, PROFESSOR OF GOVERNMENT JOHN FINN did something a bit unusual for a constitutional law scholar of his age and reputation: He went to culinary school.
Three days a week for nine months he took the long train ride from Connecticut to the French Culinary Institute in New York City for five hours of classes before crawling back on the train for the ride home. Sometimes, between giving and taking classes, he would sleep in his Wesleyan office. His daughter was three years old at the time.
"It was just nuts," he recalled recently during lunch at O'Rourke's Diner in Middletown. "It was something I'd always wanted to do and I thought it would be a blast. And it was fun—but it was also really hard, hard work."
In fact, this holder of a Princeton Ph.D. and Georgetown J.D. says, "It's by far the most difficult degree I ever earned."
His culinary arts degree has led, at least indirectly, to two of the more unusual courses offered at Wesleyan: Finn's Culture and Cuisine, and Food in Film.
Finn is a short, teddy-bearish man in his mid-40s who looks younger than his pictures. He skewers questions swiftly and with aplomb but agonizes over O'Rourke's multi-page menu for more than seven minutes before choosing the fried fish sandwich. He picked O'Rourke's as the place to talk about his culinary interests "because the food's good" and surprisingly ambitious for a diner. "When it misses, it misses in nice, creative ways.
"But good food alone is not enough to make a restaurant," Finn continues over the clatter of dishes. "O'Rourke's also has a cultural heritage, a community focus, an authenticity that you don't see in those ersatz places like Johnny Rockets."
Food alone is also not enough to make a college course. In Finn's culinary courses, it's just the appetizer before a feast of meaty topics. As the syllabus for Culture and Cuisine explains, food's "breadth and centrality to daily life makes cuisine an especially useful way of understanding popular culture and society… Food fashions and trends… reflect larger social inclinations and changing understandings about such things as ethnic diversity, the role of women in society and at home, and assorted philosophies about health, diet, and religion."
The syllabus lists readings devoted to each of these subjects as well as to the sociology of the restaurant and table and the development of home economics and culinary professionalism—along with this caveat: "A good chef constantly adjusts a recipe to account for changing tastes and to make the best of what's fresh and local. We'll try to follow that course here, too."
This improvisational factor is the first thing Finn mentions when he's asked about the difference between teaching culinary and nonculinary government courses. "With the law, there are things that have been established over time that are critical to understand, things you have to cover. There's a lot more freedom with food. You can be wonderfully eclectic.
"Students are either intrigued by law or have some idea they should take a law course because of some career aspirations. They almost never sign up out of personal interest. But most of my culinary students come to the classes with a deep, abiding passion for the subject"—a passion typically rooted in memories of "idyllic or torturous" family meals. "They come looking for understanding," he says.
Finn's own family's brand of dinner torture involved a kitchen timer set to 10 minutes "after a particular dish my mother wanted us to eat was set out." If the food wasn't eaten by the time the timer went off, he'd get a double helping, the timer would be reset and the whole unappetizing race would begin again.
"Let's just say I learned about the link between food, power, and politics early on."
Finn also had the early, positive experience of taking over cooking responsibilities for his family. He was 14, his father had died, and his mother, a nurse, had just begun working the night shift full-time. Finn loved cooking and dreamed of becoming a chef. But with three younger brothers to help feed and the famed riskiness of the restaurant business, "I didn't feel that I could."
Fast forward to the mid-1990s. Finn is a tenured professor and wins the Binswanger Prize for Excellence in Teaching. Then, as now, every seat in every course he offers is filled and has a waiting list. Nevertheless, Finn says, "I was feeling stale, personally and in the things I was teaching." Then one of his brothers, "who doesn't really like to cook at all," enrolled in culinary school. "I said to myself, 'This is ridiculous. I'm going'."
Finn toyed with the idea of leaving academics to become a chef. Later, he contemplated leaving Wesleyan to teach culinary history and ethics at the Culinary Institute of America. "Part of the reason I stayed is that I was given the outlet for this kind of teaching here."
Finn first taught Culture and Cuisine for the Graduate Liberal Studies Program in 1998 before it was offered to undergraduates. The companion Food in Film course, which features screenings of movies such as Chocolat, Babette's Feast and Big Night, debuted in spring 2001 as a direct consequence of the film references that came up during Culture and Cuisine discussions.
Food in Film was only one of four courses government major Andrew Calica '01 took with Finn. Seeing Finn teach a course "with such a totally different subject matter showed the breadth of his abilities," Calica says. Calica left Food in Film with a greatly broadened conception of politics, and "a much improved ability to conceptualize my arguments in general."
Another student says Culture and Cuisine made her much more aware of the role of food companies in determining what Americans buy and eat. "Because eating is something people do every day, it tends to be dismissed as an academic subject," says Graduate Liberal Studies student Kate Brill. "But Professor Finn's course was both the most academic and the most enjoyable course I've taken at Wesleyan."
Finn was still teaching Culture and Cuisine only for the Graduate Liberal Studies program when Anne Obelnicki '00 approached him about doing a culinary tutorial. "At first he said no. But when he saw how serious I was, he agreed. I'll always be grateful to him for that." Finn also helped Obelnicki develop her ideas about food. "Before the independent study, I mostly just cooked a lot. I didn't think about why I cooked and what impact I could have on the world through my interaction with food," says Obelnicki, now a student at the Culinary Institute of America.
Which is not to say that Finn's culinary courses are universally loved. Finn knows of at least a few colleagues who view the subject as frivolous. But he subscribes to the philosophy espoused by Oliver Wendell Holmes Jr. in his 1898 address to Harvard Law graduates: "He said, essentially, that if you study any single point in the universe with sufficient imagination, it will take you to every other point in the universe."
Among the many such points studied in Culture and Cuisine:
Martha Stewart. Opinions vary widely, depending on the student's age and gender. "Older male students don't care. The younger students see her as a successful woman entrepreneur. Some of my older female students, however, see her as the highest expression of a certain kind of gender stereotype that they find really oppressive."
America's obesity problem. "The government could probably be doing a lot more than it is," says Finn. It's astonishing to see McDonald's and Burger King in school lunchrooms, for instance." He also cites a vending machine study showing that if you lower the price of healthy snacks sufficiently in relation to the unhealthy ones, consumption patterns change.
Coffeehouses like Starbucks. "They aren't about coffee. They're about a certain lifestyle and image—which is not entirely negative or just about yuppie elitism. In many places, they've replaced the town green as a community space."
Class and power in restaurant relationships. "In Maine there's a seafood restaurant I've gone to for years that changed ownership. I recently ran into one of the former owners in another context, and I couldn't for the life of me figure out how I knew her." Finn's conclusion? "When you're paying someone for a service, there's a sense in which they're only significant to you in a single context."
The idea of families eating together. "I always ask my students if they have family dinners. Eighty-five percent do as much as four or five times a week. That's at odds with the wider culture. I try to get my students to think about why that is—what is it about their families that allows that to happen when it isn't happening for most others."
Food company advertising and family recipes are favorite topics for final projects. Before interviewing her mother and grandmother, Kate Brill expected to document an increasing dependence on convenience foods in her family over time. "But my grandmother actually used more prepared foods than I do. They were the exciting new products of technology in her time."
Another Culture and Cuisine Graduate Liberal Studies student played anthropologist at a Manchester bar where the holiday décor included a chandelier festooned with women's panties. "I think they called it a pantelier," recalled Finn, who was impressed with the amount of time his 50-year-old teetotaling student spent at the bar to get this kind of information.
Finn himself is currently working on a paper about the recent wave of "kitchen biographies" by people like Ruth Reichl—one of many contemporary women who still "construct their lives through the focal point of the kitchen."
Finn's wife, Hartford attorney Linda Yoder, would seem to be an exception. "She can't open a can of soup," Finn says, jokingly. So Finn does all the cooking in his family. With two daughters under 10 years of age, it can't be all escargots and foie gras. "I mainly make a lot of things I grew up eating, like macaroni and cheese. Thanks to my culinary school training, I just make it a lot more quickly and efficiently."
Carolyn Wyman is a Middletown-based nationally syndicated food columnist and author of four food books. Her latest is "Jell-O: A Biography" (Harvest/Harcourt, 2001).
---
COOKING WITH PROFESSOR FINN
John Finn may be a gifted teacher. But can he cook? These two recipes offer a clue.
The first gives a taste of what Finn learned at the French Culinary Institute. Finn says this beef tenderloin makes an elegant main course and goes great with polenta and steamed vegetables.
The second is one recipe his mother didn't need to set the timer to get her kids to eat. "My mother's Boston Cream Pie was spectacular," Finn says.
BEEF TENDERLOIN IN A SALT CRUST
2 1/2 cups kosher salt
3 teaspoons fresh thyme, chopped
1 tablespoon fresh rosemary, chopped, plus one whole sprig
1 tablespoon fresh Italian parsley, chopped
3 teaspoons fresh marjoram
2 tablespoons cracked black pepper
2 to 3 eggs, separated
(reserve all whites and one yolk)
1/4 cup water, as needed
2 to 3 cups all-purpose flour
2 to 3-pound beef tenderloin
olive or other oil
pinch of sea salt
Combine salt and herbs in a heavy-duty mixer. Add egg whites and 1/2 cup of water. Mix. Add two cups of the flour, 1/4 cup at a time, and mix until a firm dough forms. Adjust water and flour as necessary. The dough should be firm and sticky. Set aside.
Preheat oven to 375 degrees F.
Place beef tenderloin on top of stove in a heavy saut`e/frying pan with just enough oil to thinly coat bottom of the pan. Sauté tenderloin and sear all around. Remove.
Roll out salt crust on a floured board to approximately 10 by 15 inches. Wrap the tenderloin in the crust; seal seams by pressing together. Transfer to baking sheet and paint lightly with the yolk of one of the eggs mixed with a pinch of water. Top crust with sea salt and the sprig of rosemary.
Roast approximately 15 minutes per pound for a rare roast (the recommended degree of doneness).
Rest the tenderloin, in the crust, for about 45 minutes before serving. Cut in thick, diagonal slices. 6 servings.
CORINNE FINN'S BOSTON CREAM PIE
9 eggs, separated
1 1/2 cups sugar
1 1/2 teaspoons lemon peel, minced
2 tablespoons water
4 1/2 teaspoons lemon juice
1 cup plus 2 tablespoons cake flour
1 teaspoon salt
1 envelope (1 tablespoon) unflavored gelatin powder
1 cup milk
1 1/2 teaspoons vanilla extract
2 tablespoons butter
2 tablespoons unsweetened chocolate
1 cup confectionery sugar
1 tablespoon heavy cream
Preheat oven to 325 degrees F. Separate 5 eggs. Beat yolks with a mixer at high speed; slowly add 1/2 cup of the sugar.
Add lemon peel, water, and lemon juice. Fold in 1 cup cake flour. Set aside.
Beat 5 egg whites with the salt until foamy. Slowly add 1/2-cup sugar; beat until soft peaks form. Fold yolks gently into whites, trying not to lose volume. Pour into two, 9 1/2-inch greased cake pans. Bake for approximately 25 minutes or until the cake is golden and springs back when touched.
To make the cream filling: Mix gelatin, 1/2 cup sugar and 2 tablespoons flour in a small pan. Separate 4 eggs. Mix 4 egg yolks with milk in a bowl and then stir into gelatin mixture. Cook over medium-low heat until thickened, but do not boil. Remove from heat. Stir in vanilla. Refrigerate 40 minutes or until very cold.
To make the icing: Melt the butter and chocolate in a double boiler or microwave. Remove from heat. Stir in confectionery sugar. Add the cream in small amounts until you reach the consistency of a glaze.
"Frost" top of one cooled cake layer with cream filling. Top with other layer. Drizzle glaze over top layer. 8 servings.