WWII Documentary, The Costs of War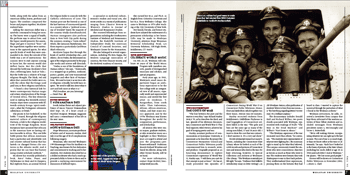 "The line between the poet and the warrior is very thin," says Richard Hanley MALS '93, as he describes the third, and last, episode of his television documentary, Connecticut and World War II. This final segment, titled Heroes, achieves his goal of merging poetry and war.
Hanley, assistant professor of communications at Quinnipiac University, is passionate as he describes the project the Connecticut Humanities Council and Connecticut Public Television jointly commissioned him to research, write, and produce. Originally proposed as an hour-long documentary to explore Connecticut's experience of World War II, Hanley says, "I told them you can't do that concept in just an hour." He has already presented two episodes of Connecticut During World War II on Connecticut Public Television: Homefront and Battlefront, which together run three hours. Heroes runs 60 minutes.
Hanley recruited students from Middletown's Oddfellows Playhouse to read biographies of Connecticut soldiers killed in the war. "The girls and boys are the same age as many of the young men killed, 17 and 18 years old. I want to show the cost that war extracts. I don't sanitize it. It's a very sad show."
He did substantial research at many libraries, including the Connecticut State Library where he looked at each of the 4,500 records and pictures of Connecticut men and women who died in the war. He kept returning, however, to Special Collections and Archives at Wesleyan's Olin Library. "The Wesleyan materials just felt right," he says. "Professor Fred Millett's introductory essay on letter writing"—in 220 Wesleyan Station, a thin publication of students' letters to him from war zones—is "the best thing regarding letters I've ever read. It's a brilliant analysis."
The documentary includes Donald Hall and Richard Wilbur, two poets closely associated with Wesleyan, represented with readings of Hall's "The Man in the Dead Machine" and Wilbur's "First Snow in Alsace."
"The Wesleyan experience of the war resonated more than others," he continues. "The students were representative of what we were fighting for—the American right to stand up for what they believed. The campus community treated the students who were conscientious objectors as heroes as much as those who went to war. The students were literate; they took Shakespeare to war in their back pockets. They intellectualized their experiences, pinning them on the lectures they had heard in class. I wanted to capture the universal through the particulars of what I found in the Wesleyan archives."
Wesleyan servicemen, he adds, received a newsletter from campus that kept them informed of the wartime activities of their fellow students and included messages from Wesleyan presidents James L. McConaughy and Victor L. Butterfield.
"We're still making Heroes, incorporating whatever we can right up to the last minute. The cost of war is so much higher than we know either at the time or afterwards," he says. "Each face I looked at in the boxes of pictures at the State Library [including his uncle, killed at age 18 in 1945] and each letter I read at Wesleyan." He pauses. "We lost some good people."
Heroes will be shown on Connecticut Public Television in November 2002.