Celebrated Philosopher Norman O. Brown Dies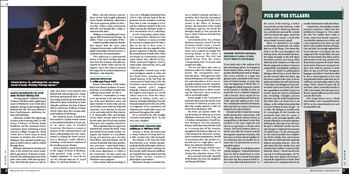 Norman O. Brown, the former Jane A. Seney Professor of Greek, died Oct. 2, 2002, in Santa Cruz, Calif. He was 89.
His obituary in the New York Times described him as an "erudite and spectacularly playful philosopher whose attempt to psychoanalyze nothing less than history itself entranced intellectuals, beguiled New Age seekers and sold many books." He was "a master of philosophical speculation."
Educated in Europe, he studied classics at Oxford University and then received his Ph.D. from the University of Wisconsin. During World War II, he served in the Office of Strategic Services, the forerunner of the Central Intelligence Agency. He joined the Wesleyan faculty in 1946 and was the Jane A. Seney Professor of Greek from 1956 until 1962.
Carl Schorske (Hon. '67), a former Wesleyan historian retired from the Princeton faculty, wrote a remembrance for a memorial gathering in Santa Cruz in which he recalled first meeting Brown in the Office of Strategic Services. The OSS had pulled Brown from the Army's "Overqualified Pool" of recruits with exceptional skills.
"For me and others who came to know him in the OSS, Nobby remained forever 'the overqualified man,'" Schorske wrote. "Throughout his intellectual development, he brought to bear the superabundance of his ever-expanding erudition to enrich, transform, and transcend his ideas. He enthusiastically imparted them to others in writing, the classroom—even on picnics and on memorable walks."
Brown taught at the University of Rochester then joined the faculty at the University of California at Santa Cruz when the campus opened in 1968. He retired from teaching in 1981.
His book, Life Against Death: The Psychoanalytical Meaning of History (Wesleyan University Press, 1959), was a Freudian interpretation of world history. Writing in The New Statesman, Maurice Richardson described the book as "a running dive off the Freudian springboard into history's deep end. It is a fascinating book, discursive, inconsequent, sometimes preposterous, but full of interesting ideas, the product of a learned man in a tight place, one of those rare, genuine stimulators."
His other writings include Love's Body (Random House, 1966) and Closing Time (Random House, 1973).
He is survived by his wife, Elizabeth Potter Brown; two sons; two daughters; and five grandchildren.