Leading Musician T. Viswanathan Dies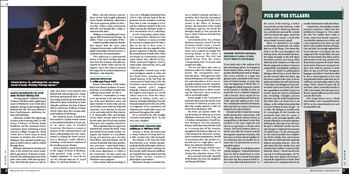 Tanjore Viswanathan, South Indian flutist and adjunct professor of music, died Sept. 10 at Hartford Hospital after suffering a heart attack. He was 75.
Professor T. Viswanathan, or Viswa, as he was known to all, was born into one of the most illustrious music and dance families of South India and was one of India's most noted and respected musicians. At an early age, he was sent to live and study with his flute teacher, T. N. Swaminatha Pillai, and throughout his entire musical career he wove the two styles, that of his family and that of his guru, into a seamless musical art.
"More important than his impressive achievements around the world, Viswa was beloved by his family, friends, colleagues, and students as a considerate, loving, and generous man, one who faced illness, personal disaster, and all manner of adversity with cheer, good humor, and music," noted David Nelson, artist in residence, and Eric Charry, chair of the music department, in a letter to the community. "He was a great and committed teacher and a cornerstone of Wesleyan's music program."
Viswa studied ethnomusicology at UCLA on a Fulbright scholarship from 1958 to 1960, and was head of the department of music at Madras University from 1961 to 1966. He taught at UCLA and the California Institute of the Arts before joining the Wesleyan faculty in 1975. He earned his Ph.D. at Wesleyan.
In 1976 Viswanathan and his brother T. Ranganathan (Wesleyan's first artist in residence in music) recorded the musical accompaniment for Bala, a film on the life of their sister, T. Balasaraswati, who was regarded as the greatest exponent of Bharata Natyam, the classical dance of South India. Other recordings by Viswanathan include South Indian Flute (World Pacific), Pallavi (Nonesuch Explorer Series), South Indian Classical Flute, (JVC), and Tribute (V.G. Arts).
Viswanathan received some of the most prestigious awards in India and the United States, including Instrumental Musician of the Year from the Government of Tamil Nadu (1978), the President's Award from the Sangeet Natak Akademi (1987), Sangita Kalanidhi ("Treasure of Musical Art")—the highest award given to a South Indian musician—from the Music Academy in Madras (1989), and a National Heritage Fellowship from the National Endowment for the Arts (1992) in recognition of his contribution and achievement in South Indian music. He performed throughout the world.
He is survived by his wife, Josepha Cormack Viswanathan Ph.D. '92, two sons, and a daughter.