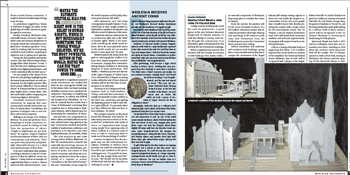 College Row has looked pretty much the same for generations. A quick glance at the area between Memorial Chapel and '92 Theater, however, reveals that change is coming, most visibly through the construction of an all-weather, glass-enclosed pavilion that will link the two brownstone buildings.
When completed next summer, this structure will also furnish an entrance to both buildings from Andrus Field—an essential component of Wesleyan's long-range plan to revitalize the center of campus.
From the outside, the pavilion will be the most noticeable evidence of a $22-million restoration project that already has provided a thorough cleaning and repointing of the exteriors (with some new brownstone from the Portland quarry across the Connecticut River) and new slate roofing.
Interior renovations now underway will transform both buildings, giving them a more versatile and exciting role in campus life. Restoration of the chapel balcony will enlarge seating capacity to about 650 and enable the chapel to accommodate at least 200 more people than Crowell Concert Hall, thereby providing the campus with a larger venue for the most popular events. The '92 Theater, a site for student productions since 1929, will benefit from numerous aesthetic and technical improvements. Its program will remain focused on student productions.
Gifts to a Campus Renewal Fund are supporting this effort. A $5.3-million bequest from Lucile Stritter in memory of her stepfather, the Reverend Edward Ernest Matthews, class of 1889, will be recognized with a plaque in the chapel. Robert Patricelli '61 and his family have given $2.5 million in memory of Leonard Patricelli '29; and Trustee George Ring, the parent of students in '98 and '02, and the Ring family have made gifts totaling $1.3 million. Both of these commitments will be recognized in the '92 Theater. Wesleyan is continuing its fundraising for both projects.
Memorial Chapel was built in 1871 and has undergone more than one renovation since then, including in 1938 when the century's worst hurricane blew off the steeple. The '92 Theater opened in 1868 as Rich Hall, serving as Wesleyan's first library until the opening of Olin Memorial Library in 1928.