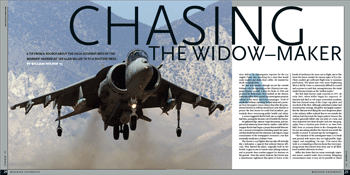 ALAN MILLER '76, INVESTIGATIVE REPORTER FOR THE LOS ANGELES TIMES,was searching for a story that would make readers put down their coffee. He wanted his words to change lives.
He had won awards—though not yet the coveted Pulitzer—for his reporting on the Clinton/Gore campaign finance scandal, a story he broke in 1996 and pursued for three years. He'd worked on the Monica Lewinsky affair, then carried out investigative projects related to the Bush and Gore campaigns. Tired of inside-the-beltway reporting, he had extracted a promise from the paper's senior editors that after the presidential election in 2000 he would have carte blanche to pursue the best stories he could find anywhere, particularly those concerning public health and safety.
A source suggested that he look into an airplane that had been causing the Marines a lot of trouble: the Harrier.
He gathered clips, Marine Corps documents, and congressional testimony about Harrier crashes. Little did he imagine that he had begun a project that would blossom into a massive investigation extending nearly two years, one that would become his obsession and require a huge commitment of the newspaper's resources—one that eventually would win a Pulitzer Prize.
The Harrier is a jet fighter that can take off vertically like a helicopter, a capacity that seduced Marine officials. They wanted the plane, originally built by the British, to gain access to remote areas lacking runways and to provide close combat support for Marines on the ground. From the outset, however, the Harrier was a maintenance nightmare that spent 25 hours in the hands of mechanics for every one in flight, two to five times the hours needed for various types of F/A-18s. Pilots couldn't get sufficient flight time to maintain proficiency. The plane was even more frightening when it did fly. It was so notoriously difficult to control and so prone to crash that, among Marines, the initial model became known as the "widow-maker."
The first fatal Harrier crash occurred in 1971. By early 2001, when Miller began his inquiries, 45 Marines had died in 140 major noncombat accidents that had claimed many of the Corps' top pilots and one-third of the fleet. Although individual crashes had received press coverage, the public was largely unaware that the Marines were flying the most dangerous plane in the military. Miller realized that no one outside the military had discerned the larger pattern because the crashes generally killed only one pilot at a time and were dispersed over three decades and over vast geography: from a Carolina pine forest to an Iowa farm field; from an Arizona desert to the Chesapeake Bay. No one was asking whether the Harrier was worth the trouble it caused. It seemed ripe for investigation.
"The mandate of the investigative team is to break new ground with stories that are high-profile, high-impact, and compelling," he says. "One reason this work is so rewarding is that you know that you're pursuing stories that haven't been done and in all likelihood wouldn't otherwise be done."
Miller also knew that too many seemingly important stories unravel under close scrutiny. Mitigating circumstances arise; it may not be possible to obtain proof; sources are less credible than they first appear. This story didn't unravel. He obtained a 1998 report the Marines had done on the Harrier, which became critical to the investigation. He talked to family members of some pilots who had been killed and to pilots who had survived. The powerful human dimensions of the Harrier's tragic record quickly emerged.
If anyone could be called a born investigative reporter, Miller would qualify. He started a newspaper in junior high school and edited his high school newspaper. At Wesleyan he undertook a massive report about the history of race relations on campus for the Argus student newspaper. It had all the elements that pointed toward his future career: in-depth research carried out over months, extensive interviewing, and a large tapestry of detail played out across four lengthy installments in the paper. If not unique in the annals of the Argus, it was at least highly unusual for scope and ambition.
Miller worked on the project with Jane Eisner '77, P'06, then editor of the Argus and now a columnist with the Philadelphia Inquirer. "We used to talk about journalism as a mission," she says. "He was a very ambitious person, but I don't mean that in a pejorative sense. He wanted to shine a light on what was happening."
After stints as a political and investigative reporter for the Times Union of Albany, N.Y., and the Record of Hackensack, N.J., he joined the Los Angeles Times in 1987. In 1994 he was appointed to the paper's newly created Washington investigative team, where he quickly established a national reputation as an investigative reporter for his work on campaign finance.
In his book Spin Cycle, Washington Post media reporter Howard Kurtz observed that Miller was part of a small group of investigative reporters (including Bob Woodward at the Post) who "on any given morning could drop a bombshell on the White House." Miller had done exactly that when he broke the story about illegal Democratic fundraising. Suddenly, the Clinton White House was struggling to explain donations from wealthy Asian foreigners and the peddling of overnights in the Lincoln bedroom.
In Truth to Tell, Lanny Davis, former special counsel to President Clinton, recounts that a phone call from Miller about "White House coffee klatches" with the President and donors set off an earthquake in an administration suddenly confronted with another example of suspect fundraising.
Later, Miller's probing revealed obfuscation on the part of Al Gore's staff about campaign fundraising calls Gore had made improperly from his office.
Deborah Nelson was well aware of Miller's reputation as a tough, skilled investigative reporter when she left the Metro Desk of the Post in June 2001 to serve as editor for the Los Angeles Times' D.C.-based investigative group. Few newspapers can match the Times for its commitment to large-scale investigative reporting. Five of the eight members of the investigative team, including Nelson, are Pulitzer Prize winners.
"The week I showed up to take this job, Alan presented a story list that was impressive," she says. "Any one could have been a Pulitzer winner. Each showed an incredible grasp of important public policy issues. His ability to follow through and document what's really going on behind the scenes is amazing."
Nelson arrived as the Harrier story was starting to take shape. Miller had been planning to complete the story quickly—by his standards—in a few weeks or a couple of months at most. Nelson recognized that the story merited much more attention.
"People were dying," she says. "There was evidence that the accident rate shouldn't be that high, that it could be fixed. Exposure could lead to fixes. This was a story that might save lives."
So began a lengthy process of acquiring thousands of pages of documents, most through Freedom of Information Act requests. Nary a weekend went by without Miller taking home a stack of files. The Times assigned another investigative reporter, Kevin Sack in Atlanta, who had written the lead article for the New York Times Pulitzer Prize-winning series on "How Race is Lived In America" before joining the LA Times. He and Miller barely knew each other but would become close friends.
"Before I started," says Sack, "I got a call from our editor, Deb Nelson. She told me about the topic and I just rolled my eyes. I had no interest in military hardware and no background in it. I also had reservations about starting my career at the paper by glomming on to someone else's project. She sent me a series of memos Alan had written, and it took me about four paragraphs to get absolutely captivated. Every time one of these planes went down, a hero was lost. That meant there was a real human element to the story."
Researchers and a database analyst strengthened the group. Miller and Sack traveled to a dozen states and to England during the ensuing months. They had extensive conversations with representatives of Boeing (which became the Harrier's manufacturer) and with Rolls-Royce, which makes the engine. They interviewed scores of Harrier pilots, mechanics, and commanders, as well as numerous Marine senior officers. They sought out specialists in military aviation as they both ascended a steep learning curve.
Obtaining documents took a year and a half. Just figuring out where to file requests was a major undertaking since different military bases had custody of various documents. Eventually they obtained 87 Judge Advocate General investigative reports (JAGs) with detailed findings about individual accidents.
"We were still pursuing documents right into the fall of 2002," Miller recounts. "We needed a very important JAG of a crash that killed a colonel. I was told that it was completed only at the point where we were requesting it. I chased it all across the country. I must have made 50 phone calls and sent multiple letters and filed multiple FOIA request. Then we had to file more requests for related enclosures and maintenance bulletins. That particular crash became an important case in the series."
They uncovered one disturbing revelation after another. Pilots died because the Corps took nearly a decade to fix a known problem with wing flaps. A colonel died as a result of an incorrectly installed washer. A loose ball bearing shredded one engine; it got there because Marine maintenance workers were using a slingshot to shoot bearings at pigeons in the hangar.
Equally disturbing were their findings about the Harrier's combat record. In 31 years of service, the vertical lift ability of the plane had been used in training, in air shows, and in an Arnold Schwarzenegger movie, True Lies—but never in combat. The Harrier did fly combat missions from runways (without vertical lift) in the first Gulf War, but experts contend that other planes in the military's fleet were cheaper to fly, more reliable, and could accomplish the same missions. Miller and Sack are assessing its role in the second Gulf War.
Then there were the human stories, tragedies every one. Captain Jeffrey Smith, for instance, had just been reunited with his wife, Dee, and a 6-month-old daughter born while he was deployed in Japan. His parents, Donna and Ronnie, had never seen him fly a Harrier, but in June of 1992 they had a chance to see him take off from an airfield in Davenport, Iowa, on his way to his base in Yuma, Ariz. Donna Smith videotaped her son as he boarded the plane and raced down a runway next to a cornfield. The videotape still ran as he lost power before liftoff, then ejected when the plane ran off the runway. She screamed and dropped the camera shortly before he parachuted over a billowing inferno of aviation fuel. The heat melted his chute, and he fell to his death.
In August of 2002, Miller, Nelson, and Sack flew to Los Angeles for a meeting with senior management around a large and formal circular table in a room that had been used for board meetings of the former Times-Mirror Corporation. Miller and Sack narrated a PowerPoint presentation with gripping photos and detailed graphics, outlining how the series would unfold. Both Editor John Carroll and Managing Editor Dean Baquet, also at the meeting, were deeply involved in the series and would remain so right up until publication.
After Labor Day, members of the team were working 60- to 70-hour weeks. Miller hardly saw his family. His young daughter, Julia, would call at night bemoaning his absence. Sack would fire off e-mails at 1 a.m. to Miller and Nelson and receive an immediate reply. The reporters were committed to finishing the story before the end of the year. War with Iraq was looming, and they knew that massive coverage of war would complicate publication of their series.
All along Miller had one worry above all others: to get it right. "I always worry a lot about getting it right, not just the general thrust and the main points, but every last detail. When you are challenging the program of a major institution, whether it be taking on the White House or a regulatory agency or the military, you know that every word you write is going to be scrutinized up and down the line. If you give people an opportunity to go after even relatively small errors, there is a potential that they will use that to try to discredit the entire project. In this case there were thousands of details, a lot of technical, engineering, and military issues."
Miller also worries about fairness, and he went to considerable lengths to ensure that the series accurately reflected the point of view of the Marines. He engaged the Marines early on, which is unusual in an investigative report. Normally, he explains, the reporter collects information, then confronts the subject. By working with the Marines throughout, he was able to develop trust and rapport. He could validate or dismiss what he was hearing from other sources. The Marines gave him and Sack access to Harrier bases at Yuma, Ariz., and Cherry Point, N. C. Miller constantly had 20 or 30 questions in front of Marine officials. "We got a surprising amount," he says. "We did not get everything, but we got a great deal from them."
The investigative team took the unusual and perhaps controversial step of vetting the entire project with the Marines. The reporters presented all the facts, the observations from sources, all the graphics, all the major conclusions, then gave the Marines two days to respond. This review was enormously valuable, according to Miller, and led to a number of changes in the story.
Nelson was "amazed at how Alan was able to keep the military coming back to the table to talk to him. He is so fair-minded, so centered and even-keeled. He wouldn't get angry or give up. Officials would be shouting at him, and he'd sit there and take it and keep his eyes on his mission, wait till they cooled down, then continue. So many reporters cannot do that."
To carry out a project of this magnitude requires a certain amount of obsession, Nelson observes. The reporter has to be ever-so patient and willing to go for long periods without seeing his byline in the paper. The ability to analyze drawers full of information gathered over months and years requires unusual single-mindedness. "You have to be thinking about your story even when you are sleeping, in your dreams."
Miller may not have dreamed about the Harrier, but his daughter did. "One morning at breakfast," he recounts, "my daughter said, 'Can you stop talking about the Harrier? I had nightmares last night about its crashing.'"
By late October of 2002 the team was in the home stretch, with e-mails flying among Washington, Los Angeles, and Atlanta. They were still revising the fourth segment of the series on Saturday night as the first installment was going to press for Sunday, Dec. 15. The fourth segment expanded the story to include the tilt-rotor Osprey, another vertical lift aircraft that had claimed the lives of 19 Marines in a single crash, and the Joint Strike Fighter, a jet still on the drawing boards that includes a Marine version that will be able to lift off after a short roll and land vertically. The final segment also explored the political savvy and well-worked connections that the Marines bring to Capitol Hill in defense of their troubled aircraft.
Publication of the four-part series titled "The Vertical Vision" had an immediate impact. Two weeks later, on the day the 108th Congress was sworn in, the House Armed Services Committee summoned Marine officials for an explanation. The committee's chairman said he would seek funding for fixes and additional flight hours for pilots to train. He promised "a robust set of hearings" on military aviation safety. The head of the House Appropriations Subcommittee on Defense said he had begun an inquiry into whether the Harrier should be flying at all.
The series included a "memorial wall" in print and on the Web that recounted the stories of all the Marines who lost their lives in Harriers. This project, by itself, was daunting since the Marines declined to provide names of deceased pilots. To track down pilots and survivors, investigative researcher Janet Lundblad in Los Angeles carried out extensive searches of public databases and sources as obscure as the ejection seat manufacturer's Web site. Ultimately, the team interviewed at least one relative of every deceased pilot and obtained photographs of each.
On April 8, it was announced that Miller and Sack had won the Pulitzer Prize for national reporting (never before won by a Wesleyan graduate). The judges called the series "revelatory and moving." At the subsequent Pulitzer awards lunch, several members of the juries and the Pulitzer board (including Washington Post publisher Donald Graham) said they were impressed that the series presented the view of the Marines so fairly, including the perspective of pilots who still stand by the Harrier.
Miller and Sack were showered with accolades, but they were particularly gratified by the reaction of Harrier pilots and their family members.
"You guys got it 100 percent right," wrote one pilot. "Your series exposes everything. Lives could be saved as a result of your work."
One letter was particularly meaningful. It came from Bettye Yount, whom Miller had contacted early in the investigation. Her son, Peter E. Yount, was devoted to the Harrier and never thought it would let him down. But on a clear spring day in 1998 at 14,500 feet over a Southern California desert, the engine quit. Miller described in the lead to the series how Yount veered his aircraft away from farmhouses and highways, ejected, but was exposed to a violent snap from the unfurling parachute because his seat had rotated out of position. The Harrier betrayed him, and the 42-year-old colonel and father of two young girls died instantly from a broken neck.
"My son would have appreciated your article on behalf of all his fellow pilots," wrote Bettye Yount. "He would have wanted to know his death meant at the very least that life-saving improvements would be made to the Harrier. He knew they could be."
[Editor's note: The series is available at www.latimes.com/harrier]