Change is Brewing in Denver
BY TORI PEGLAR '96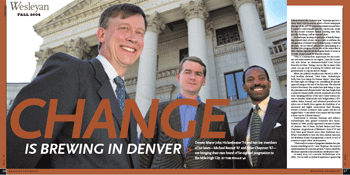 DENVER MAYOR JOHN HICKENLOOPER '74 pumps gas into a shiny black Ford Excursion while a dozen newspaper photographers and TV cameramen swarm around him. A passerby could mistake him for a movie star, except for the excited Colorado farmer standing near him, proudly clutching a yellow mustard plant.
Hickenlooper, wearing a boyish grin, is literally dumping mustard seed oil into the gas tank to celebrate the inauguration of Denver's first biodiesel pump. Under his direction, 60 city-owned vehicles are participating in a biodiesel pilot program. It's not lost on the mayor that in 2003, Denver experienced the highest levels of ozone in 15 years, in part caused by vehicular exhaust.
"This is a tremendous opportunity for the economy and environment in our region," says the 52-year-old, who drives an alternative-fueled Ford Taurus from the city fleet. "Being a mayor, like in many other cities, you get tired of waiting for federal and state governments to step up and do things."
When the political neophyte was elected in 2003, a local headline declared, "Hick Town: Hickenlooper Rolls Over Don Mares for Denver Mayor." Since then he's kept right on rolling to an astonishing 83 percent approval rating at the end of his first year. The editorial board of the Denver Post credits him with being "a capable, perceptive and effective leader" who has fought hard to improve Denver public schools, instituted one of the most sweeping reforms of the city's Career Service system in decades, balanced the city's budget when a $70- million deficit loomed, and reformed procedures for police use of deadly force against the backdrop of an emotional and highly controversial fatal shooting. Former Colorado Governor Dick Lamm told the Los Angeles Times, "I can't think of any mayor who has made a faster start in Colorado history."
Determined to reinvent business and politics, Hickenlooper, who opened Colorado's first microbrewery in 1988, quickly appointed a stream of talented advisers. Two of them, Michael Bennet and Peter Chapman, are graduates of Wesleyan's class of '87 and have been good friends since their freshman year. What's remarkable is how the three alumni have put the Wesleyan brand of pragmatism to work in one of America's major urban environments.
"There really is a sense of pragmatic idealism that permeates everything we do," says Chapman, the mayor's special assistant for economic growth. "I have to think the Wesleyan experience has somehow contributed to that."
In many ways, it's a miracle Hickenlooper is in office. He ran with no political experience against big contenders, including a former state senator and the former city police chief. When his election campaign started, many voters asked, "Hickenwho?" But he campaigned on his experience as a small business entrepreneur and as a political outsider.
"I have tremendous respect for career public servants, but they have a very different perspective from someone who has come up by building a small business," Hickenlooper says.
During his campaign, Hickenlooper ran an advertisement that featured him facing off with a parking meter enforcer. The scene was an allusion to Gary Cooper in the movie High Noon, a reference for which Hickenlooper cheerfully credits Professor of Film Studies Jeanine Basinger. Instead of pulling a gun, Hickenlooper reached into his change belt and rapidly placed coins into meters in front of strangers' cars. The advertisement protested that the city raised downtown parking-meter charges by 50 percent in response to the economic crisis it faced. The unintended consequence of this action, Hickenlooper argued, was that people stopped going downtown to shop and eat—a potential drain on city revenues, half of which are derived from the sales tax. His ad was a creative spoof on an issue he felt small but significant. After all, he asked, "Who is going to eat dinner downtown if you need 12 quarters in your pocket?"
In another advertisement called "Suit," Hickenlooper fussed in front of a mirror as he tried on numerous outfits, including a cowboy getup, a gangster outfit, and an Uncle Sam uniform. His voice-over announced, "I normally don't wear fancy suits. Everyone says I need to look more mayoral, but the fact is I am not a politician. Economic development is not a campaign slogan. It's what I do."
Thinking outside the box, Hickenlooper and his team came up with risky, innovative ways to promote the tall candidate whose self-deprecating humor and business acumen make him a poster child for the American dream. One could imagine Hickenlooper in the 2004 version of Grant Wood's American Gothic painting. In place of the pitchfork, he holds a microbrewed beer, his shirt slightly rumpled. His wife, Helen Thorpe, a political reporter who has written for the New Yorker, stands beside him with toddler Teddy. Behind them rises their downtown Denver loft.
"No one thought we had a chance to win," says the mayor. "My campaign was run by young, fresh idealists who were against the old government paradigms. When I saw the first ad I said, 'There is no way I'm going to run that.' But I hired these people to design them, and I figured I'd better give them a chance."
In 1981, the Philadelphia native, armed with a B.A. in English and a master's degree in geology, both from Wesleyan, moved west for the same reasons many settlers did 100 years ago: to mine the land for its riches. Buckhorn Petroleum hired the young geologist to find oil. But within five years, the regional oil economy collapsed, and Denver entered its worst recession of the century. Hickenlooper had to find new work.
On a trip to Berkeley to visit his half-brother, Sydney Kennedy '68, Hickenlooper went to a microbrewery. When he got home, he and a friend read books on how to write business plans, dreaming of opening up Colorado's first microbrewery. The toughest part was attracting investors. "I couldn't even get my own mom to invest," he notes. "She said, 'Who wants to go to dinner in a brewery?'"
Eventually, they collected enough money to renovate the historic 1899 J.S. Brown Mercantile Building in a depressed area of downtown. No one had opened a restaurant in that area in five years. When Wynkoop Brewing Company opened in 1988, many doubted it would survive. But within a few years, other restaurateurs invested in the area, leading many to credit Hickenlooper for spawning the revitalization of Lower Downtown (LoDo).
Today, the Wynkoop is one of the largest brewpubs in the world, and there are more than 100 restaurants in downtown Denver. The Wynkoop Brewing Company also owns a collection of other restaurants and businesses. Along the way, Hickenlooper co-founded the Denver Art Museum's young adult organization and a fund that provides grants to organizations emphasizing social change. His urban revitalization efforts earned him the National Preservation Award from the National Trust for Historic Preservation in 1997.
Yet it was his fight to save the name of the historic Mile High Stadium that caused the brewpub magnate to think about running for mayor. When it looked as if the naming rights of the city's new $360-million football stadium would be sold to Invesco, Hickenlooper spearheaded a campaign to preserve the name. During the winter of 2000–01, the final name became a melding of the old and new: Invesco Field at Mile High.
Afterwards, a handful of people asked the entrepreneur to run for mayor. To test the waters, he met with mayors from Oakland to Boston to learn what innovations they were implementing and to determine if he could truly make a difference.
"It was almost like the Perfect Storm," he says. "Denver was in a much worse recession than anyone thought, and as the city's revenues continued to decline, the demand for services was increasing exponentially. None of the other candidates were dealing with the realities of that situation."
In his oval office, which is slightly larger than the one in the White House, Hickenlooper opens up his window blinds like Vanna White turning over a letter, proudly displaying his view. The golden dome of the State Capitol building is so immense it looks as if it is holding up the entire blue western sky. Off to the north sits a modern building that houses city agencies. The mayor, whose mantra is collaboration, has worn down paths to both buildings, from throwing baseball pitches with Governor Bill Owens in preparation for the opening Colorado Rockies game to reaching out to city employees for their cooperation in balancing an inherited $70-million budget deficit.
Winning voter approval for a regional mass transit plan is also high on Hickenlooper's agenda, says Chief of Staff Michael Bennet '87. From 1990 to 2002, Colorado's population swelled by 37 percent, the third fastest rate in the nation. Today, a legacy of this growth is that Denver has the highest traffic congestion levels in the nation for a city its size, according to the Washington-based Road Information Program. Bennet believes the city's ability to preserve quality of life while allowing for economic growth lies in the proposed $4.7-billion FasTracks, a mass transportation system that would serve an area roughly the size of Connecticut. The hub would be historic Union Station in Lower Downtown, the area whose revitalization began with the Wynkoop Brewery.
Hickenlooper has been meeting regularly with city mayors, business leaders, citizens, and the Colorado Department of Transportation to promote FasTracks. By this November, voters will have been asked to approve a sales tax of 0.4 cents to pay the capital cost of the project.
"We want economic growth without sacrificing quality of life, and this is not something we can do in the city alone," says the 39-year-old Bennet. "We need to involve the entire region."
Municipal government is new for Bennet, but creating complex partnerships is not. He left a lucrative job with one of the nation's top investors, Denver-based billionaire Philip Anschutz, to work for the city. While he made a financial sacrifice to become the mayor's chief of staff, Bennet sees his forays into the private sector as detours off the road he always envisioned driving down: public service.
"There was a one-month period when I was wrestling with the choice," Bennet says. "I was in a comfortable place where my future was secure versus the opportunity to help run the city in which my family lives, with a guy I felt won this election on important issues the city needed to address."
As chief of staff, Bennet is Hickenlooper's right-hand officer with chief responsibility for the budget and daily operations. He was instrumental in balancing the city's budget deficit without massive reductions in services and with less than two dozen layoffs. He crafted the charter reform initiative to modernize the city's personnel system—a controversial effort that many observers thought was politically DOA. He negotiated a deal in a previously stalemated dispute with United Airlines and Frontier Airlines, enabling them to stay at Denver International Airport and to compete fairly. He confronts issues ranging from disputes over the location of someone's fence to snowstorm warnings to strategies for making Denver a model city.
The local press regularly teases Bennet for his somewhat shabby attire (frayed shirts, mismatched socks), but he is good-natured, articulate and genuine.
"Quite simply, he has great social skills and remarkable intelligence," Hickenlooper says. "His commitment to the public good is extraordinary." Hickenlooper notes that people were astonished when Bennet left Anschutz's company for the city.
Astute observers have noticed that Hickenlooper's ways of doing things resonate in appointees like Bennet. Before Bennet delivers a keynote address at the City Club of Denver, the speaker who introduces him hints at an interesting conspiracy theory that may contain more truth than myth. "He graduated from Wesleyan University, as did the mayor, and there's no doubt that Wesleyan philosophy is taking over the city," the speaker says, drawing laughter.
Bennet takes the stage and humorously describes his experiences with what he calls "Hickenlooper mania" that infects young and old alike. When his young daughter asked him if he could attend a father-daughter luncheon, he replied he didn't know. She gave him sage advice, saying, "You should ask Hickenlooper."
Bennet is the son of Doug Bennet, president of Wesleyan. His father and Wesleyan taught him to pursue what interests him and to know that when it's time to move on, something else will pop up, he says.
"Wesleyan is an empowering place because it teaches you that you don't need to do one thing your entire life," says Bennet, as he props both feet up against a conference table. "I've been able to do a number of things that seem really different but turn out to require related skills."
Every week, Hickenlooper visits one Denver school, an idea that came from Bennet during the campaign. While education does not fall directly under the mayor's jurisdiction, all three Wesleyan graduates feel education plays a vital role in city development because of its link to quality of life.
"We are competing with suburban communities to make sure jobs and businesses are going to move to and stay in the city," Bennet says. "If you don't have the schools figured out, you lose people. It's such a critical economic development tool."
Superintendent Jerry Wartgow and the mayor have become fast friends, forging collaborative relationships with businesses to support Denver public schools. The mayor's efforts are particularly significant, considering Denver public schools slashed $24.5 million from its budget for the 2004–05 school year.
"I met the mayor when he was campaigning, and we sat down and said we could do a lot if we were on the same team," Wartgow says. "He's been remarkable and has been there every time we have needed him."
The mayor's countless hours spent visiting Denver schools have had an unusual fallout. When he visited Cole Middle School in January, he got so excited he told the students that he would provide college funds for every student who wanted to pursue higher education.
Under Hickenlooper's plan, resources from an endowment raised through private donations will supplement any shortfalls of traditional financial aid, work-study and available scholarships.
Inspired by the mayor, a Colorado businessman promised in May to pay college tuition for every graduate at Horace Mann Middle School in Denver. One day later, the law firm of Hogan & Hartson committed $30,000 and volunteer services to Cheltenham Elementary School, where 95 percent of the students are enrolled in the free and reduced-price lunch program. Tom Strickland, an attorney with the firm who was U.S. Attorney for Colorado under the Clinton administration, called Hickenlooper "one of the most dynamic and idealistic mayors in the country."
During his visit to Cheltenham, the mayor asks the sea of minority faces how many plan to go to college. Nearly every hand shoots into the air.
"I saw a couple of hands down, and I will talk to you after," Hickenlooper says sternly before breaking into a smile and exclaiming, "Just kidding!"
But the mayor is serious about higher education and the opportunities it provides. He wholeheartedly endorses Wesleyan's view that engaging with people from different backgrounds is one of the most important ways to learn. The ethnic and racial backgrounds of his appointees reflect this, making his administration the most diverse in Denver's history.
"I'm most proud that I have hired approximately one-third African Americans, one-third Hispanics and one-third whites," Hickenlooper says. "And in every case I hired the best person for the position. No one can have all of the fresh ideas. It's through surrounding oneself with talented, creative people from diverse backgrounds that the best solutions are generated."
Not every moment is like the mayor's cheery school visits or like the day he announced free downtown parking on Sundays. In April, about 450 police officers gathered below Hickenlooper's office to protest his administration's decision to suspend a police officer without pay. Some even chanted "Chickenlooper"—a name the mayor joked he hadn't heard since third grade.
It marked one of the toughest decisions his administration faced during its first year. Two weeks before Hickenlooper took office, a police officer shot and killed a developmentally disabled teenager who was wielding a knife. The incident sparked anger among community activists who felt police were using unwarranted force. During protests and vigils, community members demanded justice and an investigation.
Within months of taking office, Denver's 43rd mayor announced a series of reforms to restore public confidence in the police force. He appointed a task force to determine how the city should deal with future cases of lethal police force. He also pushed for increased crisis intervention training and instructed the police chief to make available 100 additional stun guns that deliver electric shocks but are not fatal. In April, the City announced the officer would be suspended from the force for 10 months. While the police protested the punishment, Hickenlooper feels the decision was ultimately the best for the city.
"If there had not been a consequence to the [Officer] Turney action, I don't think the whole community would have the emotional freedom to believe in the police force," he says. "This decision, in the end, will make the police more effective in their jobs."
Beyond the office of Special Assistant for Economic Growth Peter Chapman '87, the snow-speckled Rocky Mountains loom over Denver in the same way that the Statue of Liberty watches over Manhattan and the Golden Gate Bridge presides over San Francisco. Yet, on the plains, new suburbs are sprouting out of the ground like wildflowers. It is Chapman's job to ensure that Denver's neighborhoods stay as vibrant as their suburban neighbors.
His major focus is helping revitalize distressed areas. One such area is Alameda Square, a community underserved by reasonably priced goods and services. WalMart considered opening there but walked away from the deal. He takes a holistic approach to development, which includes more than retaining a strong retail anchor.
"Comprehensive neighborhood revitalization is an approach that, over time, we hope to integrate more prominently into our community development activities," Chapman says. "We look at commercial and residential development working in concert. You've also got to look at issues of transit and school reform."
At one of Chapman's meetings, city employees discuss potential recipients of community development block grants. One neighborhood wants a new playground while an organization wants funds to renovate a building for nursing services. Chapman's role is to guide the group's decisions. The discussion gets heated at times, but the impeccably dressed Chapman remains composed and diplomatic. Armed with a master's degree in public policy from Tufts University, Chapman has spent his entire adult life working as an urban policy professional in New York, Boston, Atlanta, and Nashville.
"Peter Chapman could be making five times as much money as we are paying him," Hickenlooper remarks. "He is not just committed to the notion of sustainable economic development but wants to make sure that it also includes all segments of the population."
Last year, Chapman was working for Abt Associates in Boston, an international consulting firm and think tank, when Bennet asked him to consider working for Hickenlooper. Chapman had never visited Denver. Having grown up on the Upper East Side of Manhattan, the son of a New York police detective, and having spent a considerable portion of his career in Boston, Chapman did not think too much of the Mile High City. He was also wary of working for politicians who might feel stronger about politics than policy development. He had worked under mayors Edward Koch and David Dinkins in New York City and for Mayor Bill Purcell in Nashville. But he had always trusted Michael Bennet as a judge of character and decided to meet the mayor.
What he found when he walked off the plane and into the dry western air was a stunning landscape that rolled up to the Continental Divide and an administration that had more substance than any other he had seen.
"John Hickenlooper is very different from other elected officials in that he is committed to the reform agenda," Chapman notes. "He's a pragmatic progressive, which means he understands you've got to respect market forces, but within that context, there is a lot of social responsibility and creative stuff that can be done."
Importantly, Chapman also connected with the city itself. And perhaps he felt the same tug that has pulled thousands of Americans across the Great Plains to the foot of the Rocky Mountains: the promise that people, and even cities, can reinvent themselves. This sense of frontier ingenuity is captured in the 1892 portrait of Denver hanging in Bennet's conference room and in the bison photograph in the mayor's office that once hung in Teddy Roosevelt's White House. Today, it manifests itself in the dynamic energy of the people who are sculpting the city of Denver.
"One of the things I like about Denver is the openness, both literally and figuratively," he says. "It's a place that lacks the rigid caste system of Boston, and there is something really refreshing about that. I think there is a strong progressive element in the business community, as it relates particularly to urban revitalization."
More than two decades after he left Wesleyan, Chapman's boss, the energetic Hickenlooper, has blended a sophisticated brand of fiscal conservatism with social progressivism to gain astounding popularity in Denver. While there will undoubtedly be roadblocks to navigate during the next three years, Hickenlooper and his hybrid car are pointed down the highway of what may be one of Denver's most ambitious agendas in recent history. His priorities include an economic development goal of 25,000 new jobs by the end of his first term, a continued call for private and nonprofit sectors to offer support to public schools, and a campaign for a $335-million bond issue to build a new justice center. While faced with these monumental tasks, Hickenlooper has proved he's a pragmatic problem-solver who defies political and ideological labels to put ideas into action.
"When I left Wesleyan, I never knew I'd become an entrepreneur, let alone the mayor of a major city, but Wesleyan taught me how to learn," the mayor says. "After that, the rest is just dogged persistence."
Tori Peglar '96 is a full-time lecturer and writing teacher at the University of Colorado. She lives in Boulder with her husband, Tom Rutkowski '96.