Q & A: Assessing the Campaign Impact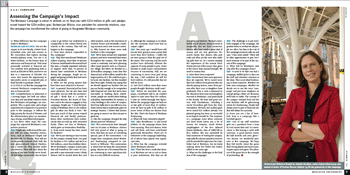 The Wesleyan Campaign is about to embark on its final year with $210 million in gifts and pledges raised toward the $250-million goal. Barbara-Jan Wilson, vice president for university relations, says the campaign has transformed the culture of giving in the greater Wesleyan community.
Q: What difference has the campaign made to Wesleyan?
BARBARA-JAN WILSON: You see the impact in 20 new faculty, a better faculty/student ratio, and new courses in the curriculum that explore exciting interdisciplinary areas. You see it in better facilities. As the former dean of admission and financial aid, I feel most personally invested in financial aid. Our students were graduating with as much as $28,000 of debt, and we've cut that to a maximum of $20,000. For some, that means the opportunity to take public sector or nonprofit jobs or head directly to graduate school.
Q: Is it fair to say that the campaign has restored Wesleyan's competitive position in financial aid?
BJW: Competitiveness in admission is a moving target, but both our admission data and anecdotal evidence show that Wesleyan's aid packages are competitive. This is great news and a huge improvement compared to our position prior to the campaign. It reflects the high priority the Board of Trustees and the administration place on maintaining a strong, need-blind aid program.
Q: Are there other ways the campaign has improved Wesleyan's competitive position?
BJW: People who walk around the campus will see some beautiful restorations, such as Memorial Chapel and the Patricelli '92 Theater. They will see an attractively restored Clark Hall, the new glass-enclosed Zelnick Pavilion, and a Center for Film Studies under construction. They will hear about the quality of the new faculty we've hired. All this helps enormously. But we have a way to go before our endowment is comparable to the richest liberal arts schools in the country. That will not happen in this campaign.
Q: How have alumni responded to this campaign?
BJW: They have transformed Wesleyan's culture of giving. More than 50 percent of alumni contributed to the annual fund this year—a hugely important indicator of support. More than 70 percent of alumni have contributed to Wesleyan during the campaign. People are engaged and giving at levels they had never before considered.
Q: What are the giving options that have been most attractive to donors?
BJW: In general, financial aid has been most attractive, but we also have had incredible success with the unrestricted gift. I think that is a credit to President Bennet, the Board of Trustees, and to the alumni engaged in this campaign. People say, "I trust the leadership of Wesleyan; here is a $5-million gift; do what you think is best." We have put much of that money toward financial aid and faculty positions. Many other institutions have endowments that are tied up with restricted funds. That's not true at Wesleyan, which gives us tremendous flexibility.
Q: How much money has been raised for facilities?
BJW: We're just starting to raise money for the campus renewal fund. Our goal for facilities is $55 million and we're at $28 million—more than halfway there. We've developed a campus master plan that will transform the center of campus with a new university center. I think alumni will be excited about this and other projects, such as the renovation of Downey House and eventually a teaching museum and a new science center.
Q: Why haven't we done more with facilities in this campaign?
BJW: We've done several very important projects, and we've renovated classrooms throughout the campus. The new film center is underway, and we're planning other major projects such as a humanities village. But when we decided on a $250-million campaign, it was clear that financial aid, at $96 million, would be the largest portion of it. We could have put a lot more into facilities, but that wouldn't have been right. Nobody was saying that we should expand our facilities but not pay our faculty enough or be competitive with financial aid. Now that we've been successful at building those endowments, people are excited about looking at facilities. Fayerweather, for instance, is a key building in the center of campus. But if you walk into it, you will see a rundown interior that is underused, given its strategic location. I believe that alumni are going to want to see that site put to good use.
Q: Has the campaign changed the way alumni perceive Wesleyan?
BJW: The conversations have changed over my 20 years at Wesleyan. Alumni feel very proud of what is going on here, that they are part of something special, part of the momentum. I no longer hear complaints about Wesleyan's fundraising compared to Amherst's or Williams'. The conversation is about how we keep the momentum going. Alumni are a bit amazed that we are continuing to raise significant dollars in a very difficult economy.
Q: Although the campaign is on schedule, the economy must have had an impact, right?
BJW: Two years ago I would have told you we were going to raise a great deal more than $250 million. I really felt we were going to blow the goal out of the water. The economy and the stock market have definitely affected the capacity of many people to give. Some hesitate to make major commitments because of uncertainty. Still, we are continuing to meet every goal along the way. I feel confident we will hit $250 million. It's still possible that we will do more.
Q: Isn't $250 million more than some people thought Wesleyan could raise?
BJW: Before we launched the campaign, consultants told us we couldn't expect to raise more than $95 million. It was an embarrassingly low figure. Before the campaign began we had one or two gifts of more than $1 million. Now we have 44 gifts of $1 million or more. Some of them are alumni from the '80s. That's the future of Wesleyan fundraising.
Q: What role have volunteers played?
BJW: John Woodhouse '53 and David Jenkins '53, the campaign chairs, have been amazing. They visit alumni, write and call them, and have contributed generously themselves. There are 35 volunteers in the campaign leadership, all of whom have played very significant roles.
Q: What has the campaign revealed about Wesleyan's alumni?
BJW: There has been a myth that alumni at Wesleyan are not as rich as those at peer institutions, that they are all ministers and teachers. We have a wonderful mix of alumni. Many do work in nonprofits. But we have numerous alumni who have made a great deal of money and are very generous. Research shows that alumni who give early and often are the ones who make big gifts later on. So I cannot overplay the importance of the annual fund. Ninety percent of the senior class gives to the senior class annual fund gift. We need to sustain that.
Q: Have there been surprises?
BJW: Parents have been more generous than we expected. We've raised more than $10 million from parents who are already paying tuition, some from parents after their sons or daughters have graduated. This is such a testament to the education their sons and daughters received at Wesleyan—and particularly to the faculty. We have had great success with foundations, including a recent $2-million gift from the Starr Foundation. We had a $21-million goal; we've raised $25 million already. Our planned giving has been as successful as we hoped it would be. The surprises in a campaign come when someone you don't know leaves you a lot of money. For instance, Lucile Stritter [stepdaughter of the Rev. Edward Ernest Matthews, class of 1889] left us $5.6 million. She was motivated by fond memories of visiting the campus, especially the alumni parade at reunion and the wonderful experience her stepfather had at Wesleyan, but we knew nothing about her before her lawyer
Q: What are the challenges in the final year of the campaign?
BJW: The challenge is to get everybody engaged in the campaign. My greatest worry is not that we ask people too often, but that at the end of this campaign someone calls me and says, "I was never asked." There will be other opportunities to give, but I want everyone to be part of the success of this campaign.
Q: What will be Wesleyan's next step after this campaign closes?
BJW: It used to be that one had a campaign, staffed up for it, then cut the staff and volunteer structure at the close. That is not what fundraising is about anymore. Whether we have mini-campaigns, whether we decide not to use the term "campaign" and put more emphasis on annual giving—these are decisions we'll have to make. The concept of the campus renewal fund and the new facilities will be galvanizing events for fundraising. People will always want to give to financial aid; that will always be a priority.
Q: Since you are a fan of baseball, how is a campaign like a baseball game?
BJW: One of my staff members gave me a quotation from a story by Paul Auster that said: "A conversation is like having a catch with someone. A good partner tosses the ball directly into your glove." Our alumni are wonderful partners in this campaign. We hope they feel terrific about the game that's being played and want to participate again and again. The pleasure of the game lies in the strength of partnership.