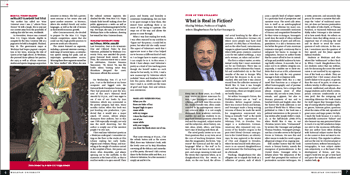 Last November, Door in the Mountain: New and Collected Poems by Jean Valentine, published by Wesleyan University Press, was awarded the prestigious National Book Award. At the Press, the announcement was a cause for celebration. Director Suzanna Tamminen '90, MALS '94, was the book's editor; Visiting Artist Keiji Shinohara designed the cover. Tamminen offered this account: On Wednesday, Nov. 17, at 9:57p.m., I sat in the kitchen at my home computer and logged onto the National Book Foundation homepage. They had promised to post the winners of this year's National Book Awards by 10 p.m., and I was eager to see if one of our books by Jean Valentine, which was nominated in the poetry category, had won. Many months earlier, when this book was just heading into production, I predicted that it would win a major award. Of course, editors always champion their authors, but in this case I felt especially strongly; not only was the work deserving, but the author is simply one of the sweetest people I've ever met. I first read Jean Valentine's poetry as a Wesleyan undergrad. I remember sitting on the floor in the stacks at Olin Library reading her early books ,Pilgrims and Ordinary Things, and marveling at the weight of emotion carried in the simplest of lines. Her poems are direct, often dreamlike, and always opening out to the ineffable, to the mysteries at the heart of life, so that to read her works is to open oneself. Their grace, and beauty, and humility issometimes breathtaking, but you haveto be quiet enough to hear them. Shedoesn't force anything; there is no sense of her trying to captivate. She steps out of the way and allows the poems to come through. When I was first reading her work, I was often stymied by my inability to "figure out" the poem—I could feel its
power, but what did she really mean? The aspect of Valentine's work that I appreciate most is that it has helped me to become a different kind of reader.
I no longer have to master a poem, I can simply be in it. In this sense, I think I have always read Valentine's poetry as a kind of Zen teaching (even though she herself makes no such claims for her work). In 1998, I read anew manuscript by Valentine which included "Mare and Newborn Foal." I love this poem, which changes each
time I read it, so subtly are the tones of grief and hope, love and submission interwoven:
MARE AND NEWBORN FOAL
When you die
there are bales of hay
heaped high in space
mean while
with my tongue
I draw the black straw
out of you
mean while
with your tongue
you draw the black straw out of me.
That same evening at 10 p.m., I hit
the refresh button and as the screen
filled, there was Valentine's book, with
the lovely cover art by Keiji Shinohara
conveying all the delicacy and immediacy
of the poetry. She won! I did a victory
dance by the kitchen table and then, as a
tribute to Valentine, for a few moments I
simply sat and let it be.