HISTORICAL ROW: WEST MEETS EAST, WESLEYAN AND THE CHINESE CHRISTIAN CHURCH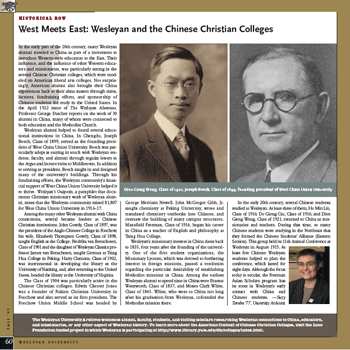 In the early part of the 20th century, many Wesleyan alumni traveled to China as part of a movement to introduce Western-style education to the East. Their influence, and the influence of other Western educators and missionaries, was particularly strong in the several Chinese Christian colleges, which were modeled on American liberal arts colleges. Not surprisingly, American alumni also brought their China experiences back to their alma maters through visits, lectures, fundraising efforts, and sponsorship of Chinese students for study in the United States. In the April 1922 issue of The Wesleyan Alumnus, Professor George Dutcher reports on the work of 30 alumni in China, many of whom were connected to both education and the Methodist Church.
Wesleyan alumni helped to found several educational institutions in China. In Chengdu, Joseph Beech, Class of 1899, served as the founding president of West China Union University. Beech was particularly adept at staying in touch with Wesleyan students, faculty, and alumni through regular letters to the Argus and lecture visits to Middletown. In addition to serving as president, Beech taught in and designed many of the university's buildings. Through his fundraising efforts, the Wesleyan community's financial support of West China Union University helped it to thrive. Wesleyan's Outposts, a pamphlet that documents Christian missionary work of Wesleyan alumni, notes that the Wesleyan community raised $1,807 for West China Union University in 1916–17.
Among the many other Wesleyan alumni with China connections, several became leaders at Chinese Christian institutions. John Gowdy, Class of 1897, was the president of the Anglo-Chinese College in Foochow; his wife, Elizabeth Thompson Gowdy, Class of 1898, taught English at the College. Fredrika van Benschoten, Class of 1901 and the daughter of Wesleyan Classics professor James van Benschoten, taught German at Tsing Hua College in Peking. Harry Clemons, Class of 1902, was instrumental in developing the library at the University of Nanking, and, after returning to the United States, headed the library at the University of Virginia.
The Class of 1904 was particularly active in the Chinese Christian colleges. Edwin Chester Jones was a founder of Fukien Christian University in Foochow and also served as its first president. The Foochow Union Middle School was headed by George Merriam Newell. John McGregor Gibb, Jr. taught chemistry at Peking University, wrote and translated chemistry textbooks into Chinese, and oversaw the building of many campus structures. Mansfield Freeman, Class of 1916, began his career in China as a teacher of English and philosophy at Tsing Hua College.
Wesleyan's missionary interest in China dates back to 1835, four years after the founding of the university. One of the first student organizations, the Missionary Lyceum, which was devoted to furthering interest in foreign missions, passed a resolution regarding the particular desirability of establishing Methodist missions in China. Among the earliest Wesleyan alumni to spend time in China were Erastus Wentworth, Class of 1837, and Moses Clark White, Class of 1845. White, who went to China not long after his graduation from Wesleyan, cofounded the Methodist mission there.
In the early 20th century, several Chinese students studied at Wesleyan. At least three of them, Ho Min Lin, Class of 1916; Do Gieng Ciu, Class of 1916; and Dieu Gieng Wong, Class of 1921, returned to China as missionaries and teachers. During that time, so many Chinese students were studying in the Northeast that they formed the Chinese Students' Alliance (Eastern Section). This group held its 11th Annual Conference at Wesleyan in August 1915. At least five Chinese Wesleyan students helped to plan the conference, which lasted for eight days. Although the focus today is secular, the Freeman Asian Scholars program has its roots in Wesleyan's early contact with China and Chinese students.
— Suzy Taraba '77,
University Archivist