Preventing Fatal Medical Errors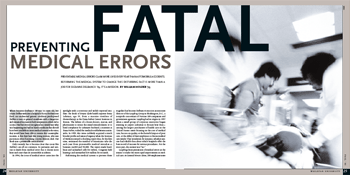 WHEN SUZANNE DELBANCO '89 WAS 14 YEARS OLD, her cousin Debbie went into a hospital to have a broken nose fixed. An undetected genetic condition predisposed Debbie to react to general anesthesia with a dangerous and sustained increase in body temperature, which led to a coma. Had her doctors recognized in a timely way what was happening and had on hand a medicine that should have been available in most medical centers at the time, they would have been able to reverse this catastrophic reaction. A few days later this young woman, who was passionate about becoming a movie director, died. Her death was a preventable medical error.
Only recently has it become clear that cases like Debbie's are all too common. So pervasive and serious is death from medical error that it claims more lives each year than do automobile accidents.
In 1994, the issue of medical errors came into the spotlight with a notorious and widely reported incident: the death of Boston Globe health reporter Betsy Lehman, age 39, from a massive overdose of chemotherapy at the Dana-Farber Cancer Institute in Boston. The failure of a dozen doctors, nurses, and pharmacists to notice the initial miscalculation or to heed complaints by Lehman's husband, a scientist at Dana-Farber, rocked the medical establishment nationwide. In 1999, this issue suddenly acquired a much broader profile and sense of urgency when the Institute of Medicine issued a shocking report that, for the first time, estimated the number of Americans who die each year from preventable medical mistakes at between 44,000 and 98,000. The report made headlines and unleashed calls for reform. Congress held hearings and earmarked $50 million for research.
Reforming the medical system to prevent these tragedies has become Delbanco's mission as executive director of the Leapfrog Group in Washington, D.C., a nonprofit consortium of Fortune 500 companies and government agencies. Leapfrog had its origins in 1997 when a small group of corporate executives began meeting in airport cafeterias to discuss how they—among the largest purchasers of health care in the United States—were focusing on the cost of medical care, but not on quality, or the harmful impact of poor care, or the ability of their employees to choose medical care wisely. They wondered, for instance, whether anyone had reliable data about which hospitals offer the best record of success for various procedures. For the most part, the answer was "no."
Leapfrog chose prevention of medical errors as the means to make the most rapid improvement in medical care. At General Motors alone, 500 employees were being lost every year to mistakes in hospitals. Progress in this area could save lives and huge amounts of money. The question was how to get a grip on a problem deeply rooted in medical culture.
As a child in Lexington, Mass., Delbanco grew up listening to her father, a physician and professor, discuss medically underserved populations. After Wesleyan, she worked for the Henry J. Kaiser Family Foundation in California, focusing on reproductive health care, while pursuing a Ph.D. in public policy.
"What bugged me more than anything was the idea that poor women should be grateful that they had any health services at all," she says. "No one was bothering to measure the quality of those services."
This work, and a subsequent position with a coalition of large employers in California who were trying to improve medical care, prepared her for Leapfrog, where she found a mission to match her passion.
"I've always been attracted to controversial issues," she says. "Preventing medical errors is controversial, but it's an issue on which I'm extremely passionate. It's outrageous that we choose medical care almost blindly."
She started with a staff of three and a charge to reform the medical system. Recognizing the need to focus on manageable objectives, Leapfrog settled on three: solve the problem of physicians' inscrutable handwriting, get comparative data on how patients fare in hospitals, and recommend that intensive care units be staffed by physicians with special training.
"We call these breakthrough practices," says Delbanco. "We chose to set standards for hospitals that were not going to be easy to meet—gold standards. That's very controversial because if you set a standard that only 5 percent of hospitals can meet, the other 95 percent are going to be upset with you. When we started, everyone laughed at us."
No one is laughing now. Many hospitals are spending millions of dollars to install information technology systems that enable doctors to submit prescriptions via computer. The advantages are huge: most notably, the potential to cut drug-related errors by more than 80 percent. No beleaguered hospital pharmacist has to decide whether a doctor meant Lamictal, a mood-stabilizing anticonvulsant, or Lamisil, an antifungal agent—or Zantac versus Zyrtec or many other drugs with similar names among the 10,000 or so on the market. Not only do the systems eliminate the need to read a doctor's scrawl, they also can serve as a backup to the doctor, assisting in diagnosis or screening or crucial steps in care.
Saint Francis Hospital and Medical Center in Hartford, one of only seven hospitals nationwide that met the initial Leapfrog standards, installed a computerized physician order entry system (CPOE) 10 years ago. Dr. Michael Therrien, director of quality and outcomes management, says the hospital's physicians were required to adopt the new system and abandon the traditional paper processes in which nurses were obliged to interpret the often illegible written notes of physicians.
"Initially, there was some resistance from the medical staff, but in retrospect, requiring their compliance was probably one of the best decisions made by the hospital," he says.
Even though research has consistently shown the CPOE systems reduce medical errors (and costs), as well as improve the overall quality of care, they are expensive and difficult to implement, according to Catherine Szenczy, senior vice president and chief information officer at Saint Francis. As a result, less than 5 percent of hospitals in the United States have implemented CPOE, though that number is growing.
These systems, she points out, require a significant commitment of time and collaboration among physicians, nurses, and all clinical staff to ensure they reflect the way medicine is practiced at a particular hospital. And practices do vary—from one hospital to another across town, from one region of the country to another. Health care, she says, is "complex, diverse, and subjective."
Saint Francis is in the process of replacing the system it implemented ten years ago with a new system that will include handheld wireless devices designed to scan bar codes on patients' medications prior to administration, which will ensure the patient is receiving the correct drug and dosage.
As an early adopter of CPOE, Saint Francis has considerable experience with the system, and Dr. Therrien believes the medical staff is enthusiastic about the technology. "No one at Saint Francis would choose to return to the handwritten chart, and the prospect of a new system with more advanced features is generating some excitement." He also credits Leapfrog for the national attention CPOE is receiving in medical circles. "They wanted a leap, and they got it."
Not every hospital, however, has had the experience of Saint Francis. Cedars-Sinai Medical Center, the largest private hospital in the West, suspended use of its system early in 2003 after hundreds of doctors complained that it was endangering patient safety and creating too much work, according to the Los Angeles Times. Among the glitches was a baby given anesthetic for a circumcision one day early. A doctor complained that it used to take him five seconds to write an order for the powerful antibiotic Vancomycin, but the computer system stretched that process to several minutes.
Nonetheless, Leapfrog expects that by 2004, adoption of CPOE will grow to 23 percent of hospitals in the 18 areas of the country it surveys.
Leapfrog also advocates that physicians with specialized training, known as intensivists, oversee intensive care units—a measure that cuts the risk of patient death by almost a third. Intensivists are expensive, however, and since hospitals have no easy way to recoup costs, their use is not widespread.
Leapfrog's third objective, known as evidence-based hospital referral (a hospital's success rate with various types of procedures), is also controversial. Large hospitals in which physicians are constantly performing procedures such as bypass operations have an advantage, but Delbanco points out that volume isn't everything.
"In an ideal world, if you and I were trying to choose between hospitals, we would want to know not just how many procedures they did, but also the real outcomes that patients experienced. Did they have complications? What are the odds of survival?"
Only four states (California, New Jersey, New York, and Pennsylvania) require public reporting of outcomes for some procedures. In the absence of such data, Leapfrog uses the number of procedures performed as a proxy for quality, and research shows there is a strong correlation. Nonetheless, smaller hospitals object strenuously on the grounds that they cannot win a volume contest no matter how good their outcomes may be for procedures in which they specialize.
In conversation at her home in the Georgetown section of Washington late last spring, Delbanco mentioned that her typically busy schedule had been even more hectic than usual the day before with three major presentations. In addition to visiting two professional meetings, her dash around Washington had taken her to the Senate's Permanent Subcommittee on Investigations, where she had discussed Leapfrog's approach to improving health care.
"When I started this job three years ago, I had no idea that it would become what it has—it was so unformed. We've made progress in certain ways. We've grown from seven members to 145. Employers recognize that they need to change the way they are purchasing health care and that there is no quick fix. We've made progress implementing the standards. We have a lot of visibility, a lot of buzz.
"But I'm still very critical of where we are versus where we need to be. Very few of our members have come up with programs to realign the incentives for medical providers. In the New York metro region, Xerox, Pepsi, Verizon, and IBM have partnered with Empire Blue Cross/Blue Shield to provide quarterly bonus payments to hospitals that meet Leapfrog's standards. That's the kind of thing we need to see everywhere. If we don't succeed in creating incentives for hospitals, they are not going to continue to play with us."
Still, Leapfrog has won powerful converts. Mary McWilliams '71, president and chief executive officer of Regence BlueShield, which is one of the largest insurers in the Northwest, says that Leapfrog has addressed an important issue with good initiatives.
"The consumer movement is finally hitting health care," she says, adding that the role of large employers has been critical. "Certainly in Seattle, Boeing's active championing of the adoption of the Leapfrog standards has been pivotal in securing the hospitals' commitments. As a result, Seattle has been recognized as a leading community in this effort, and Regence BlueShield has been cited as exemplary for our posting of hospitals' results on our Web site."
Leapfrog's standards do not address all the problems that contribute to medical errors. Surgeons mix up X-rays, residents work more than 100 hours a week, nurses are in short supply, and doctors forget to wash their hands. Such problems led the Washington Post to editorialize recently against "the arrogance of the medical priesthood" and to call for government, through the Medicare program, to insist on proven safety procedures such as computerized prescription systems.
For the average person confronted with the need to be hospitalized, useful information remains in short supply. Delbanco said she would check first for a computerized prescription system and try to understand why her doctor might be recommending a particular hospital.
"Most important, I would make sure to be an active part of my health care. I had a friend who was going in to get her gall bladder removed, and when she was brought down to the operating room, an anesthesiologist came in and started talking to her about her appendix. It's imperative to have someone there with you. For most people, choosing a hospital is a shot in the dark. I hope we'll change that."
Meanwhile, Delbanco takes no chances. She carries an alert card with her health insurance information that identifies her as potentially having the same hereditary problem that cost her cousin her life.