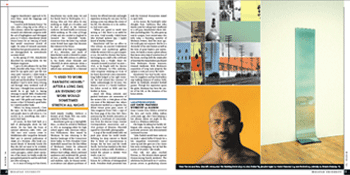 Since Curator Nina Felshin arrived at the Ezra and Cecile Zilkha Gallery seven years ago, she's been keeping a list: alumni whose art might be featured in a Wesleyan exhibition.
She began by asking her faculty colleagues who among the alumni had particular promise and demonstrated continued success.
"John Paoletti would leave notes on my desk, I asked Puffin D'Oench for a list, Jacqueline Gourevitch's name came up and she gave me a list. Some lists were overlapping, but we had the names of 40 artists," she recalls,
This fall, her plan reached fruition, as The Alumni Show opened Homecoming/Family weekend. The exhibition hosted work by 27 contemporary artists in graduating classes from 1956 (photographer Philip Trager, who majored in history) to 1994 (documentary filmmaker and photographer James Longley, who majored in film studies and Russian language). The artists worked in a diversity of media? paintings, sculpture, photography, DVD projections, film, video installation, and also illustrations for children's books.
More than 1,000 people attended this opening. "We had only had 400, at most, attend other openings," Felshin marveled.
The exhibition received attention from New York Times art critic Benjamin Genocchio, who praised the show, contrasting it favorably with other alumni art exhibitions ("dreary, wooly affairs"): "This one is an exception, with a poetic, searchingly intelligent quality to many of the pieces."
In addition, those present at the opening were treated to a panel discussion by six of the artists. With Felshin as moderator, they traced the circuitous route they had taken to become artists. Several had not studied studio art at Wesleyan.
"It's interesting," Felshin says. "The thread that ties these artists together is that they went to Wesleyan, a place where content comes from other disciplines. Some knew they were artists but wanted to get a very solid liberal arts background at Wesleyan, so they majored in another field or did a double major in another area."
In addition to the celebratory feel of a reunion, the show was a further celebration on two counts?it marked the 30th anniversary of The Center for the Arts, as well as the renovations in the Ezra and Cecile Zilkha Gallery, specifically to make it more adaptable to contemporary art.
"It's still a bit of a work in progress," Felshin admits, but she lists a number of improvements. "The new cork floors are great. Carpet just is not hospitable to modern art?contemporary art is usually shown in concrete?but cork provides a more giving and flexible floor: we can hammer things into it. We also have radiant heat now, with coils underneath the floor. The fact that the Zilkha can now be properly heated in the winter, that's very important." She further mentions more flexible lighting and a number of wall repairs and redesign, and notes, "A lot of the improvements just completed wouldn't have been in an architect's vocabulary when Kevin Roche designed the CFA."
Belmont Freeman Architects worked with Wesleyan on this project. "Belmont Freeman got in touch with Kevin Roche at the beginning of this project to see what Kevin thought about what Belmont was planning to do. Kevin was very excited," Felshin says, noting that he was at the opening.
While pleased with the new space, the attendance, and the wide variety and quality of the work, Felshin cannot help but view it with a curator's eye: She regrets what could not be included.
"Time and space limited our selection. I'm sure a lot of really good artists were left out," she says, but ends her acknowledgements in the catalogue with this promise: "Rest assured there will be future shows of this kind."
Download a PDF of the complete article HERE