The Mysterious Art of Teaching
BY ALEXANDER CHEE '89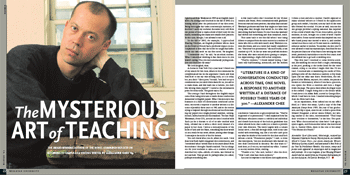 I GRADUATED FROM WESLEYAN IN 1989 as an English major with a B+ average and returned in the fall of 2002 as a visiting writer after the publication of my first novel. Being here again has been a stereoscopic narrative, of the kind I teach my students: the same story told from two points of view to make a kind of third story for the reader, something the characters usually don't perceive. In this case, though, I am allowed to see it all.
In the fall of 2002, for example, I approached Khachig Tololyan, an English professor whose class on the Novel as History had a profound impact on me. I explained to him that the books he taught had influenced my own work on my first novel. He laughed.
"I remember you," he said, "as an erratic student. What I remember thinking is that there was a lot you weren't saying. That you were alternately paying attention and then very far away."
We both laughed, then.
At home in New York City a year later I found one of my essays for his class, where in his comments he complimented me on the argument I made and then described to me my own writing style, as it is today, but, as a fault: "Like a poet," he said, "you lead us up to conclusions but you won't form them for us, you ask us to make them, and this leads me to believe, you don't like writing these papers!" I stared at the exclamation point for some time. The grade was a B+.
The average I had throughout the English major came from being reluctant to make those conclusions demanded in English papers. What I know now is that literature is a kind of conversation conducted across time, one novel a response to another written at a distance of possibly three years or 300, and so the stories trying to respond through me distracted me from making my papers into single-pointed analyses, turning, instead, hydra-headed and fictionalized. The late Hope Weissman, from COL, around the time I studied with Kach (as he is known to all of us who studied with him), allowed me to write a short story instead of a paper in her class. I wrote a reinterpretation of the myth of Leda and the Swan, something that later would act as a study for my novel, where, among other things, I reinterpret the myth of the fox demon.
You can't know what you do, when you teach. I saw then how Kach hadn't imagined this conversation, and I wondered what I would hear in the years ahead from the students I thought I hadn't reached. You lay things out for your students to take—as a student of mine described my style—which, of course, was formed by my teachers. They go and do perhaps what you asked, perhaps something else.
A few years before this I returned for my 10-year reunion and found, from conversations with graduates from my year and years previous, that what characterized Wesleyan graduates was how they might not have been doing what they thought they would do, but what they were doing they had chosen. No one I met that weekend had drifted into something and then remained, stuck.
This came back to me this fall when I was being driven to campus from the train station by a student of mine who felt at odds with nearly every Wesleyan student she knew, and as a result had nearly transferred out. "Everyone's so pretentious," she said loudly, as we traveled up I-91. In the car were two prefrosh students she knew, who were excited about getting to campus, but experiencing a slight chill at her complaint.
"They're students," I found myself saying. I had been only half-listening, abstracted, and the sudden conclusion I was about to give surprised me. "They're supposed to be pretentious." I then explained how the Wesleyan education creates a self-directed individual and doesn't have many of the built-in guidelines that other schools have; that it asks you to learn to provide your own direction. The result begins with a certain initial terror, a free-fall through ideas. And in my case ended with something, say, like a boy who can't quite say what he thinks of the books for the class until he's written a novel. "Pretentious people," I said, to close this description, "are just intellectuals who haven't yet met their convictions in sincerity. But they want to." And then, as if on cue, we reached my office. I turned to see my student driver, smiling.
"Thanks a lot," she said, before I shut the door. "Now I can't even hate them anymore."
Last year in response to my fiction class applications, I chose a class and also a tutorial. I hadn't expected as many talented writers as I found in the application group and couldn't, I decided, turn my back on the ones who formed the tutorial. It's just as well, because the two groups provided a spring semester that required of me a level of work that I'd not done before, and the students, in turn, brought out a level of work I hadn't seen before. Some started novels that inspired me; one who hated poetry was moved to write it, and another turned in as fine a story as I'd ever seen in a workshop, either as teacher or student. Yet another, the first one I'd ever allowed to read my manuscripts, described for me the precise character of my fears about writing my new novel, previously inarticulate to me for four years. And this allowed me to go back to working on it.
That first year I returned to some favorite activities, like walking the soccer field at night, swimming at the pool, peeking at the books listed for the other classes, trying to see what I might find that I'd not read. I returned also to wandering the stacks of Olin, pulling books off the shelves at random to flip them open and see what was there. Methodism, the religion of John Wesley, enjoyed, for a while, the practice known as bibliomancy, where if one has a question, one opens the Bible at random and runs a finger down the page. The quote there when the finger stops is the answer. I began doing this at the library when I read about it in Adam Bede, a novel by George Eliot, which I read here in class. I needed something larger than the Bible back then.
As an experiment, from behind me on my office shelf, as I write this essay, I pull a copy of the Best American Essays from 1989, the year of my graduation, and flip it open, eyes closed, to find a quote from Edward Hoagland, a writer Annie Dillard, my writing teacher at the time, recommended: "They keep their troubles to themselves," is the line. The question: What characterized my time here? I ask again, open it again, and from another writer she introduced me to, Stanley Elkin, there is the title to his essay: "The Muses Are Heard."
Alexander Chee's first novel, Edinburgh, received the Michener/Copernicus Society Prize in fiction, the Lambda Editor's Choice Prize, the Asian American Writers Workshop Literary Award, and was named a Best Book of the Year by Publishers Weekly. His stories, essays and poems have appeared in anthologies and in magazines and journals. He is the recipient of the Whiting Writers' Award and an award from the National Endowment for the Arts in fiction. He lives in Brooklyn, N.Y.