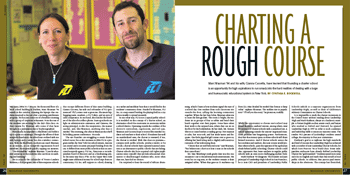 MID-JUNE, 2004: IT'S 7:30 A.M. On the second floor of a brick school building in Harlem, Marc Waxman '94 stands in the corridor, counting the laptops that students returned to the cart after a morning enrichment program. He has just come out of a breakfast meeting with a group of corporate volunteers. Now the rest of the students are arriving for the day's first class. As they swarm by, Waxman asks some if they have brought in a permission slip to be photographed.
Periodically, he unpockets a Blackberry and holds it up to squint at a message. Through the efforts of their nonprofit foundation, the school was outfitted with not only laptops and a server, but also a wireless connection. With the Blackberry, teachers can reach Waxman in an instant, as can nonprofit organization board members. He responds quickly, tapping out answers.
"I'm the enabler," explains Waxman. "I just fix whatever comes up so that everyone else can focus on teaching and learning."
He is actually the cofounder of Future Leaders Institute, a K–8 program, one of three separate schools that occupy different floors of this same building. Gianna Cassetta, his wife and cofounder of FLI (pronounced "Fly") comes over to greet me. She wears hip-hugging jeans, sneakers, a FLI T-shirt, and an aura of calm competence. In one hand, she clutches the handset of the school's cordless phone. Start-up schools are light on administrative assistance, and Cassetta, the acting principal, is also the receptionist, the master teacher, and, like Waxman, anything else that is needed. This morning, she advises Waxman that she'll be holding parent conferences. He nods.
The two founders are struggling to attain charter school status, but at this moment in 2004 FLI is a program within the New York City school system. Anyone can attend and it receives per-pupil funding from the city. It differs from most public schools in that an associated nonprofit agency, FLI Inc., functions as its independent board of directors and as a fundraising arm. In the same way that a PTA on the Upper West Side might raise additional money for school trips from its community, FLI Inc. will support its school, drawing on a wider and wealthier base than it would find in the students' community alone. Headed by Waxman, FLI Inc. is a step toward leveling the playing field in a city whose wealth is spread unevenly.
In one other way, FLI is not a typical public school: It is modeled on the concept of a charter school, an alternative school that maintains its autonomy within a school district. Operating outside the confines of the district's curriculum, regulations, and red tape, Waxman and Cassetta hope to recruit like-minded students and teachers to their school. If students fare well on standardized tests, the charter is renewed; if not, the charter is revoked. With this clear-cut premise—compete with public schools, produce results or be closed—charter schools have captured national attention as an alternative to public schools that are failing. Charter schools also have acquired civil rights implications since typically they provide educational alternatives to disadvantaged students who, more often than not, have had no choices.
I'm surprised to hear the sound of African drumming, which I learn is how students signal the start of a school day. One student from each classroom sits outside the door, calling the learning community together. When the last beat fades, Waxman takes me to meet the first-graders. The room is bright; the students sit in groups of four at tables and bend their heads together over their papers. Some have taken their work to the carpeted area, where they can sit on the floor by the bookshelves. By her desk, Ms. Kirsten Shrout is seated within a reading group. Her manner is calm, her voice soft, and her smile warm and frequent. One little pigtailed girl comes over to greet us, offering her hand along with a slightly self-conscious recitation of her welcoming lines.
"I know they are well behaved now," says Waxman, "but believe me—that's not how it was in the schools they came from."
Mr. Max Weinberg's sixth-grade class was the one exception I saw to the informal study environment. His room has no rug area, so the students remain at their assigned tables. "When they gave us 35 students—up from 22—Max decided he needed this format to keep order," explains Waxman. The sudden rise in population? "I'll tell you that story," he promises, ruefully.
While the opportunity to choose one's school may sound desirable, teachers' unions, among others, view the premise of charter schools with a jaundiced eye. A school operating outside the unions' negotiated mandates provides less bargaining power. Furthermore, they fear that money spent on these schools will drain limited resources. And if charter schools attract the best students and teachers, this new system would produce elitist schools, quite the opposite of the egalitarian ideals behind public schooling. Charter schools could also, opponents fear, leave teachers in regular public schools with an even more challenging student body.
Mark Kushner '83 disagrees. The founder and past principal of Leadership High School in San Francisco, he is now CEO and president of Leadership Public Schools (which is a separate organization from Leadership High), as well as chair of California's Advisory Commission on Charter Schools.
It is impossible to study the charter movement in the United States without reading about Leadership High and Mark Kushner, always as a laudatory example. A former English teacher, tennis coach, and lawyer who studied at Oxford and Harvard, he opened Leadership High in 1997 in order to teach academics and leadership skills to inner-city minority teens. The results: 98.5 percent of Leadership's students attend college, the majority in four-year universities.
Kushner's goal is to replicate the high standards and level of success that Leadership High has achieved with a number of new Leadership Charter Schools, for which Scott Pearson '84 is board chair. Some independent evaluators have already dubbed Leadership Charter the "gold standard." Students spend more time each day in English and math than they would at local public schools. In addition, they pursue paid internships in the afternoon. The concept has flourished, with two already open and approval granted for another. In the next few years, they hope to open 25 around the state, creating a network that will ease administrative duties for each principal, as well as provide a broad range of experts to draw upon.
As for charter-school opponents, Kushner reminds them that, while public funding does follow the student who chooses a charter school, thereby depriving school districts of funds, "It is not the district's money; it is the taxpayers' money, and it is hard to say that parents, particularly low-income parents, should not have a choice about what public school their children attend."
He points out that charter schools have a greater proportion of low-income and of-color students. He says, frankly, that the concerns about elitism "have not played out: The majority of new charter schools are being created in the lowest-income areas of the country." The Leadership organization, for instance, will only open new schools where there are more than 50 percent low-income students as measured by federal free and reduced lunch data. "We turn down offers to open in more privileged communities."
Back in Cassetta's office—also the school's reception area and storage room—we nibble on all-natural crackers and Waxman hurriedly eats a sandwich. On one wall a Sierra Club poster of a wolf from Yellowstone recalls a camping trip they took with the fifth graders in 2000. Nearby a collection of "subversive" sayings encourages them. Cassetta's favorite: "If you think you are too small to make a difference, try sleeping with a mosquito." For Waxman it is: "Be the change you want to see." He and Cassetta have tried to live these mottoes in the New York Public School system, which has offered them both a place to create their school and, perversely, a repeated challenge to their dream.
Waxman and Cassetta met in graduate school at Columbia's Teachers College in 1997. They married six months later. Waxman had first contended with a chaotic Teach For America placement after graduation from Wesleyan; he'd then spent three years at a KIPP school in the Bronx. The Knowledge is Power Program is a charter school "must-cite." Its founders credit Rafe Esquith, a teacher in the Los Angeles barrio, as their role model. Esquith gained prominence, and an American Teacher Award, for his rigorous academic program that includes teaching Shakespeare to his bilingual elementary school students. Waxman credits KIPP: "It was there I learned how to build the school. First you need to see it in your mind. KIPP gave me that vision." Meanwhile, Cassetta had become a master teacher in New York City's progressive Region 2.
With the dream of opening their own school, they began asking themselves, family, and friends gathered around their kitchen table: What would the ideal school for inner city kids look like?
February 1999: Together Waxman and Cassetta submit a proposal to several New York City school districts, outlining a high-expectations and innovative program that would start with three classes of third and fourth graders. The tacit understanding with the system, Waxman recalls, was that when their student body reached 200—which it would do gradually—their program would be designated a school.
The model of a rigorous, high-expectations institution is put forth in the 2003 book, No Excuses: Closing the Racial Gap in Learning, by Abigail and Stephan Thernstrom (Simon and Schuster). The Thernstroms maintain that "the central civil rights issue of our time" is "our failure to provide first-class education for black and Hispanic students, in both cities and suburbs." Schools that take a "No Excuses" stance, with high expectations and rigorous academics can lift students out of a life of poverty. These schools transform the culture in which the students function during the day, instilling them with a strong work ethic and an attitude of respect for others. Good teaching is at the core of an uplifting educational experience, and that is what Waxman and Cassetta have sought to create. If teachers are encouraged to perfect their craft, they reason, the students can only benefit.
This model of a rigorously academic school is also endorsed by yet another Wesleyan graduate and founder of a charter school. Evan Rudall '92, who grew up attending public schools in Chicago, was the co-founder of Roxbury Preparatory School, located in one of the poorest sections of Boston. A graduate of the School of Education at Harvard, Rudall founded Roxbury Prep in September 1999. Despite a 65-percent low-income urban population of minority students, Roxbury Prep proved to be the highest performing urban middle school in Massachusetts, on the basis of the 2004 state exam results. Rudall, who has since left the charter school and is now in law school, says Roxbury Prep's success is largely due to ongoing and intensive efforts to improve teaching. "We certainly were very strict and structured, but, most important, our teachers were phenomenal instructors and cared deeply about kids."
September 1999: Waxman and Cassetta open FLI, but it's an atmosphere of jealously guarded resources that greets an alternative school. Not yet operating independently from the system, as a charter school would be, they find their first brush with bureaucracy comes almost immediately. While the two had planned to recruit children who craved the educational opportunity, the program approval and site assignment came too late. Instead, the first day of school found Waxman outside the building and "as the kids walked by, if they looked about the right age, I'd grab them, find a parent, and sign them up."
Furthermore, FLI's allotted space was the fourth floor of P.S. 207, which not only ranked 672 out of 674 in literacy tests but also failed to discipline its students. "I couldn't believe what I saw kids doing in the halls—and right in front of teachers," Waxman recalls.
Their first year was grueling: Waxman and Cassetta, along with one other teacher, arrived at the school at 7 a.m. every day, taught academics until 3 p.m., then offered enrichment programs in art, sports, and math until 5 p.m. They spent recess with the students; they ate lunch with them. They shored each other up, reminding themselves, "We're going to change the culture of this group of kids." They emphasized academics and responsibility. In one classroom, they created a little café, complete with placemats and flowers on the table.
Their test scores were acceptable, so the Board of Education granted them a second year.
September 2000: It was at this point that the New York City school system tried to turn FLI into a life raft. The Board of Education made a deal with FLI: The program could move to a better space nearby—in a building that had housed a failed school—if it would absorb those students who still wanted a neighborhood school. While these parents could transfer their children to any school in the entire city, "most took the path of least resistance," acknowledges Waxman. "We were the default, and we grew by three classes."
The Board had tried to cram even more classes into FLI—but Waxman and Cassetta maintained that two were the most they could absorb at one time and stay true to their vision. "We said we won't set up FLI for failure; that's not what we are about," recalls Waxman. They reached a compromise and their fledgling program had now doubled; it was up to 175 students, many of whom had not specifically selected FLI.
Failure is a legitimate worry for charter founders, notes Wesleyan's Visiting Assistant Instructor of African American Studies Carol Wright: Many cannot sustain their programs. Starting up a charter school, she cautions, is much like starting a business, and those with academic fervor but without financial skills may well find themselves foundering and closing the school, much to the detriment of students who had chosen this academic experience only to find themselves cut adrift.
Precisely this scenario unfolded in September, when California Charter Academy failed, leaving 6,000 children from its 60 sites scrambling for a school. The state commission that Kushner chairs had recommended this chain be investigated and its funding cut. "We have to police ourselves," Kushner says, noting that the commission then helped place these students in other charters. The charter schools allowed to remain must be only the ones providing a solid education, he says.
January 2002: President Bush signs the No Child Left Behind Act (NCLB). Closing failing public schools and finding alternatives, such as charters, is high on the national agenda—and that of each city school system. Test scores, minimum competency, academic rigor, and vouchers—where children can use public money to pay for a private education—become recurring words in the national dialogue.
October 2003: It is into this climate that the city's new Chancellor of Education, Joel I. Klein, declared his intention to open 50 new charter schools in the next three years. Both Cassetta and Waxman were teaching half-time at this point. Cassetta was functioning (unofficially, and still on a teacher's salary) as the principal of the school and Waxman was spending half his time on FLI Inc., the nonprofit and business end of the school.
Waxman and Cassetta are, if not ecstatic, quite hopeful that Klein's mandate indicates the climate—and financial commitment—is right to finally create the school they had envisioned. There was one catch: FLI was still only classified as a program. In order to gain charter status, they first had to become a school. Second catch: Only their district superintendent could grant them school status, and their relationship had not always been smooth. ("Putting a charter school under the administration of a local school board is like asking Costco if you can open a WalMart," observes Kushner.) Their superintendent, soon to leave in Klein's massive reorganization, still had the power to grant FLI school status before June 2003—if she so desired. She didn't. "We were very, very frustrated by that point," Waxman admits.
For four years, Cassetta and Waxman had been trying to offer a high-expectations academic program with enrichment opportunities that would take the children beyond the city's borders. Instead, their success—as measured by test scores—made their program a reluctant dumping ground for failed schools.
Now, as New York City began seeking just the sort of program they had hoped to offer, Waxman and Cassetta found themselves stymied by old regulations, in place when they began. They were unable to qualify for the new benefits they had thought they were working toward all along.
They'd planned for children who were ripe for enrichment; they received children who needed remediation. So they took money from their enrichment budget and used it to create positions for a dean of students and a high school placement counselor.
The 2003–04 academic year had begun on a high note: the birth of their son Caleb on September 1. In addition, sufficient staffing allowed Cassetta to act as full-time administrator (still pending official appointment) and Waxman to run the nonprofit FLI Inc. full time, while acting as "enabler." In this one year, FLI Inc. was able to raise $350,000, bringing the total to about $1 million in the past five years.
Meanwhile, as the school year got underway, the city's Board of Education, forced to provide alternatives but without Klein's charters fully developed, was frantic to place children. Without careful review, it had automatically placed FLI on the list of "zone schools," one which neighborhood students were entitled to attend. This meant that FLI then received students new to the district. "While we weren't specifically targeted to receive students with discipline problems, it often happens that these families try to move their children around once the year has started," Waxman observes. Enter yet more students for whom the status quo had failed.
It was that zone school designation, along with the NCLB transfers, that added 13 students to Weinberg's class this year. Cassetta and Waxman had thought they had filled their school to capacity, but as a zone school, they were forced to accept more.
On a June day in 2004, Waxman is philosophical about the past and optimistic about the future. "It's not as though anyone is going out of the way to 'get' us. But it just happens—again and again. Now we will officially receive school status on July 1, which means that my wife will be named principal and we can apply for charter status. It's a huge thing for us, finally."
They'll add three more classes with a total of more than 300 students, including a self-contained class of learning disabled sixth-graders. They will also have a secretary—Cassetta won't need to carry around the cordless phone—as well as a literacy coach.
He finishes his story on this optimistic note and asks if I'd like to talk with a pair of students. He ushers in two eighth-graders, Krystal and Jonathan, both from FLI's original group of students from P.S. 207. They shake hands and sit down when invited.
"What one word would you use to describe Marc?" I ask the pair. "Strict," is the answer that comes back quickly. "He always wants us to do our best."
"My mother thought I wouldn't like this school because it would be too hard and have too many rules," confesses Krystal. "But I like it. I learn a lot. My cousin on Long Island wishes she could come here, too."
"And what is your best memory of this school?"
Again, there's no hesitation: "When we went to Yellowstone in the fifth grade and we saw a wolf take down a deer. Later from the cabin, we watched the buzzards circling around, because that's what they eat."
In private, Waxman notes that the Yellowstone experience opened horizons for these kids: Many first started talking about becoming park rangers or veterinarians or wildlife experts after the trip.
June 18, 2004: The first class of eighth graders was graduating from FLI. Again, African drumming called the community together, and 30 eighth-graders, girls in white robes, boys in green robes, heads cocked awkwardly in barely balanced mortarboards above self-conscious smiles, marched down the aisles of the auditorium. Cameras clicked, videocams whirred, families applauded, siblings bounced up and down in the squeaky wooden seats, and Mylar balloons bobbed on the aisles marked for graduates.
Afterward, in the newly quiet school, Waxman and I head back to the main office. As we enter, Cassetta is hanging up the phone. Her eyes are wider than usual. "I can't believe it," she says. "The DOE [Department of Education] is concerned that there's a conflict of interest because we're married and you head the not-for-profit and I'm the principal whose school benefits from your work. One of us will have to leave our job if we want to become a school and apply for charter status." She looks stunned.
"Don't worry about it yet," Waxman says, but somewhat grimly. "We'll talk to them next week."
"We'll just get a divorce," says Cassetta. "Then there won't be a conflict of interest. We'll get a divorce."
They look at each other and then Waxman shrugs to reassure her. It's one more roadblock, but there's no time to talk. Cassetta has a principals' meeting on the other side of town; the Blackberry is signaling Waxman; the order for next year's supplies is due. They are still wondering where they will find the additional desks for incoming students—are there any in the basement? Are they desirable—or even usable?
Later, around six o'clock, nearly 12 hours after their workday had begun, they'll head home to their apartment nearby. Cassetta's parents, who watch Caleb during the day, will have brought him home and will be waiting. Dinner is often take-out, and often different for each: "Gianna is a vegetarian," explains Waxman. Exercise seems to be the one time of the day they set aside for themselves and each takes a turn watching Caleb. Gianna runs or does a workout routine; Waxman plays basketball when he can. A crew captain while at Wesleyan, Waxman is used to strenuous physical challenge; he has run four marathons, but none since FLI's inception. There's no time for that training commitment; they have only enough time to take the edge off the day's stress. Evenings are often filled with meetings or administrative work to catch up on, before the new day begins and they start all over.
"It is difficult to get a charter school off the ground," says Wesleyan's Wright, "and in some ways, I think that is as it should be. The first charter schools were opened only in the early '90s; We just don't have that much information on their longterm effects on skills, intellectual achievement, and socialization." In the short term, she says, the research is mixed.
Over this research, the national debate about charter schools rages on. A New York Times article reports that charter schools have lower-than-average test scores and blasts three charter schools whose scores show they have not fulfilled their promise. Chester E. Finn Jr., senior fellow at Stanford's Hoover Institution and chairman of the Koret Task Force on K–12 Education, observes that these scores should be used as a baseline. "So many kids who have been failed by the system come into charter schools. They aren't working with average kids; they need more time."
Deborah Lowenthal Sorin '94, who is affiliated with a charter school in Durham, N.C., concurs. "We take so many kids who have been beaten down by the public school system. We had a third-grader who couldn't read—he actually didn't even know the alphabet. He was a quiet kid and the teachers had left him alone." Now he's reading, she says, although he's still below grade level, catching up from his poor beginning.
Waxman says scores at FLI are 10 percentage points above the average New York City public school—"and we don't have average students," he reminds me. "We had the second highest improvement in math test scores in the city." In addition, the elementary students at FLI outperformed those at all other Harlem elementary schools. "It's a validation of our high-expectations model," he says.
Yet another New York Times article reports in September that New York's charter schools are doing quite well, according to a study by the Progressive Policy Network, a Washington think-tank. The study concluded, however, that charter schools are working with less funding per pupil than the regular public schools are given, and it recommended that the situation be rectified.
On the other side of the country, Leadership Schools board chair Scott Pearson '84, remains optimistic. "Charter schools are about choice, competition, and innovation. We have not seen the limit of those three themes to improve schools," he says.
"The single most important factor in the success of a school," he adds, "is the principals. We look for energetic, optimistic individuals who can inspire students and develop staff loyalty. It's more of a cause than a job; you need that level of passion."
August 2004: When I call to check in on them, Waxman and Cassetta are not divorced, but he has stepped down as head of FLI Inc. The DOE did, indeed, decide that the fact of Waxman raising money to support the school at which his wife was principal could be construed as a conflict of interest. After a family trip to Yellowstone with Caleb, Waxman and Cassetta made the decision. Not unexpectedly Waxman admits, "I informally, unofficially still help."
October 2004: Waxman and Cassetta remain upbeat and focused on the current year. She is officially the principal; he completed documentation needed for the charter application, a book-length plan that was due at the end of September. Charter status could be granted next June—but he reminds me that charter status, in and of itself, is not the goal: Their model is the goal.
"Once we have charter status, we will go back to the original concept," he says. "That's really the whole point of the process: offering the academically rigorous, high- expectation environment for kids whose families want that. We won't have to make choices like we did, between having a dean of students or having trips to Yellowstone; we will be able to do it all. We truly will be able to build our vision."
THE FAMILY CONNECTION
Julie Doar-Sinkfield '90 was pursuing a doctoral degree at USC, focusing on how to fix dysfunctional neighborhood schools by establishing strong connections with families, when she took a break to teach at an independent school in New York. She never looked back. Soon she became the principal of a charter school in Anacostia, one of Washington, D.C.'s, poorest neighborhoods, where 98 percent of her students were at or below the federal poverty level.
The school, she confides, was a vision from hell. Located in a converted supermarket across from a mental hospital, it had plumbing problems, no closets, and many children who had parents too sick with AIDS or TB to get out of bed. The children lived with violence and hunger. Every day brought a new disaster. Eventually, she and other administrators decided to form their own charter school. "We thought it could not be any harder than this."
This September, after more than two years of hard work, and after developing an 800-page application, the William E. Doar Jr. Public Charter School for the Performing Arts (named for her father) opened its doors.
On a drive from the train station to the school's location in Northeast Washington, Doar-Sinkfield explains that they are in a temporary location until their permanent building is finished in January with the help of a $2-million loan she secured from the state education office, the only loan granted to a start-up school this year. Despite intermittent phone service, families from all over the city have somehow discovered the new school, and enrollment on the first day is near capacity. Except for the exclusive Duke Ellington High School, theirs is the only school in the District with a heavy emphasis on performing arts.
"Education in the arts adds so much to people's lives," says Doar-Sinkfield, an African American Studies major who studied dance. "And arts have many positive impacts on all-around performance."
From the outside, the school's temporary building looks like—and is—an old warehouse. There are no manicured grounds; there is hardly any place to park. Inside, fans hanging from a high, second-story ceiling stir the warm air, and about 200 students in grades pre-K–5, all in purple shirts and dark pants, are busy in classrooms separated by partitions. Doar-Sinkfield has recruited teachers who are "entrepreneurial, who can work in less than ideal conditions."
The school offers its students a curriculum in which they get hands-on science and math; a literacy program that focuses on narrative writing, poetry, and plays; and a drama/inquiry-based social studies program. Students take arts classes three to five days a week and are required to perform in front of classmates, parents, and students from other schools. Most important, the curriculum represents the staff's vision of a first-rate education; it's not controlled by the central system.
With a nod to her earlier interest in strengthening the involvement of families, the school requires 20 hours of volunteer work per year from each family.
Doar School is too new to assess its success on standardized tests, but throughout the District 17,000 out of 70,000 public school children have migrated to charter schools. Doar-Sinkfield doubts charter schools will gain much of a foothold where public schools are strong, but in distressed areas, she believes they offer a compelling alternative.
To read about a Wesleyan alumna who also was a charter school founder, see the Alumni of Color Newsletter (www.wesleyan.edu/alumni/aoc/newsletter/) for an article on Michele Pierce '91 and the Harriet Tubman Charter School, written by Ciaran Escoffery '00.
For further information on Future Leaders Institute, please go tohttp://www.futureleadersinstitute.org/. Reach Marc at mwaxman@futureleadersinstitute.org.