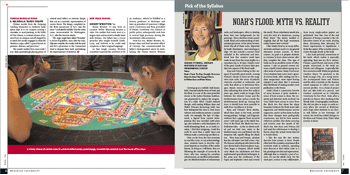 Tibetan monks from the Drepung Loseling Monastery in Southern India spent Sept. 8?11 on campus creating a mandala, or sand painting, in the lobby of Olin Library. A constant stream of visitors from on campus and off stopped by to watch the monks engaged in what the Wesleyan Argus called "a grand lesson in patience, delicacy, and precision."
The monks worked from noon until 7 p.m. daily, painstakingly placing grains of colored sand within an intricate design that acts as a symbolic representation of cosmic forces. The design, completed on the third anniversary of 9/11, was the same "Unshakable Buddha" that the Dalai Lama recommended for Washington, D.C., after the terrorist attacks.
The Argus might have added "humility" to its list of qualifiers, since, after the mandala was complete, the monks took the sand and led a procession to the Connecticut River to disperse their work, symbolizing the impermanence of existence.
Download a PDF of the complete article HERE