Q & A: Talking With Actress Halley Feiffer '07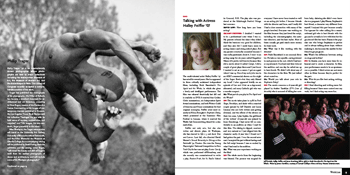 The multi-talented artist Halley Feiffer '07 has acted for several years. She has appeared in three critically acclaimed independent films, including Noah Baumbach's The Squid and the Whale, in which she gives a lovely and intelligent performance. The film was released theatrically last fall and is available on DVD. It received four Golden Globe nominations, six Independent Spirit Award nominations, and both Writers Guild of America and Oscar nominations for best original screenplay. Feiffer acted most recently in Hilary Brougher's Stephanie Daley, which premiered at the Sundance Film Festival in January, where it received the Waldo Salt Screenwriting Award for a dramatic film.
Feiffer not only acts, but she also writes and directs plays. At Wesleyan, she has starred in Life x 3 and Aunt Dan and Lemon. Last fall, she directed David Mamet's Sexual Perversity in Chicago at the Patricelli '92 Theater. She won the Young Playwrights' National Competition in New York City for her one-act play, Easter Candy, which was performed off-Broadway, and she recently was commissioned to write a play, Passion Fruit, for St. Paul's School in Concord, N.H. The play also was produced at the Edinburgh Festival Fringe last summer.
DAVID LOW: How long have you been acting?
HALLEY FEIFFER: I decided I wanted to be a professional actor when I was 12. My parents refused the idea–they didn't think the business was good for children, and they also felt I could learn more in acting classes and doing school plays. But my parents eventually conceded because I was really passionate about it. I went to an acting camp for six years called Stagedoor Manor (it's pretty well known because they did a movie about it called Camp). I did a couple of great plays there and I just knew I wanted to act as a career. I got an agent when I was 14. One of my early jobs was in an AT&T commercial shown on the night of the Super Bowl–but they only filmed my hand! I also appeared briefly on an episode of Law and Order as a depressed, alienated, and scary Catholic girl who was a murder suspect.
DL: What part do you play in The Squid and the Whale?
HF: The movie takes place in 1986 in Park Slope, Brooklyn, and deals with a married couple (played by Jeff Daniels and Laura Linney) who are both writers and getting divorced, and the effects of the divorce on their two sons. I play Sophie, the girlfriend of the writers' 16-year-old son (played by Jesse Eisenberg). I had never felt so comfortable in an audition as when I read for this film. The dialog is clipped, succinct, and very natural so I just slipped into the character easily. A year later I found out I had gotten the part. I was the second actor cast. I accepted the part without having read the full script because I was so excited by what I had read in the audition.
DL: What was your experience working on the film?
HF: The whole movie from the beginning was blessed. The process was magical for everyone; I have never been treated so well on an acting job before. I became friends with the director and Jesse, and I really felt I had a close connection with many of the people involved. Everyone was working on the film because they just loved the script, including the cinematographer, the assistant directors, and the hair stylist. Most of them usually get paid much more money for their work.
DL: What was it like working with the director?
HF: Noah Baumbach is an unusual director. He takes a very specific, caring interest in each person in the cast, which I had never experienced. I had just met him twice at the audition and one day he called me up to have lunch. We didn't talk about any of the characters in the film. We just talked about ourselves.
DL: Would you talk about your role in Stephanie Daley?
HF: The movie concerns a 16-year-old girl played by Amber Tamblyn (TV's Joan of Arcadia) who is accused of killing her newborn baby, claiming she didn't even know she was pregnant. I play Rhana, Stephanie's best friend, a character very different from myself. I enjoyed this part because usually I'm typecast for roles calling for a smart, awkward girl who is best friends with the guy and is actually in love with him but the guy doesn't like her back. Rhana is the popular one who brings Stephanie to parties and is always talking about boys; without realizing it, she becomes the enabler for her friend to get pregnant.
DL: What's the difference between acting on stage and in film?
HF: In theater, you have more time for rehearsal and to create a character. In film, your performance needs to be as spontaneous as possible. I think actors are cast more often in films because they're perfect for the part.
DL: What do you like best: acting, writing, or directing?
HF: I find directing and writing more fulfilling because I have more control over my work, but I find acting way more fun.