Including Alumni-Elected, New Trustees Join Board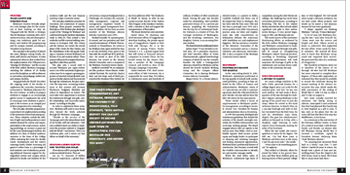 In the year ending March 31, 2005, Wesleyan's endowment performed in the top quartile of schools with similarsized portfolios, according to data collected by the Office of Finance and Administration. Wesleyan's return of 11.7 percent was not only 2.2 percentage points above the 25th percentile for peer schools, but was almost twice the S&P 500 return for the same period.
These results reflect a series of improvements in Wesleyan's portfolio management, according to recently retired Vice President for Finance and Administration Marcia Bromberg.
In 1997 the university developed new endowment guidelines that divided the activities of the Board's oversight committee, the Portfolio Subcommittee, into asset-class working groups. The Board engaged alumni who are experts in the various asset class fields?such as marketable equities, fixed income, private equity and hedge funds?to participate in choosing and reviewing managers and finding investment opportunities. Wesleyan hired a professional director of investments, Tom Kannam, to work with the Portfolio Subcommittee to identify, vet, and monitor manager results.
While the total dollar value of Wesleyan's endowment lags those of competitors among the elite liberal arts colleges, the challenge has never been investment performance, according to Bromberg. The key to the relative decline was that the other schools added significant new gifts to their endowments during a 15-year period beginning in 1983, and Wesleyan did not.
The recent success of the university's fund-raising efforts, as evidenced by the $281 million Wesleyan Campaign and Wesleyan's commitment to building the endowment through new gifts, will be crucial to strengthening Wesleyan's relative financial position, according to Bromberg. Improved investment performance will both maximize the leverage of gifts to the endowment and increase donor confidence in the university, she said.