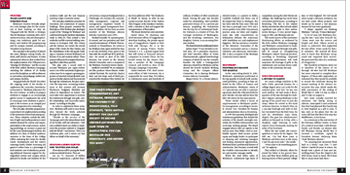 For many college students in the early 1940s, personal dreams for a college degree were cast aside for the national goal. Carl Zier '44 was one such student. He had made it threequarters of the way through his bachelor's degree, leaving Wesleyan in the spring of his junior year to join the Army, where he served in the 82nd Airborne Division. In March 1944, on a one-day furlough and with 10 dollars borrowed from the Red Cross, he and his sweetheart, Joan Carey, eloped. She gave her valedictorian's address at Barnard on D-Day, after a sleepless night listening to radio reports from Normandy, waiting for news of her husband.
When the war ended, she encouraged him to return for his degree. "He told me, ?I've had three years at Wesleyan and three years in the Army; I can't do any more now'," she recalls.
"It was time to do something practical," he explains.
They settled in Colorado, where he joined his father in his grocery business, and their three children grew up hearing stories of their parents' college days in New England. Yet Carl would never accept a Reunion invitation, his son Rick noted. When pressed, Carl would say he wasn't a real alumnus because he had never graduated.
"I always regretted not finishing Wesleyan," Carl says. "It was a black spot."
"A lot of men left Wesleyan during the war," said John Driscoll '62. "Some went into the service and fought and died. Others served at home in industries that supported the war effort. Some cared for family members. We wanted all these men to know that Wesleyan recognized and respected their service. We generated the idea of a certificate of recognition."
Two hundred invitations went out to members of the classes of '42 through '48 who had left Wesleyan but never returned to complete their degrees. Of those who responded, six indicated that they would be available to receive the certificate during the annual meeting of the Alumni Association this year, which marks the 60th anniversary of the ending of World War II, with V-E day on May 8 and V-J day on August 6.
Zier never actually received his invitation. His family, acting in cahoots, intercepted it and convinced him they had planned this family trip to New England as a gift to Joan. It was only on the plane that the six Ziers told him that their first stop was Middletown, in his honor.
In a ceremony in the new section of the Freeman Athletic Center, in front of a crowd of more than 1,000 alumni, family, and friends, six alumni who left Wesleyan during World War II received a certificate, signed by President Bennet, declaring them "loyal Wesleyan alumni."
"It's amazing how memories flood back in a hurry," says Zier. "I can't believe I waited 60 years to return. My family took a photo of Joan and me, strolling down from the chapel to the DKE house, hand in hand. We'd done that so many times back then."
Download a PDF of the complete article HERE