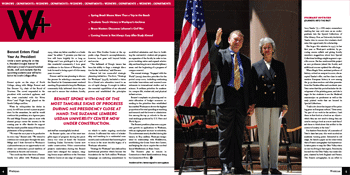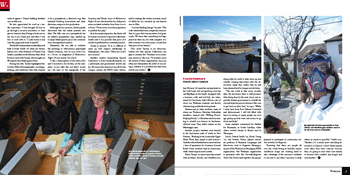 Suzy Taraba '77, a COL major, remembers making her way only once as an undergraduate into the Special Collections of Olin Library. Now, as University Archivist, Taraba tries to ensure that students don't miss this opportunity for scholarship.
She began this mission in 1997, in her first year as Wesleyan's archivist, by perusing course syllabi and giving faculty members suggestions about how Special Collections holdings might augment a specific course. She has continued this project as new professors joined the faculty and additional courses updated the offerings.
When Magda Teter, assistant professor of history, arrived on campus in 2000, she accepted Taraba's offer, and her class in early modern European history is now among the 35–50 class sessions and other presentations that Taraba offers each academic year. Teter notes that this period includes the development of the printing press, and she is eager for her students to see the Medieval manuscripts on parchment as well as the early printed works that are housed in Special Collections.
"I talk a lot about the impact of the printing press on European culture," Teter notes. "As part of our work in the archives, I ask them to first look at a book as an object—which they are not used to doing; they are used to seeing a book as a text—and then I ask them to think about this artifact in the context of society at the time."
For Andrew Perechocky '08, a member of Teter's class last year, this work marked an academic turning point. Interested in old maps, he based a paper on his observation that a French cartographer had mysteriously taken pains to map the Ohio Valley when no one was living in that region. Perechocky learned that the Ohio Valley was under dispute, claimed by both England and France. The French cartographer, in an effort to make it appear a French holding, lavished care on this area.
He also appreciated his work as a tactile experience. "I had thought I'd have to go through a security procedure, or wear gloves. Instead, they'd bring a book over to me, lay it on a foam pad, and then I was free to work with it. I could touch it and turn the pages and study it myself."
The thrill of independent scholarship took hold of Jessie Smith '06 when her theater history class with Professor of Theater Gay Smith assembled in the Davison Rare Book Room to meet with Taraba, who brought out Wesleyan's four Shakespeare folios.
During her talk, Taraba highlighted her favorite. Filled with marginalia–markings, jottings, and notations—this folio seemed to be a promptbook, a director's copy that included blocking instructions and other directions unique to that production.
Although new to research, Smith quickly discovered that the initial premise was false. The folio was not a promptbook but an author's preparation copy, marked up to adapt Shakespeare's plays into someone else's amalgamized creation.
Ultimately, she was able to attribute the markings to 18th–century playwright Charles Johnson, who in 1723 wrote Love in a Forest, an adaptation of Midsummer Night's Dream and As You Like It.
"I did a transcription of the entire folio and I recorded it, line by line, on the computer, to see what did and didn't match up," she says. In the marginalia of the Pyramus and Thisbe scene of Midsummer Night's Dream she found her key. Johnson's notes matched verbatim lines from Love in a Forest. "These notes were his preparation to publish that play."
As is the standard practice, the thesis will be bound and saved in Special Collections. Smith said it was possible that parts of it would be published in a scholarly journal.
Taraba is pleased. "It is so difficult to come up with original scholarship on Shakespeare," she notes. "There are so few new sources."
Another student frequenting Special Collections is Evan Simko-Bednarski '07, a philosophy and government double major. He researches historical records for his campus activity, the WESU radio station, and he catalogs the station material, much of which he has rounded up and hauled over to Olin.
"I started finding things," he said. "The radio station had been completely unaware that in 1990 their incorporation had gone under. We knew that something had happened in that era, but with complete student turnover every four years, we just lost that piece of our history."
This, notes Taraba, is an often–overlooked role that Special Collections can play in student life. "Students have a four–year memory," she says. "If students learn the history of their organization, they can often save themselves the effort of recreating a solution to a problem that had been solved once before."