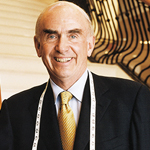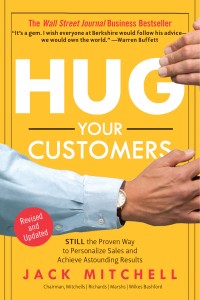 Jack Mitchell '61, GP '16, GP '18, came to campus recently to talk about the re-release of his book, Hug Your Customers: The Proven Way to Personalize Sales and Achieve Astounding Results—a personal account of how a family business that started with three suits to sell rose to prominence in the private, high-end clothier market.
The book title reveals the philosophy of the multigenerational business: know your customers so well that they become friends. That philosophy is backed by a database of customers—more than 200,000 of them—that includes a record of every purchase ever made, to details regarding hobbies and family facts. If you are a regular customer of Mitchells, your sales associate knows exactly how you like your clothes tailored, what brands and styles are to your liking, and much more. Hugging, says Mitchell, is anything that exceeds a customer's expectations; a big hug might be a handwritten note of thanks.
This approach served the company very well for decades after its founding in 1958, when Jack was a sophomore, but it was not clear that a family-oriented business with a highly personal style could scale up with acquisitions. In its case study of Mitchells, Harvard Business School (HBS) asks whether scaling up is possible at all. With a wry grin, Mitchell relates that most students believe it wouldn't work. They might have based that assessment at least partly on the extent to which the Mitchell family is woven into the business—three generations and nine members of the family.
A job with Mitchells, however, is no sinecure for those bearing the name. The family developed guidelines to ensure professionalism, including a requirement that any family member work at least five years somewhere else before joining. A "real job" must be available that matches the person's skill set, and pay is based on contributions to the business.
HBS students might think differently about the prospects for expansion if they met Jack Mitchell. Not only is he a quintessential people-person with an irrepressible outgoing personality, he believes fervently that others can be taught the Mitchell way.
His fervor translated into a second career as a writer and speaker who has keynoted more than 200 corporate events. He has appeared on NBC's Today, was listed by INC. Magazine as one of "26 Entrepreneurs We Love," and has been interviewed often for radio, print, and  online publications. Hug Your Customers was a Wall Street Journal best seller.
Mitchells' approach was put to an acid test in late 2008, when the recession hit. Upscale retail stores suffered mightily, and Mitchells was no exception. Management anticipated sales in 2009 would fall to 2005 levels, so they developed an aggressive plan to manage inventory and expenses based on those projections. During the next year of painful belt tightening, with family members leading the way in taking salary cuts, sales associates were encouraged to keep in touch with customers, if only to invite them to stop by for a cup of coffee. This disciplined approach helped position Mitchells for an important acquisition after the worst effects of the recession began to ease.
Mitchells had made its first acquisition in 1995, just down the road from the original Westport store: Richards in Greenwich, Conn. One more followed before the recession, Marsh's on Long Island, which tapped into the same New York-area market. In 2009 Mitchells put its model to the test by stretching across the country to acquire the bankrupt Wilkes Bashford, with locations in San Francisco and Palo Alto.
Business culture often makes the difference between success or failure in an acquisition, and Mitchells' management assessed that the culture of Wilkes Bashford, in which sales associates tended to stay and form relationships with customers, would be a good fit with the Mitchells model. They backed that assessment with a major infusion of cash, including a complete remodeling of the seven-floor San Francisco store.
In the fall of 2014, the Mitchells Family of Stores (as the business had been rebranded) made another move, this time into e-commerce. No one could accuse them of being quick to jump on board e-commerce, but the Mitchells have watched some spectacular failures of other retail firms that had aggressive expansion plans, so they planned their expansions with care. A top concern with e-commerce was preserving their customer-centric approach with a proprietary platform that includes a team of style advisers who work with customers online.
Although day-to-day management is now in the hands of another generation of Mitchells, Jack still likes to be photographed with a tape measure around his neck, and he won't hesitate to chat up a customer on the floor. Mitchells may grow more in the future, but if Jack's legacy guides future acquisitions, they will not come at the expense of superior customer service.