HISTORICAL ROW: "THE FIRST 100 YEARS ARE THE HARDEST…"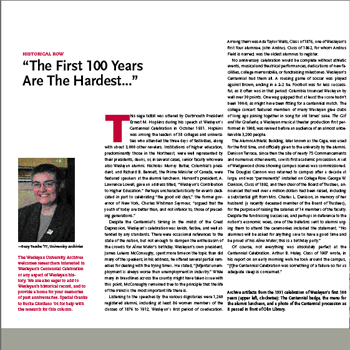 This sage tidbit was uttered by Dartmouth President Ernest M. Hopkins during his speech at Wesleyan's Centennial Celebration in October 1931. Hopkins was among the leaders of 38 colleges and universities who attended the three days of festivities, along with about 3,000 other revelers. Institutions of higher education, predominantly those in the Northeast, were well represented by their presidents, deans, or, in several cases, senior faculty who were also Wesleyan alumni. Nicholas Murray Butler, Columbia's president, and Richard B. Bennett, the Prime Minister of Canada, were featured speakers at the alumni luncheon. Harvard's president, A. Lawrence Lowell, gave an address titled, "Wesleyan's Contribution to Higher Education." Perhaps uncharacteristically for events dedicated in part to celebrating "the good old days," the former governor of New York, Charles Whitman Seymour, "argued that the youth of today are better than, and not inferior to, those of preceding generations."
Despite the Centennial's timing in the midst of the Great Depression, Wesleyan's celebration was lavish, festive, and well attended by any standards. There were occasional references to the state of the nation, but not enough to dampen the enthusiasm of the crowds for Alma Mater's birthday. Wesleyan's own president, James Lukens McConaughy, spent more time on the topic than did many of the speakers; in his address, he offered several partial remedies for dealing with the trying times. He stated, "[M]ental unemployment is always worse than unemployment in industry." While many in breadlines across the country might have taken issue with this point, McConaughy remained true to the principle that the life of the mind is the most important life there is.
Listening to the speeches by the various dignitaries were 1,260 registered alumni, including at least 86 women members of the classes of 1876 to 1912, Wesleyan's first period of coeducation. Among them was Ada Taylor Wells, Class of 1876, one of Wesleyan's first four alumnae. John Andrus, Class of 1862, for whom Andrus Field is named, was the oldest alumnus to register.
No anniversary celebration would be complete without athletic events, musical and theatrical performances, dedications of new facilities, college memorabilia, or fundraising milestones. Wesleyan's Centennial had them all. A rousing game of soccer was played against Brown, ending in a 2?2 tie. Football was far less successful, as it often was in that period: Columbia trounced Wesleyan by well over 30 points. One wag quipped that at least the score hadn't been 100-0, as might have been fitting for a centennial match. The college concert featured members of many Wesleyan glee clubs of long ago joining together in song for old times' sake. The Girl and the Graduate, a Wesleyan musical theater production first performed in 1908, was revived before an audience of an almost unbelievable 3,200 people.
The Alumni Athletic Building, later known as the Cage, was used for the first time, and officially given to the university by the alumni. Denison Terrace, since then the site of nearly 75 Commencements and numerous other events, saw its first academic procession. A set of Wedgewood china showing campus scenes was commissioned. The Douglas Cannon was returned to campus after a decade at large, and was "permanently" installed on College Row. George W. Davison, Class of 1892, and then chair of the Board of Trustees, announced that well over a million dollars had been raised, including a substantial gift from Mrs. Charles L. Denison, in memory of her husband (a recently deceased member of the Board of Trustees), for the purpose of raising the salaries of 14 members of the faculty. Despite the fundraising successes, and perhaps in deference to the nation's economic woes, one of the bulletins sent to alumni urging them to attend the ceremonies included the statement, "No alumnus will be asked for anything save to have a good time and be proud of his Alma Mater; this is a birthday party."
Of course, not everything was absolutely perfect at the Centennial Celebration. Arthur B. Haley, Class of 1907 wrote, in his report on an early morning walk he took around the campus, "[t]he Centennial Celebration was something of a failure so far as adequate sleep is concerned."